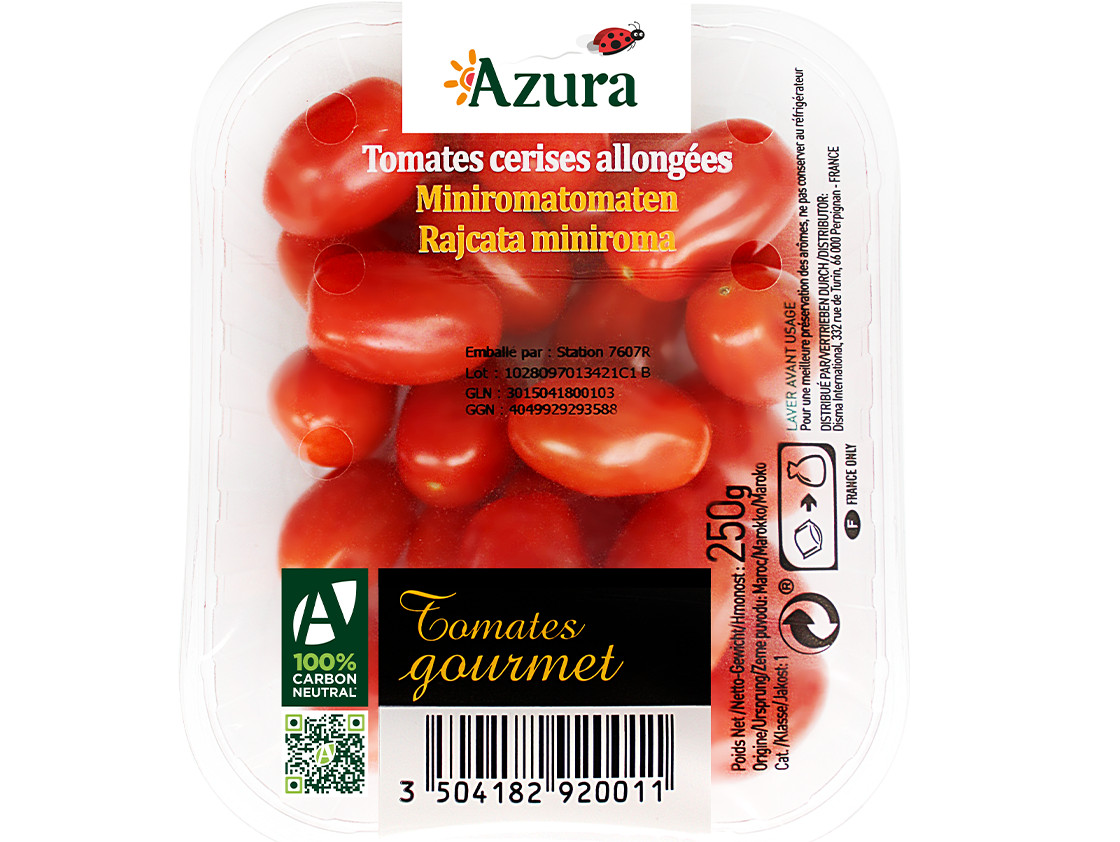 Late last year, Azura Group became the first tomato producer and supermarket supplier to achieve carbon neutrality for all its operations; from the farm to the consumer's plate. In March 2021, this will also be visible to the consumer with a logo on the packaging.
Azura is a privately owned French-Moroccan family business and one of the world leaders in tomato production. Since its founding in 1990, the company has used seasonal production processes with natural heat and sunlight, eliminating the need for any other source of energy to heat the greenhouses. As a result, these tomatoes naturally have a low carbon footprint: the total greenhouse gas emissions of an Azura tomato ('from farm to fork') are 1.26 kg CO₂ per kg of tomato. Céline Montauriol, CSR Director of the Azura Group: "Every year, almost 192,000 tons of CO₂ are compensated. A specially designed logo will soon make this visible on our packaging. This initiative is in line with our long-term strategy: to offer consumers high-quality, accessible and environmentally friendly products." 
The Life Cycle Assessment
Ten years ago, Azura began measuring its environmental impact using the Life Cycle Assessment (LCA) method according to ISO international standards 14040 and 14044. The goal: to improve agricultural practices. "The LCA measures the effects of activities on the environment (in particular CO₂ emissions) and covers the entire product life cycle," explains Céline Montauriol. "So the raw materials, production (from seed to fruit), packaging, product transport, storage and preservation at the distribution site. The calculations include all the tomatoes we produce, regardless of destination. But also the CO₂ emissions generated by the production of the aromatic herbs and edible flowers produced by us." Thanks to various improvements, the company's CO₂ emissions have been reduced by 20% over the past 10 years. Their goal for the coming years is to reduce emissions even further, in line with the plan launched in 2010.