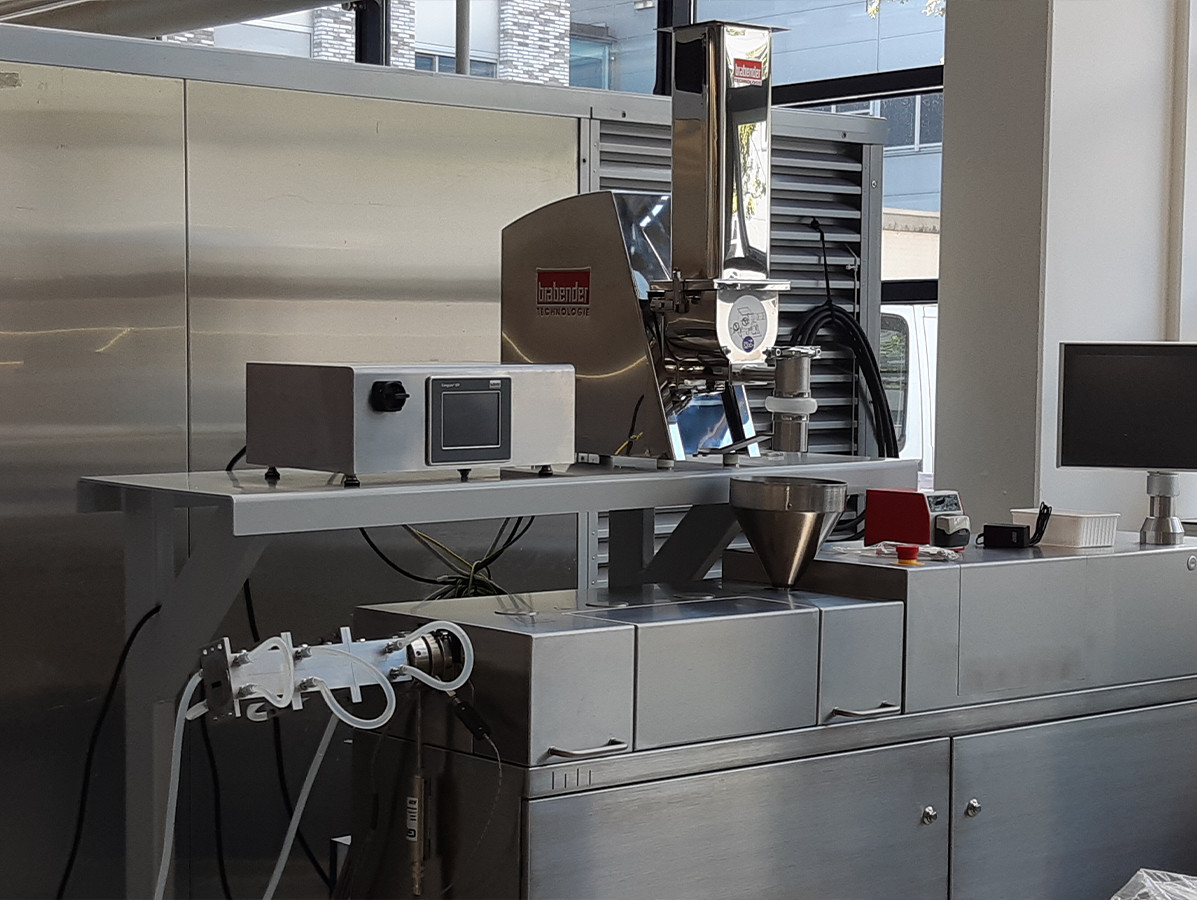 An extruder
Extrusion technology
Plant-based meat analogues can roughly be classified into two groups: 1) those obtained by shaping and forming which often includes Texturized Vegetable Protein (TVP) (e.g. burgers), produced by dry extrusion (10 – 35% moisture) and 2) those obtained by processing protein dense matrix by wet extrusion (40 – 80% moisture) (e.g. chicken or pork-like pieces).
The extrusion process consist of different steps. A feeder that doses the dry ingredients such as protein powders and fibres in a controlled way, or in the pre-conditioner – when ingredients need to be pre-treated before entering the extruder barrel. The extruder barrel consists of several sections which can be heated individually. The first zone of the extruder barrel acts as a mixing zone that is simply there to convey and mix the material to the cooking zone where the mixture is sheared and heated. In the cooking zone, the mixture is processed into a 'melted' dough. In the barrel, the protein ingredients (and possibly fibre) are transported and sheared by a screw, subjecting the raw material simultaneously to thermal and mechanical energy. The screw can have various configurations along its length.
The screw profile in the extruder barrel is determining barrel fill and residence time, making the screw configuration one of the key process variables affecting product transformation. To force the extruder barrel to fill, reverse flight screw and/or lobe-shaped shear/kneading elements can be used.
The moisture content is an important variable in the extrusion, as it will change the viscosity of the melted dough by playing a role in the number of disulphide bridges formed which is considered to be of high importance in obtaining the fibrous structure or meat-like structure.
The post processing steps vary between dry and wet extrusion; In dry extrusion, the extrudate or the so-called TVPs are further dried and sold as an ingredient for plant-based sausage or burger to bring texture during eating. In wet extrusion, the extrudate often requires other post-processing steps such as boiling/marinating/seasoning and freezing.