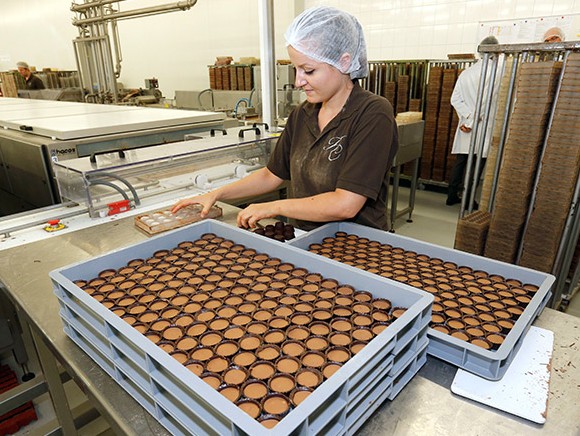 It's like being in Charlie and the Chocolate Factory: you can see huge kettles of molten chocolate, nuts are being added to bonbons, chocolate discs are being prettily decorated and packed. The huge diversity of carefully made products being manufactured at Van Ham is a chocoholic's dream…but stop. Let's get back to reality: how can you automate a production process which involves so much work by hand?
When Patrick van Ham took over the family company from his father, he knew that he had to do something to set themselves apart more clearly in the industry. "I didn't want to compete on price. The change had to distinguish us and be based on quality. We now make luxury products for traditional bakeries and higher-end retailers. As our raw material, we purposefully use chocolate from Callebaut. They supply top-class quality and are also committed to sustainability, which is very important to us too. They help to protect the environment and the cocoa farmers earn a fair wage so that they can support their families and gain access to healthcare and education."
Family company
Van Ham is a company with a rich history. In early 1900 the family started by opening a shop specialised in cakes and pastries. That later became a wholesaler and also started selling chocolate. Patrick van Ham, the fourth generation, has been at the helm since 1996. "In 1998 I became co-owner of a chocolate studio in Eindhoven, and three years later we acquired the rest of the business and so we suddenly became a manufacturer too." They replaced all the production lines and moved to more spacious premises, which was followed by more changes and substantial expansion. "This year we've seriously tackled automation using the 4FOOD ERP software suite from Estrategy. I knew a number of people who were already working with it and their experiences were the deciding factor for me."
Inventory management
Up until last year, the production department still worked with Excel. "We increasingly ran into problems," recalls Patrick. "Once, we received a big order, had enough chocolate in stock and the right people were in the right places, only to find out that we didn't have enough hazelnuts! Or we would buy much too much of a certain ingredient out of fear of running out, only to have to throw a lot of it away later on. We make 350 different types of chocolates, 250 of which for specific seasons or holiday periods only. On top of that we make at least 40 different sorts of bonbons using very diverse ingredients, ranging from pistachios, hazelnuts and walnuts to almonds, marzipan and coloured sprinkles. It became increasingly difficult to manage the cost prices of all those products and it harder and harder to continuously stay up to date. I knew that electronic data interchange (EDI) facilitated the efficient, reliable and rapid exchange of information between chain partners. But we weren't quite ready for that step."
4FOOD
Jean-Marc Dagevos from Estrategy concurs: "Timing is important," he comments. "Patrick and I have known each other for around five years. We used to see one another at trade shows and chat about how things were going. I always had the sense that we were going to do it one day, but he was just waiting for the right moment." Jean Marc explains that the new release of 4FOOD offers extended possibilities for EDI data connections and support for the exchange of EDI messages about sales orders, purchase orders and invoices. "For us, the challenge in the case of this company was the complexity of the production process. A lot of the activities are done by hand, involving craftsmanship. Moreover, there is such a huge diversity of products. How could we get the complete picture? But we did it!". Because they had to build up the system from scratch, Van Ham had to input all the suppliers, prices, activities and so on manually. "I underestimated that aspect of the project," admits Patrick. "I thought we'd easily be able to do it alongside everything else. But to get the fundamental set-up of our complex process right, we soon decided to bring in someone from Etrategy to work on site. They helped us a lot, from defining what information we needed up to and including the technical development and implementation."
Fact-based decisions
The automation project has delivered excellent results for Van Ham, as Patrick continues to explain: "In the past, cost price calculations often used to be a lot of guesswork. But we're expanding, our export activities are growing and we're supplying to bigger retailers. At the same time we want to offer our customers a distinct and high-quality product range with guaranteed exclusivity – including for traditional bakeries. That's why it's important to have an accurate cost price for all our products, and thanks to 4FOOD we now have access to the right information at the right time. Furthermore, the figures enable us to make fact-based decisions in discussions between Sales and Production. We've become more critical with respect to the use of raw materials and to the planning. It's great to see that our employees are so enthusiastic about it too. Some of them have spontaneously come up with smart ideas for making further efficiency gains." In recent months, in response to the ever-tighter traceability regulations, a quality assurance module has been added to the system which will make certification a lot easier.