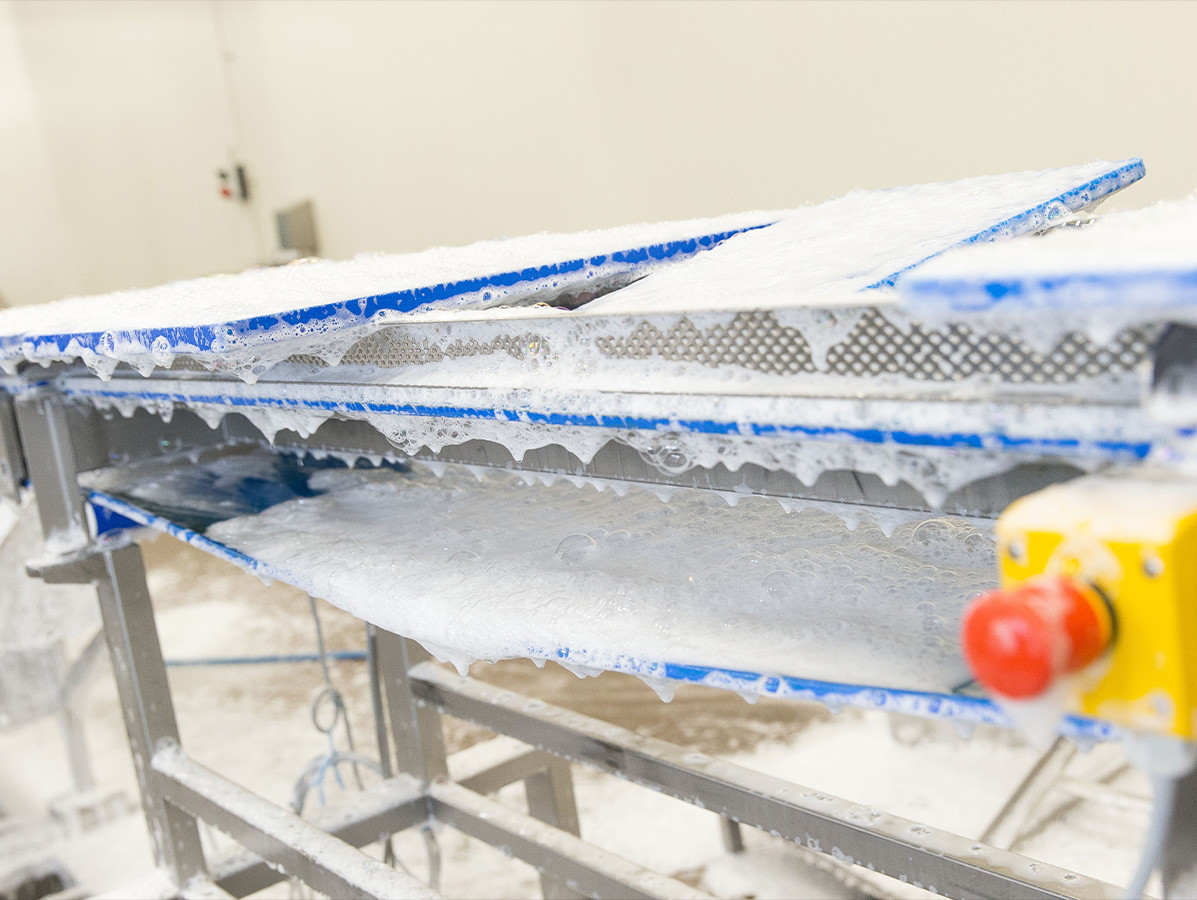 The demand for more sustainable food production is rising, consumers are more often choosing plant-based alternatives and the food industry is eagerly jumping on this. However, their production involves other forms of pollution. Getting equipment, conveyor belts and the surrounding area optimally clean often requires new cleaning agents and techniques. 
'The longer the carbon chains, the more difficult the oil is to remove'

"We are regularly approached by entrepreneurs who encounter hygiene problems when starting production with their new plant-based food concept. In particular, the vegetable oils in meat substitutes cause contamination that is difficult to remove." Speaking is Gert Visscher, director/owner of Eco2Clean. He continues: "These oils often contain long carbon chains. The longer the chains, the more difficult the oil is to remove." Eco2Clean developed a special power foam cleaner, PSR A2, for this new contamination problem. The agent very effectively removes the specific oily contamination left behind after the production of meat substitutes.
Limited knowledge of hygiene
Start-ups in particular are not always familiar with the applicable hygiene requirements in the food industry, Gert notices in practice. To illustrate, he gives an example of a young company using frozen protein-based raw material to make their meat substitutes. "The frozen raw material in grain form was blown into a machine via a conveyor system. When it stopped, residual raw material in the machine defrosted. They had not realised that. The installation had not been included in the cleaning process, and contamination occurred in the conveyor system. After we found the cause, the equipment also proved difficult to clean." He says he has already come across several such examples in practice. "There is - understandably - a focus on the new concept and insufficient thought on HOW to clean the equipment, systems and machines. Making all kinds of adjustments afterwards usually involves considerable costs. With a well-thought-out hygienic design, you can avoid that."
Another example. "A company that breeds insects for the animal feed industry had hygiene problems in its raw material storage area. As a nutrient medium for breeding insects, they use high-quality organic residues from the food industry. A sustainable alternative, as it means they no longer rely on unsustainable soy from South America, for example. However, the entrepreneurs were not aware that the transport and storage of residual streams are subject to the same hygiene requirements as the rest of the production process. Because they are residual flows, people tend to consider this less. Transport means, storage silos and equipment for mixing and dosing need to be cleaned to the same, high-quality standard. Hugely important, because when infections or other problems arise due to spoilage in the pre-process, this has a major impact on the follow-up process."