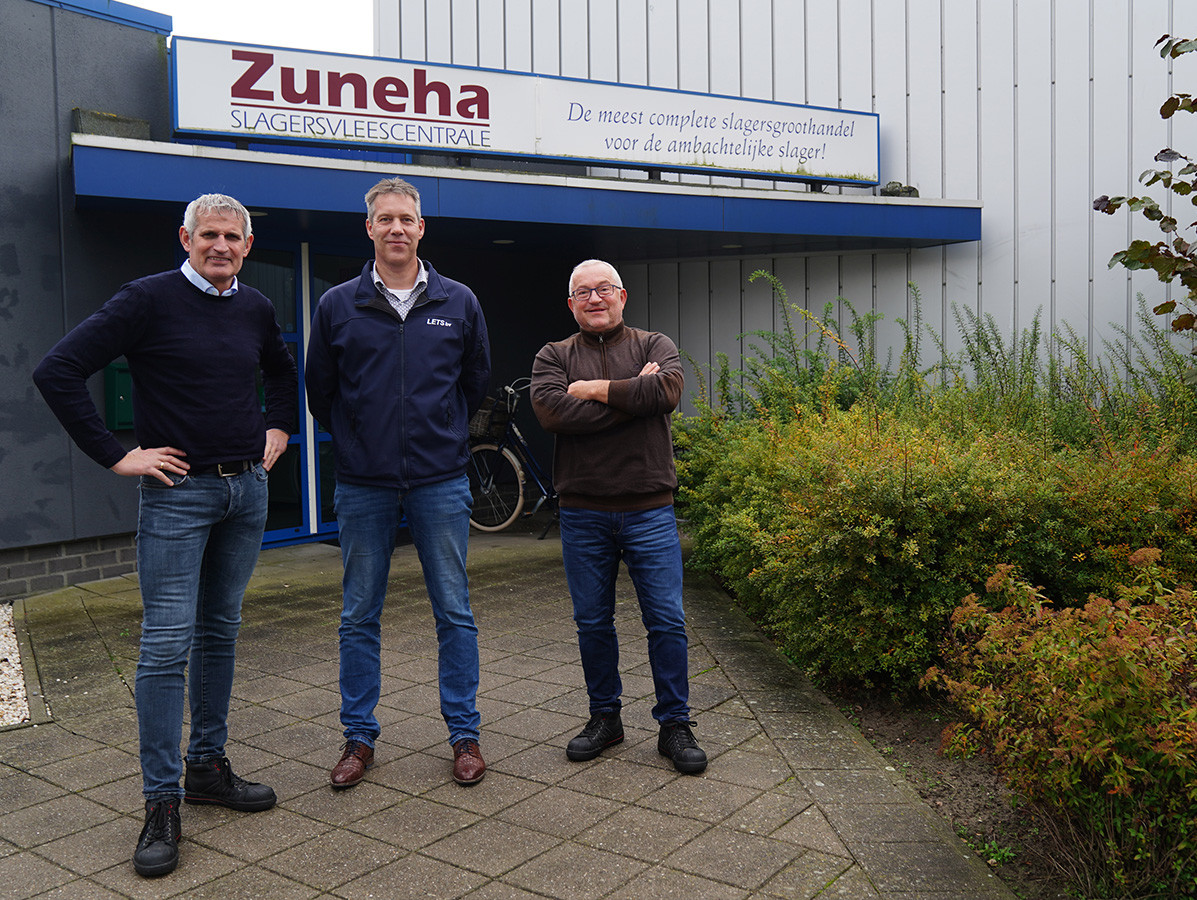 From left to right René Visser, Guustaaf Hoekstra and René van Dijke

More energy-efficient CO2 refrigeration system
"Our old chillers were outdated," he continues. "They had not yet been written off, but for environmental reasons we opted for a new cooling installation. The cost issue also played a role: chemical refrigerants, needed for those old coolers, are increasingly difficult to obtain and therefore expensive."
Guustaaf Hoekstra, managing director of LETS explains the advantages of such an installation: "CO2 as a refrigerant is not harmful to the environment, and is not flammable, toxic or explosive. It requires significantly less energy to produce CO2 than chemical refrigerants. In addition to being more energy-efficient, CO2 refrigeration systems are also cost-saving in the longer term. Thanks to the high temperatures on the high-pressure side of the CO2 compression cycle, heat can be recovered. This makes this type of refrigeration an ecologically, energetically and economically sensible solution."
Payback period
"A heat recovery system can be very interesting for companies, especially if the company uses hot water," Hoekstra said. "Especially with today's gas prices, it is an interesting investment. The payback time of such an installation has come down to 1 to 3 years with today's prices. Previously, it was 5 to 7 years. However, not all chillers are suitable for heat recovery. It is therefore important to get proper advice on this."
In order to determine what a company needs in terms of installation and water storage, and to be able to give good advice, LETS always has an extensive discussion with the customer in the early stages. Hoekstra: "What capacity does one need in terms of heating? Does additional heating need to be provided? This is to avoid over- or undercapacity. It is a waste to opt for a heavier installation and larger water tank than necessary."
Sufficient capacity
One of the conditions for Zuneha when replacing the chillers and installing the heat recovery system was that the business could continue to operate as usual. "That is why we had a cooling container installed temporarily," he says. The CO2 plant and reservoir are outside the company, in containers that are connected to each other. "Inside, we had no place for the installation, so this was a great solution. We have a storage with capacity for eight thousand litres of water, which is kept at a constant temperature. This gives us enough capacity for cleaning operations. In the unlikely event of a malfunction in the system, we can still fall back on the old system and heat the water using a gas connection. So far, we didn't have to do that. It runs like a charm." Hoekstra: "The new cooling units with heat recovery system really add value to the business here. This investment will pay for itself in the foreseeable future."
Photos: Naomi Heidinga