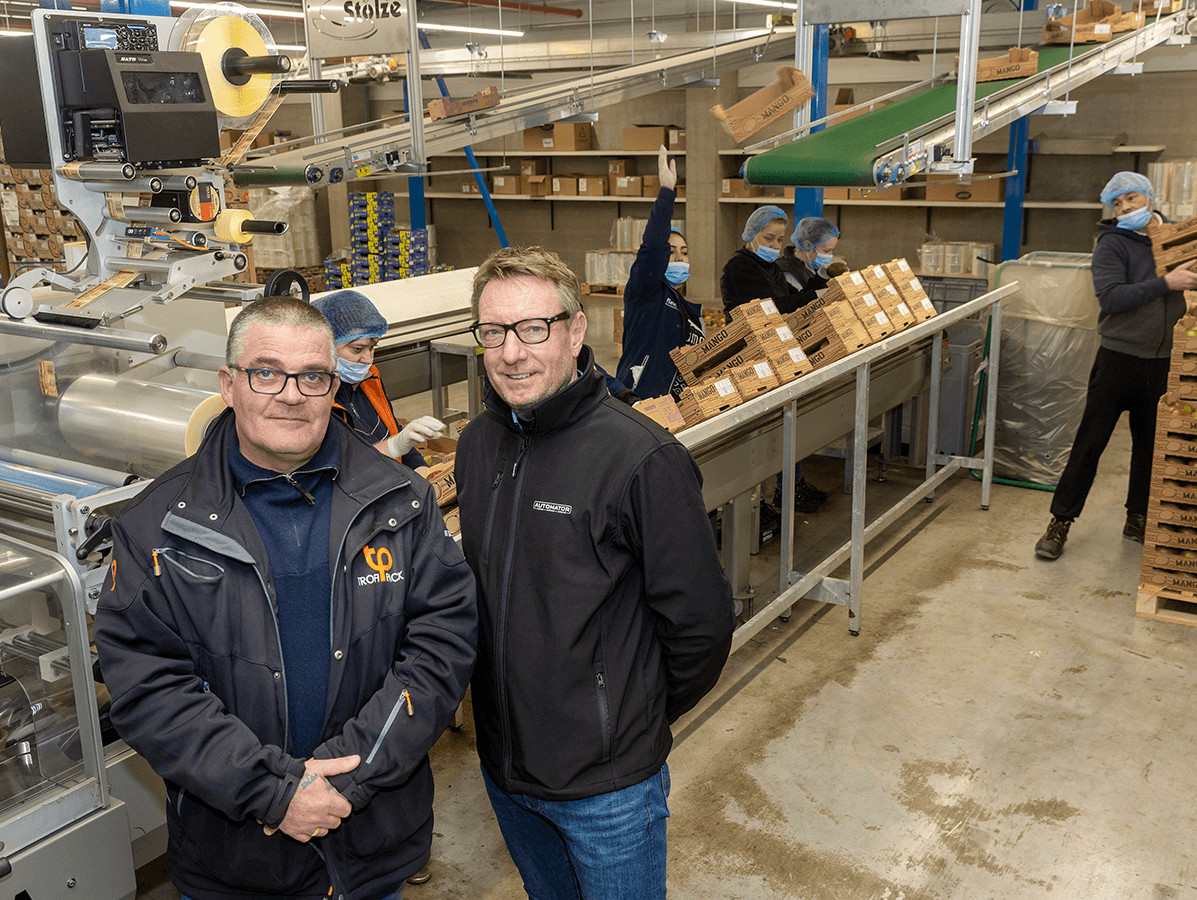 Every day, tens of thousands of exotic fruits leave Trofi Pack, most of them chilled, ripened, packaged and labelled. The enormous growth and the changing wishes of customers require flexibility and a super-fast turnover.
Marcel Broekhart doesn't know exactly how many avocados are packed every day. "But every minute we can process about 80 per line. If four lines are running simultaneously, that's already thousands per hour." Trofi Pack has been cooling, ripening, packing and labelling tropical fruit for five years. "Over two years ago, we moved from De Lier to Den Hoorn, a village further down the road. The production space in De Lier had become too small and the office, the refrigeration and ripening cells and the packaging lines had to be housed under one roof," says Broekhart, who is responsible for production at the company.
The gigantic new production hall is clearly built for even more growth. On one side, dozens of cooling and ripening cells are connected - currently 23 cooling cells and 25 ripening cells are in use. Apart from avocados, these also hold mangos, grapes, passion fruit, limes, sweet potato, turmeric and ginger. The largest volume is for mangos and avocados; together they take up about 80 per cent.
23 languages
On the other side of the hall, the packaging machines with various labelling systems are running. At the end of the line, avocados packed in pairs roll out of the machine in flow packs, with a neatly printed label on top. Broekhart takes one out and says: "Look, these are all going to a German retailer, our biggest customer. A demanding customer - for example, some products require the information to be printed on the label in no less than 23 languages."
The requirements of retailers with regard to packaging and labelling are constantly changing'.

Such special requirements, the wide range of products processed as well as exceptional situations demand great flexibility. Broekhart: "We are still experiencing the consequences of the blockade of the Suez Canal by the ship last year. The supply fluctuates enormously as a result, but the delivery to our customer must be stable. That sometimes requires a lot of puzzling. And it also requires machinery that can handle that flexibility. Automator, the company that has been providing Trofi Pack with the labelling systems from the very beginning, is proving to be a very reliable party, says Broekhart: "The requirements of retailers with regard to packaging and labelling are constantly changing. Instead of flow packs, a topseal is required, or the retailer wants less plastic but larger labels, or labelling at the bottom and the top is requested. We have to be able to switch quickly. Automator delivers that flexibility. Their systems are reliable, their service is really fast and their communication is clear - and we really value that here too."