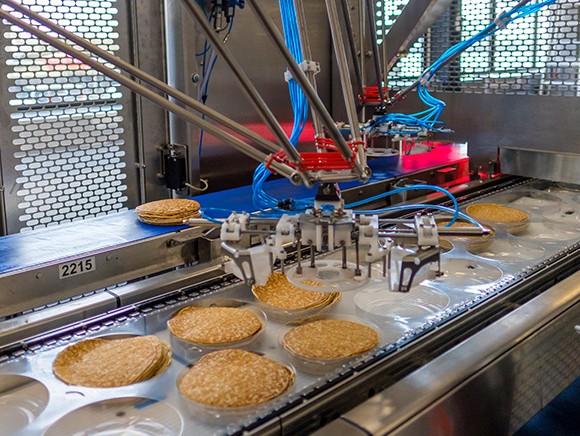 With over 1 million pancakes produced daily, Cérélia is one of the world's largest pancake bakers. This scale requires professionalisation and adaptability. Plus reliable packaging machines.
The Dutch branch of Cérélia is located on the banks of the Beneden Merwede, between Sliedrecht and Papendrecht. The company – formerly known as De Bioderij – came into French hands in 2015. Late last year the old name was dropped definitely, but the core business in Sliedrecht has remained unchanged. Besides pancakes, millions of Dutch 'poffertjes' and American pancakes are produced here every day and shipped to some 200 international buyers in retail and food branch worldwide. 'Everyone in the world can enjoy our products, with the taste of home-made, maybe even better', says Walter Kluit, managing director of Cérélia Netherlands. From the new office, located next to the factory, he tells about the complexity involved in the scale and the level on which the company operates. 'Food safety, qualified staff, reliable packaging; everything has to be right. It is a trick we have to pull off together day after day.' Aad Stam, head of engineering, adds: 'With our team we continuously follow the latest developments in the field of technology. By keeping investing in this, we can produce better and more reliable each day'.
Baking pancakes is a complex trick
Stam recounts how Cérélia, which produces mainly for private labels, came to introduce the JAN brand in 2010: 'In those times the volumes decreased because the quality was sub-standard. We worked hard here to make the tastiest pancake. And with success: since its introduction the JAN brand has grown year after year, increasing the total category of chilled pancakes and Dutch poffertjes as well'.
Professionalisation and innovation
The various and constantly changing demands of buyers, as well as the huge scale of production, require a high degree of professionalisation and innovation. Stam explains: 'With regard to food safety and hygiene we meet the highest achievable national and international codes. In Great Britain for instance, where these standards are higher than elsewhere, we can supply without problems'. Cérélia is also in the forefront in the field of digitisation. Stam: 'In the factory we recently installed some 20 stainless-steel computer columns, replacing a lot of paperwork. During an audit we now immediately print a copy of, for instance, weighing values and other CCPs. We also use finger scans for access to production spaces, allowing us to quickly monitor which employees are where. This is convenient in the case of evacuations and time registrations'.