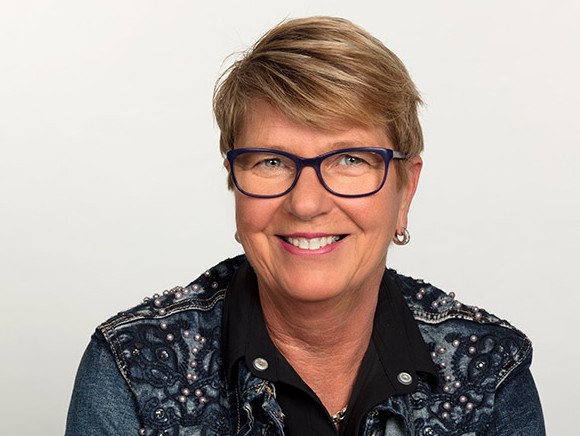 ,,The atmosphere is good" according to Elise van de Geer (photo). Not just anyone is hired by MULTIVAC. During the job interview it is thoroughly checked if you have the right attitude. What do you need according to managing director Tim Hage? In any case, a good dose of positivity, humour and the will to win. Sales secretary Karien van Bemmel (40) and office manager Elise van de Geer (56) certainly qualified in these respects. They enjoy saying how much fun it is to work at MULTIVAC.
Busy and varied
They both have a busy and varied job, which they enjoy very much. Karien: 'I support the sales department by answering the telephone, sending and processing quotations
And orders and booking flights and hotels. The international aspect also appeals to me: I have regular contact with colleagues at other MULTIVAC branches'. Elise adds: 'I do human resources, marketing and office management. Switching quickly, working with various departments and variation: that is what I enjoy'.
Ladies in a men's world
MULTIVAC is a real men's company: there are only 9 women out of 50 employees. 'You have to be able to handle men's humour', says Karien. 'They tend to be very direct, but sometimes you are really put on a pedestal. We have a good time together with the female colleagues. We have an app group and regularly have dinner together, do a cooking workshop or go to the cinema. We are really having a great time!'
Weekend trips with colleagues
Good companionship is very important to MULTIVAC. The atmosphere among colleagues is good. There are regular trips and every year the entire company goes on a weekend trip. 'We even flew to Valencia once', says Elise. It is part of her job to organise these weekend trips. 'We always try to prepare a varied programme and also like to have some competition element. We have been 'skûtsjesilen', Solex riding, did challenging games at Fort Ijmuiden and made a GPS trip through the Biesbosch. On Saturday we always close with a nice party. MULTIVAC finds it important that partners can also share in the fun, so they are always allowed to join.'
Committed employer
What they also appreciate is their employer's commitment. 'At Christmas we get a presentation on the past year and look forward as well. After that, we have a drink and dinner together. We also always order five extra Christmas packages, which we donate to charity. Last year these included a hospice and the Food bank', says Elise. To do her job even better she was given the opportunity to follow a number of workshops. Furthermore, managing director Tim Hage has a talent of putting the persons in his company on the right places: everyone should do what he is good at. He has succeeded in doing that, both ladies agree.