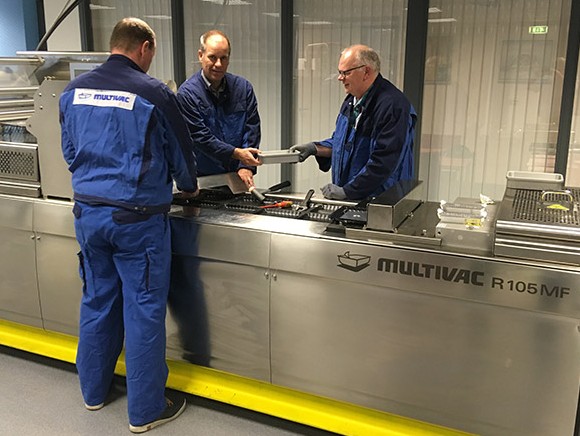 Not maintaining a machine until it doesn't work anymore is not an option for MULTIVAC. Preventive maintenance to prevent the machine from breaking down unexpectedly, by contrast, is the way to go!
In 2010 we were understaffed with 9 technicians in the service team. As a result, we could not provide optimal service. The call for service contracts for preventive maintenance of our packaging machines kept increasing. That is why the business model was created allowing us to realise perfect preventive maintenance for our clients at reduced rates.
Tailor-made suit
Each machine, each occupancy level and production environment is different, and we therefore focus on providing a 'tailor-made suit'. An optimised maintenance plan with the aim of realising the highest possible efficiency of the packaging line at the lowest possible cost. Our clients invest in preventive maintenance and get production security and efficiency in return.
We take full control of the machinery. We only mount the necessary parts, working hours are calculated afterwards, travel expenses are halved and an extra discount is given on parts.
'After sales on service' was introduced to guarantee the optimisation process in consultation with our client and our specialists, and to be able to say with pride that with this, we responded well to the market demand. Partly thanks to this, our clients are very satisfied about our collaboration!
Malfunctions
But our service goes much further than that. If a technical malfunction does occur, quick service is guaranteed. Every day of the week and 24 hours a day. With our helpdesk, assistance on site by one of our 20 field service colleagues and swift communications with technicians in our factories, we will get the machines up and running in no time.
Training
Besides good maintenance, a machine also requires good operation. All too often we see situations in which complex machine lines are in a perfect condition technically, but efficiency suffers from lack of knowledge of operators. To solve this problem, MULTIVAC has developed several specialised training modules. Training is nearly always organised on site, so the company's own machines can be used. And our trainers can answer all questions of trainees immediately. In other words, our training courses are just as machine-specific as their purchase and maintenance.
Foil and package deals
A number of years ago we extended our service and now also provide foil and/or trays with the machine in the case of new projects. Here, too, offering unburdening and production security is the motto, especially in the start-up phase. Clients who are using an automatic packaging line for the first time benefit from this, because we of course deploy high-quality, tested packaging materials from reliable suppliers.
We think along with you in your cashflow
Because we listen carefully to our clients' questions, we have been able to take a giant step and introduced a second business model.
This business model involves MULTIVAC supplying the machine, the service and the packaging material and the client paying per package. With the ever shorter-term contracts our clients can conclude with their buyers, our client can keep his cashflow in order, can produce efficiently and will again be unburdened completely.