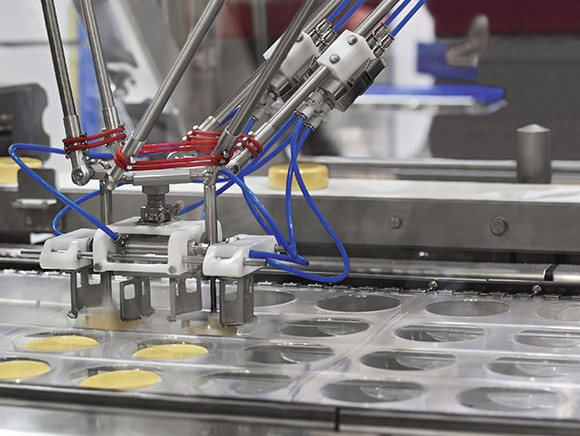 'Better packaging': that used to be MULTIVAC's slogan for years. In 2017 we added 'Processing'. With reason: in that year, we introduced our own MULTIVAC slicers for cheese and meats. Besides, we acquired an interest in the TVI company. TVI is a supplier of portioning machines and since recently, also of machines for making products for barbecues. From the raw, unsliced product to a packaged product (for retail): we have a complete production line for you.
Portioning
With the integration of TVI into the organisation, MULTIVAC now has machines for portioning technical meat parts, for cutting single pieces or portions, and machines that 'shingles' the slices. We offer both stand-alone machines and complete line solutions.
The GMS 520 is currently the standard in the industry for volumetric portioning of steaks and fillets. This flexible machine portions with high accuracy and productivity. A characteristic of the GMS 520 is the manual loading magazine which accommodates various shapes. This offers the option of portioning various products without having to convert the machine. You can also work around the clock with this machine, as the magazine can be refilled during the portioning process. In addition, this gives a controlled output.
The GMS 1200 is 520's big brother. The GMS 1200 can be loaded automatically, which means you can connect it to a crust freezer or production line. This machine is therefore perfectly suited for portioning in a line solution. Recently, we introduced the GMS 1600. This is a high-capacity machine, portioning products in not one but two tracks. Connected to the portioning machines we offer various solutions to placing the products in (retail) trays and checking the weight and/or non-meat matters using X-ray. After that, tray and product can enter the packaging line.
The ASR skewing machine automatically skewers various components. Not only single products such as satay, but also, for instance, shashlik skewers. Both vegetable and meat components are skewered by the machine in a preselected order. The ASR then puts the skewers onto a tray, after which they are immediately led to the packaging machine. Do you want to provide the skewer with a marinade beforehand? That option is also possible.
The most recent innovation in the barbecue field is the GFW 3600 meat spinning machine, which automatically presents a skewer to the operator fully, who then pins a sliced meat strip on it. The machine then perfectly spins the strip around the skewer and presents it in a package at the back of the machine.