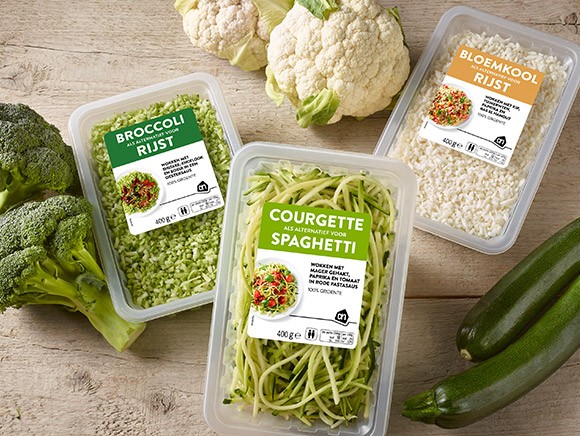 Albert Heijn/Koninklijke Vezet heeft met de producten Courgette-spaghetti, Bloemkoolrijst en Broccolirijst de Jaarprijs Goede Voeding 2017 gewonnen. Het product kreeg zowel de meeste stemmen van de publieksjury als van de vakjury.
Een alternatief voor rijst of pasta, gemaakt van groente, bedoeld om te roerbakken of om op andere manieren in een maaltijd te gebruiken. Met deze smaakvolle producten wordt het volgens de vakjury makkelijker gemaakt om meer groente te eten. Ook bieden de producten extra keuze voor mensen die minder energie in de vorm van koolhydraten willen of mogen binnenkrijgen.
Zoutreductie
De aanmoedigingsprijs, onderdeel van de Jaarprijs Goede Voeding 2017, ging naar Ah 100% pindakaas. De jury geeft aan producenten te stimuleren die dicht bij het oorspronkelijke product c.q. de grondstof blijven. De pindakaas is gemaakt van louter gemalen pinda's, zonder toevoegingen als suiker of zout.
"Waarom zou je het doen als het niet hoeft; dat zouden meer producenten moeten doen," aldus juryvoorzitter prof. Frans Kok, voormalig hoofd afdeling Humane Voeding, Wageningen Universiteit. Tijdens zijn praatje op het Food Future Event gaf de juryvoorzitter aan dat de Nederlandse kaassector een bijzondere vermelding verdient vanwege de inspanningen die zijn gedaan om over de hele linie het zoutgehalte in producten naar beneden te brengen.