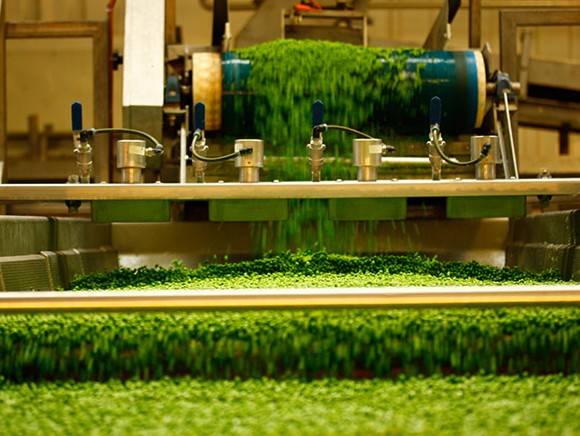 The biblical expression 'Live inclusively' has been passed down by the founding family to become the motto of Dutch fruit and vegetable processing company HAK. Frans Kuijpers, head of the quality department, willingly explains how the motto remains relevant to this day and what it means for quality.
In 1920 the Hak family opened a grocer's shop in the Dutch town of Giessen. In 1953 a new generation of the family invested in fruit and vegetable processing machinery and built a factory behind the family home. That factory is still there today, albeit considerably bigger than it was in the 1950s. At its entrance is a work of art that represents how humans are connected, both to one another and to nature. Kuijpers: "That connectedness is what we mean by 'Live inclusively'. Nowadays, we say we want to operate sustainably and serve the interests of our stakeholders – from our growers and employees through to the consumers and future generations." Quality is the common thread, from the checks performed on the raw materials supplied by the growers right through to product feedback from consumers and taste panels. All the data is collected and stored in QiSOFT's Qis software and subsequently analysed.
"We inspect the previous day's production every morning"
Improved supply chain sustainability
Together with the growers, HAK is a member of the Veldleeuwerik Foundation, an organisation in which growers and chain partners collaborate to improve the sustainability of the supply chain. "We want to make products that fit into a healthy diet with respect for people and the environment." And many consumers are opting for those healthy products; HAK has become a leading brand in the Netherlands, helped by marketing campaigns featuring national celebrities such as Martine Bijl and top chef Herman den Blijker. "But consumers will only choose HAK if we're able to deliver on the promises made in our advertising."
Paperless factory
HAK's fruit and vegetable processing operation is relatively straightforward. After being blanched briefly, the product is cooled in a cold water bath and then checked. Next, it moves on to filling and topping up (addition of precisely the right amount of water). The final step in the process is preservation: the gradual application of heat under high pressure and at a high temperature (to create a vacuum) followed by gradual cooling.
Kuijpers started as a team leader in the manufacturing department and subsequently became production manager and process technologist. He has been at HAK for the past 20 years, and has been working with the QiSOFT for the same amount of time. "Everyone in production works with it. We call it a quality information system, but it's really a production management system. We use it to process all the production-related data apart from what's recorded in our ERP system. That's a perfect fit." He can't comment on HAK's reasons for choosing QiSOFT because that decision was made before he joined the company, but he does know why it has remained the preferred system for more than 20 years. There are several reasons, in fact, but the most obvious one is that it works well. Besides that, Kuijpers is keen to point out its stability: "QiSOFT never fails, it's as simple as that. We've got a paperless factory and that brings huge benefits. It also makes you aware of the fact that you can no longer manage without your information system. For example, QiSOFT gives our operators access to measurement instructions so it's indispensable for them." Another important advantage of the system is its simplicity, he says: "The information is presented clearly and users are helped by the traffic-light colours of red, amber and green. HAK's existing employees are familiar with the system and it doesn't take us long to teach newcomers how to use it."
Plan-do-check-act
He explains the quality assurance steps based on the plan-do-check-act cycle. "Our primary task is to safeguard the product quality. We want to limit the process spread and variation. Ultimately, QiSoft provides the data that enables us to check whether we've actually achieved the targets we've set for ourselves. That starts with entering the parameters and specifications into the system. We ensure that Production is aware of the 'what and how'. That's followed by the 'do' – measurements and adjustments by the operators. In the 'check' phase, we analyse the data to see whether we've achieved our quality and sustainability targets. We use that information for things like campaign evaluation – what went well, and where could we make further improvements? Based on the analysis, we gain insights into whether we need to adjust our advice to growers or make any changes to formulations."