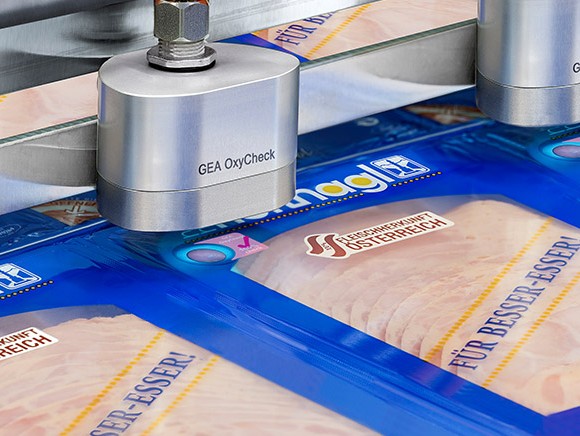 Easier to operate, flexible, modular design, energy-saving, eco-friendly and more efficient – ever-greater demands are being placed on food manufacturing machines and processes, according to machine builders and suppliers.
The current machine-design and machine-building trends are closely linked to consumer wants and needs; think of the focus on health and food safety, the need for convenience and the rising number of one- and two-person households. Stefan van Hoof, Manager Sales Food Processing & Packaging at GEA, has reached the same conclusion: "At Interpack we're launching OxyCheck, an innovation in modified atmosphere packaging that improves food safety. The residual oxygen value in packaging is normally checked manually, but this is a new automatic and inline system that checks the oxygen content by measuring the change in the wavelength of light as it passes through the packaging film." This requires a specific type of film which is a little more expensive, but manufacturers reduce labour costs and spoilage in return.
Stefan van Hoof: 'Manufacturers are looking for short changeover times and fast, automated cleaning'
Efficiency
"Broader and more varied product ranges entail more production changeovers," continues Van Hoof. "But that may not affect availability, so manufacturers are looking for short changeover times and fast, automated cleaning to guarantee the output and minimise the rise in labour costs. Customers are also increasingly opting for robotisation. One of our customers had a production line where operatives separated meat cuts by hand and placed them on the conveyor. Thanks to a new machine the cuts are now dropped onto the line in bulk but still end up neatly separated on the conveyor, saving labour costs on the spot." The chain-wide importance of food safety and efficiency is increasing the demands placed on traceability and hence on automation and sensors. Production planning departments are becoming paperless as central planning and automated production lines increasingly dictate the activities. In effect, the line now tells the operative what to do instead of the other way round. Van Hoof has high expectations of the combination of sensor technology and the internet which facilitates new ways of collaborating on machine maintenance. "We can monitor the condition of the machine remotely and dispatch an engineer at precisely the right time. In other words, if we take care of the maintenance there can be better agreements on uptime, and this trend is set to continue." His company is also taking steps to ease the burden on customers or take on some of the risks in terms of financing.