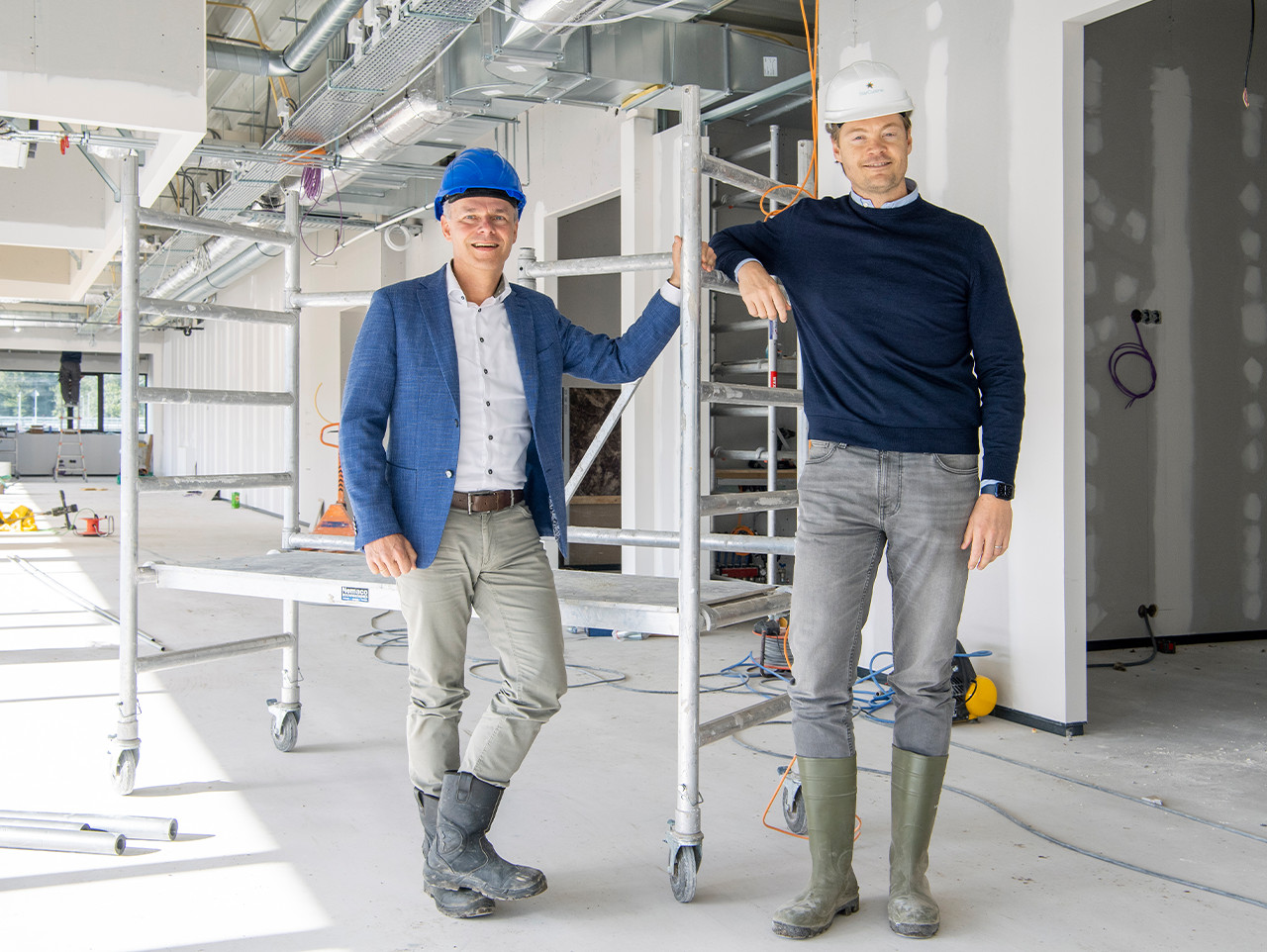 Bas te Riele and Lart Braaksma
Challenging construction
Together with Arcadis, a list of 10 construction companies was drawn up, from which a shortlist of three emerged, including Aan de Stegge Twello. Lart immediately experienced the contact with them as pleasant and the references were good. StarCuisine chose this construction company because they needed a party that would take them along and push them forward.
Bas te Riele, commercial project manager at Aan de Stegge Twello: "We practise the art of looking ahead comprehensively. We take our clients with us during the process, say in advance what we are going to do and then do what we say. That way, you plan in advance how you are going to achieve the right outcomes." Lart adds: "I wanted a beautiful factory but didn't know exactly how. Aan de Stegge Twello built up trust from the start and organised the construction professionally and in positive harmony, super neat." Bas agrees that positivity is important: "There has to be a good connection for a 100% chance of success."
According to Bas, the challenge in this building project lies in the complexity of many different areas: warehouse, production, kitchen, freezing and tempering cells, packaging department and office. And in the great variety of equipment and installations. That means a lot of thinking about heights, dimensions, routing, temperature changes, hygiene and fire provisions. "Our 3D BIM model supports the client, installers, suppliers, architect and us in the preliminary and implementation process."
Attentive cooperation
StarCuisine and Aan de Stegge Twello have found each other when it comes to attentiveness. Lart: "We see that the construction company controls the construction process, just like we control our food process. And they do a little more by thinking along with us. We do that too. We go the extra mile to make a dish really tasty and to make it look good. That attention ensures that people remember your name, give good feedback and choose your product again."
"The cooperation is honest and professional," says Lart. He says that, as a new experience, he finds the building process difficult, exciting and incredibly fun. Bas also found the cooperation pleasant and constructive: "In Lart's case, you can recognise his business background, he thinks in terms of large processes, but also indicates when he wants to think about things. We respect that." According to the planning, construction will be completed in December 2021.
"After that, the move will follow and we can look further ahead," Lart concludes.
www.StarCuisine.nl
www.adst.nl
Beeld: ©Cor Salverius Fotografie