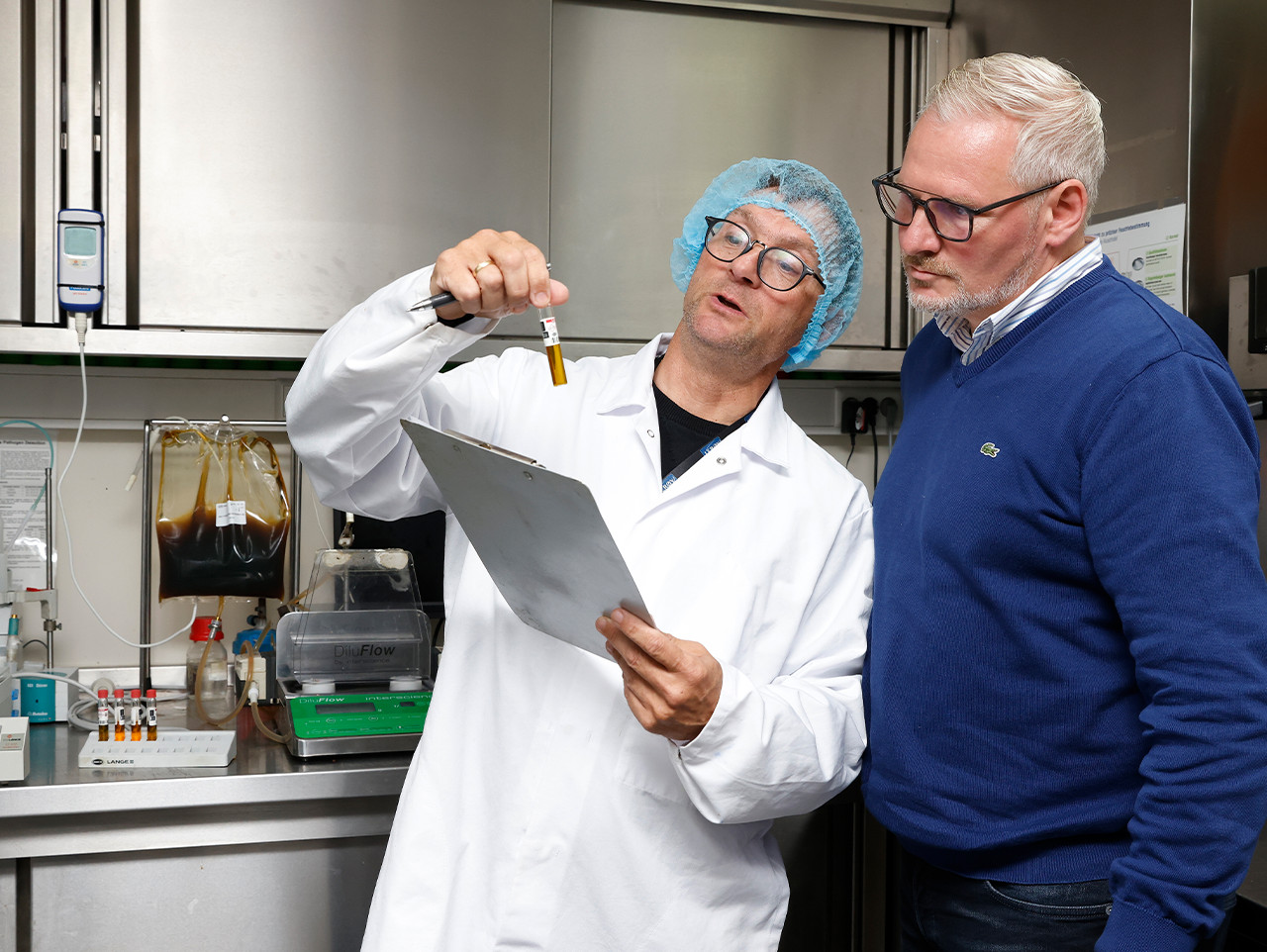 Quality manager Willem de Vries at work in his lab, with Jør Muller of Christeyns
Testing
The enzymatic cleaner in foam form comes from Christeyns, an international producer of cleaning and disinfection agents with a Dutch branch in Nieuw-Vennep. Christeyns develops products for sectors such as the food industry, retail, professional kitchens and laundries and supplies products to more than 50 countries.
On his own company floor, Willem took the test. First he wanted to measure what the situation was. In consultation and cooperation with account manager food hygiene Jør Muller of Christeyns, he checked ten spots in two steps for the presence of organic contamination and biofilm, using contrast medium. "Organic contamination was found in six of them, which is quite normal. On four of the ten there was biofilm," says Willem. "Under the guidance of Christeyns we quickly started a process of enzymatic cleaning. The results were impressive. A week later both the organic contamination and the biofilm had disappeared."
Shiny machines
From the production floor of the fish company, the question had arisen whether the machines had been cleaned. Some discolouration from external influences is normal. But now they suddenly shone like a bell. Willem continues: "The deep cleaning can be seen immediately on the total equipment! Another advantage is the positive effect on the waste water, because Christeyns' product breaks down much better biologically. Measurements in the waste water showed that there is a lower level of COD, which stands for chemical oxygen consumption. The waste water is therefore cleaner. This is not only more sustainable, it also saves us on waste water costs. The use of Christeyns' enzymatic cleaning products has now been included in our cleaning and disinfection procedures."
Innovate
Each industry has its own contamination and therefore its own approach. Christeyns adjusts the composition of the cleaning line accordingly. "Our enzymatic cleaner can be part of such a line and has many advantages. The enzymes ensure a deeper cleaning process which keeps the pipes clean", says Jør. "Enzymatic products 'cut up' fat in the wastewater into glycerol and fatty acids. This also applies to the product used at Rodé Vis. Thanks to the enzymes, the bacterial activity that purifies the water is accelerated. The savings on wastewater costs are, of course, interesting at a time when they are increasing. Cleaner waste water also has the advantage that a water purification plant has less work, which in turn leads to lower energy consumption. We continue to innovate. Just like Willem, we are constantly looking for ways to improve. In this way, the cleaning process itself is becoming cleaner and cleaner."
www.rodevis.nl
www.christeyns.com
Photos: Ton Kastermans Fotografie