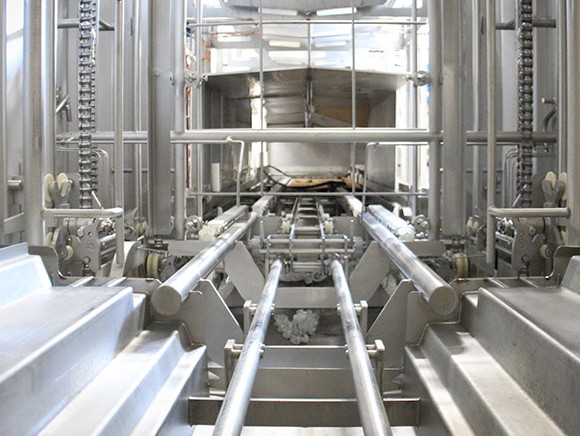 More production and more products – soft-cheese producer Özgazi in Etten-Leur is scaling up. But the expansion in both volume and product range can only be achieved with a new quality management system.
Özgazi is a relatively young company, founded in 1992, yet it turned over EUR55 million last year. That makes it Europe's biggest manufacturer of soft white cheese (often called 'feta'). The factory in Etten-Leur processes 80 million kilos of milk a year. The cheese is produced for 20 private labels of wholesalers that primarily sell to supermarkets. Most of the cheese is dispatched in large-format tins. Those tins are mainly bought by Turkish customers – not only in Turkey, but also in countries as far away as Kazakhstan, the USA and Australia. Home to three million Turks, Germany is a key market.
Efficiency
Commercial Director Harry Kil explains that the company owner, Setif Aktürk, has grown the cheese company rapidly. "In the ten years that I've been working here, this is already the second time that we've scaled up. That's why we've now opted for QIS. After a period of intense research, we decided it was the best software system for us."
The company previously expanded eight years ago, from 12 to 18 cheese vats (the vessels in which the milk is turned into the intermediate product, curd). Now, all the cheese vats have been removed and replaced by a coagulator. "That's a conveyor system, in our case 80 metres long, in which robots place partitions," explains Kil. "This creates separate sections for the curd which move along the conveyor very slowly. At the end of the conveyor the curd ends up in 'cassettes', plastic containers, where it loses more moisture. The cassettes go into a tunnel where they are used to fill the tins. Hence, cheese production has become a continuous process. Aktürk holds a degree from the Technical University in Aachen and is focused on technological innovation. He developed a machine himself to automate the process. In the soft cheese market, efficiency is essential in order to be able to keep prices attractively low."
QIS
The QiSOFT Quality Improvement System (QIS) is a software system designed and developed for the collection, analysis and visualisation of real-time quality, production and performance data. QIS supports quality management from supplier to end consumer and makes data available to all disciplines in real time, as soon as the data is generated. The system is designed to identify, resolve and prevent quality problems. QiSOFT is active for various process industries and is market leader in the dairy industry.