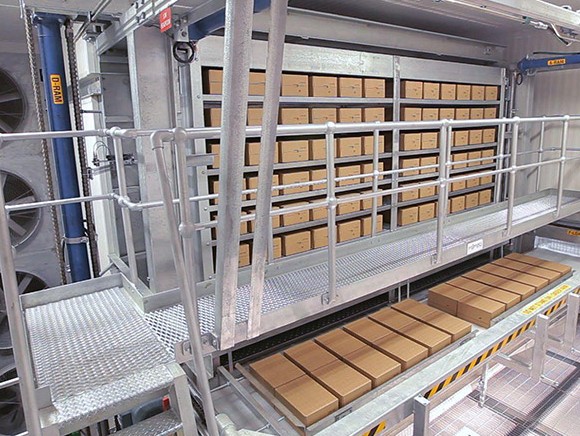 Milmeq, an international manufacturer of chilling and freezing tunnels, has chosen DGS Processing Solutions as its European partner for the design, installation and sales of logistics facilities equipped with Milmeq freezing systems.
The partnership between Milmeq and DGS comes at a favourable time, as Dennis Grolleman and Onno Lukkien from DGS Processing Solutions and Roel Hoffman from Milmeq explained to us recently at the DGS offices in Haaksbergen, the Netherlands. The offices are located above bustling workshops and large industrial halls filled with materials ranging from pipes to robot arms. According to the trio this is the ideal moment to focus on refrigerated and frozen logistics, not least because of the developments on the global market. Exports to Asia are growing strongly and the Netherlands is leading the way in terms of food. In 2015, Dutch food exports to China rose by more than 14% and economists predict a further increase. The Chinese economy continues to grow at a rate of around 6% per year. Chinese consumers are increasingly looking for more variety in their diets – and Western products offer that variety.
Robotics
One of the popular products is meat, which is of course shipped to the Far East in frozen form. China imposes strict rules for the freezing process; meat must be frozen almost immediately after slaughter. The growing global trade in frozen meat, fruit and vegetables offers high potential and, with their products and expertise, DGS and Milmeq are well positioned to support exporters and distributors. The issues of freezing and efficiency are more important than ever, as Dennis Grolleman, Director of DGS Processing Solutions, knows all too well. He is a hands-on man, born and raised in the agricultural 'Achterhoek' region of the Netherlands "between the slaughterhouse and the cold store". Together with his business partner Lukkien he brings to the new collaboration a wealth of knowledge and experience in the fields of logistics and robotics. DGS designs, builds and maintains smart logistics facilities for the food industry: automated warehouses in which robots play a central role. The two men have recently completed a major project for the entire logistics activities to and from the freezer unit at an innovative company in the 'Veluwe' region of the Netherlands.
Specialism
Such projects have become a specialism. Lukkien: "We make turnkey, customised systems and manufacture and program virtually everything ourselves in-house. We opt for simplicity and proven technology, and we develop systems that can grow as the customer's business grows. Our solutions are flexible and we can work with any types of products and dimensions as required. Furthermore, we take responsibility for the complete installation so the customer always knows who to contact for service or improvements."
'Milmeq tunnels achieve an uptime of 98 to 99%'
That proactive, problem-solving approach could well explain why DGS has become so successful so quickly. The company was founded just four years ago but soon managed to secure a foothold in the market and has grown strongly ever since. Grolleman: "We have both feet firmly planted on the ground and understand that companies in the sector can only make money if they keep labour costs in check. By definition, our systems enable customers to reduce their number of FTEs. So the systems ultimately pay for themselves."