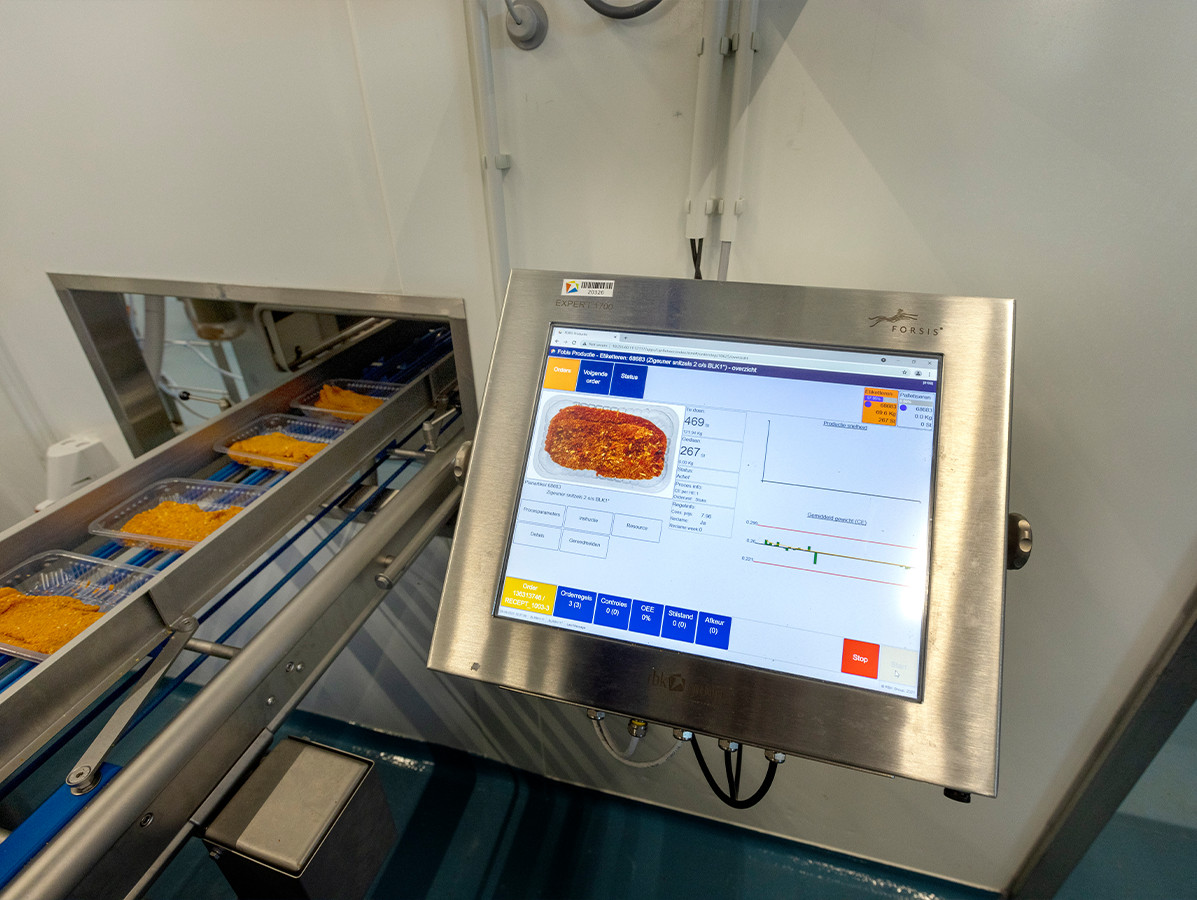 Fully automated
The work is now largely done by seven pick-and-place robots, a robot that stacks, transports and levels, to prevent one stack from becoming higher than the next, and finally it also palletises automatically. However, the brainwork that precedes this is done by the automation system. RBK was already involved in automation projects in the previous Hoogvliet butcher's shop. " That was back in the days when pen and paper still had the upper hand in production", says Erik, "at that time automation followed the existing system. However, with a new building you start the other way round. Right from the first draft of the design, you also take IT into account, because automation and robotisation determine the flow of your business."
You can see that Erik is happy with the result. "Everything goes automatically now. FOBIS® merges the various robot systems into a seamless entity in which everyone knows exactly how much of each product has to go where. When the order is ready and placed on a pallet, it is automatically labelled and the label is immediately sent digitally to the DC. The great thing is that production is planned independently of packaging. This also allows us to work much more efficiently."
Demanding
Alex Goedemondt admits it wholeheartedly: "I am quite critical by nature. Erik laughs: "I can confirm that." Alex sometimes wants things that are impossible. "I can be pretty demanding, yes. But I rate the cooperation with RBK an eight out of ten. They have the knowledge and skill as well as the patience to deal with a demanding client like Hoogvliet." He also praises Maurice van Mierlo, ICT consultant at RBK. " When I came home dead tired in the evening, having left a question with Maurice that afternoon, I would get a message from him at ten o'clock in the evening. We did it, we're going to test it tomorrow'. Naturally, that is absolutely brilliant!"
Main photo: Erik van Erk (l) en Alex Goedemondt
Photos: ©Roel Dijkstra fotografie