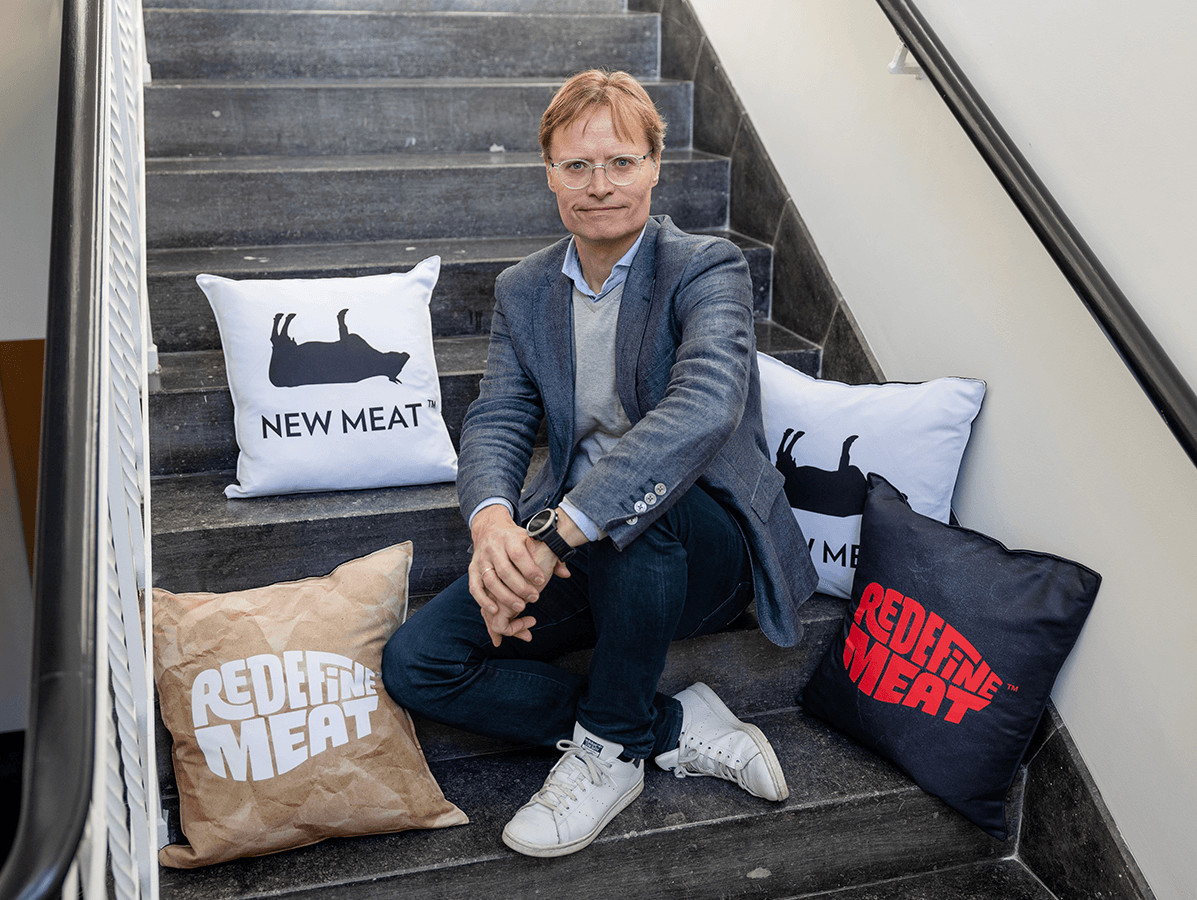 What makes your product different?
"There is an enormous amount of research behind it. Of the current 140 employees, 70 are working in R&D. Our company is built on three pillars: technology, science and cooperation with chefs. Bringing all these competences together allows us to create plant-based meat that is similar to animal-based meat in every way: in taste, mouth feel, cooking experience, colour, cutability - everything. To do so, we analysed meat in great detail. Our focus was initially on beef, the most sold and most polluting piece of meat worldwide. This is where the most sustainability gains can be made. One kilo of beef requires 25 kilos of feed and 20,000 litres of clean water - it is extremely inefficient. At the same time, beef is also the most complex of all structures.
How do you replicate this complex structure?
"Layer by layer, we recreate the meat structure very precisely using 3D printer technology. We call this the 'Meat Matrix Additive Manufacturing Technology', which enables us to create vegetable blood, fat and muscle tissue. The great advantage of this technology is that it is accurate, flexible and scalable. When we started, at the end of the day we had 1 kilo of new meat. Now, we make 10 kilos an hour. We can probably soon scale that up to 30 kilos an hour. We are also applying other technologies; our scientists are investigating all the possibilities. They are also researching locally grown ingredients; which ones could we use in our products, and how? In all the regions where we intend to establish ourselves, we want to set up local R&D teams that work as satellites of the central team in Israel. Collaboration with chefs, butchers and others is essential for R&D. By doing so, we will jointly develop products that are in line with the culinary culture of the respective region."
What does the 'ink' you use in the printing process consist of?
"The main ingredient is soya. Because this is a nutritionally sound ingredient with an almost complete amino acid profile. Its digestibility is good, it is available and it has good product properties for processing. That some people think that you contribute to rainforest deforestation by eating soy is nonsense. That is about soya for feed. The soya for human food is grown mainly in Mid-West America and China. Other ingredients we use are peas and chickpeas. All our products are vegan."
Why was the choice made to convert a former meat factory in Best, the Netherlands, into the production site?
"The choice for the Netherlands was a very conscious one. The Netherlands is the European leader in terms of consumption of plant-based meat, with the highest per capita consumption of plant-based meat alternatives. In Wageningen we have the best university in the world in the field of Agri&Food, a friendly entrepreneurial climate and a great infrastructure. From here, we can supply many countries within a day. We first focus on the Netherlands itself, then the UK and Germany. The UK because it is absolutely the largest European market for vegetable meat, Germany because it has the largest population in Europe."
"That we chose the former Van Loon factory is partly due to the existing infrastructure in that building. It is excellent, from food-grade walls to the cooling systems. Hardly anything needs to be demolished or destroyed. Reuse is more sustainable than new construction. The owner of the premises is also working out a sustainability plan for the building."