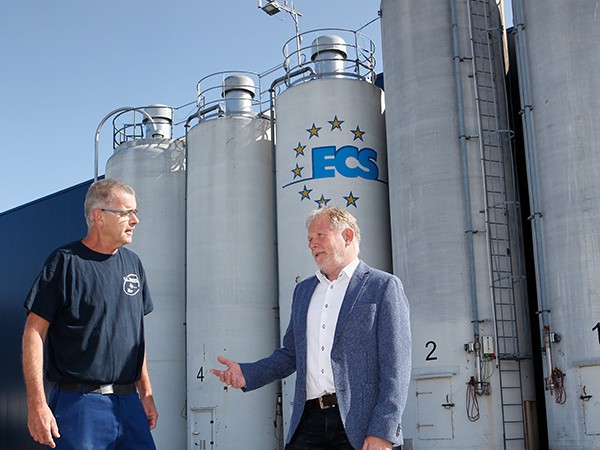 Jaap van den Born (links) en Bert van de Weerd (rechts)
Transparency and efficiency
"Giving away", says Van den Born, "you can't afford it. The market for breadcrumbs is transparent. If the price of wheat from the new harvest is known, there will be little room for price negotiations. The margins are narrow." ECS is therefore working to further reduce costs and improve efficiency. Further automation should make this possible, Penko is helping De Korrel with this goal. Now some of the information from the measurement systems, among others, has to be further processed 'by hand'. Penko was also asked to weigh and dose two new filling lines of De Korrel Beheer at a different location. This will include the software and presentation options that Penko has in store. The cooperation is growing and is excellent, according to Van den Born. "In the past four years, we have not had to call on Penko for help. That says something."
Certified
Too much or too little filling is not only economically undesirable, it is also not permitted by law. All weighing components used by Penko are certified, inspected by the Netherlands Institute for Measurement at the time of installation and calibrated annually. De Korrel's quality system is also certified, according to IFS. "That puts you on a higher level of attention and our market knows that we produce well." The market also knows that the origin of each bag of breadcrumbs has been established and can be traced.
Weighing and dosing cannot be done more quickly and accurately than is currently the case with De Korrel. "Not yet," says Van de Weerd, "but we are constantly working to improve our instruments. We regularly come up with a new production line that is better adapted to the requirements of the coming years". Penko is committed to innovation. "For example, we have developed weighing systems for the open sea. Systems that can handle the fluctuations there." Van de Weerd does not explain how that is possible, but it is clear that he is proud of his company's performance. Just as proud in fact as he is of the programmable flexible controllers.
www.penko.com
www.dekorrelbeheer.nl
Photos: © Ton Kastermans Fotografie