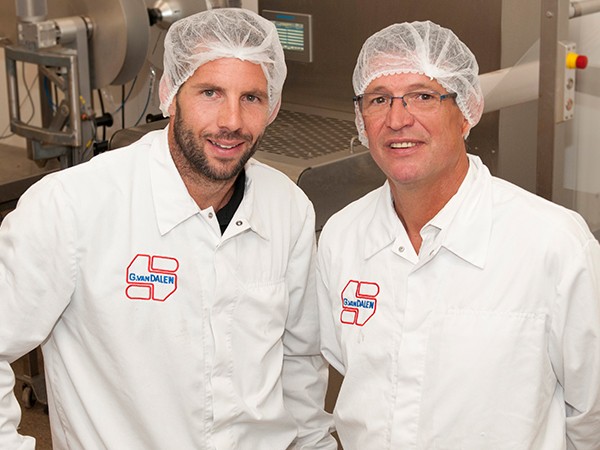 Dick Wever (left) and Mark Sijm (right)
Traditional numbers
Since Dick Wever took over the company, Van Dalen has grown considerably. He currently has about 30 employees in the company and supplies to some 70 butchers. At the same time, he 'only' slaughters 30 cows a week. Traditional numbers. "That's a conscious choice, you can't deliver our quality and service when you're bigger. Every customer wants things to be just a little bit different, exactly the way he wants it. He doesn't have to ask us for that every time. We know exactly what he wants."
And that's precisely how it is between Habuba and Van Dalen. "If you know each other's wishes, one word is enough. Everything is right. What's crucial is what machine suits my company'. Habuba has always given good advice." Dick's heart starts beating faster thanks to the tumbler from Rühle ("a great brand") and the 120 litre dish cutter from K+G Wetter ("versatile device"). These are machines that are easy to use and 'clumsy proof'. "Important", says Dick, "because if someone is ill, someone else should be able to take over the work easily. And the maintenance guy we have here gets input from Habuba, so we know what to look out for."
Animal welfare
Dick says he's a big animal lover. "I often get the question why I own a slaughterhouse. Well, I think it's unique that I can be the link between the two, because then I know it's done right." Animal welfare is a given for Wever, it's not something he has suddenly started with, because there is a demand for it. "That story was already there with Gillis van Dalen. But now we are sharing the story." Animal welfare starts with the farmer. "Herd and animals have to look well cared for. I always talk to the farmer a lot, so I can be sure it's right from start to finish."
Would he consider himself a demanding customer? "It has to be right, and I don't want to have to chase after things twice. With Habuba, however, things run smoothly, quickly and clearly. Saying it once is enough." Mark Sijm is pleased to work with G. Van Dalen's Vleescentrale. "For us, these are great customers. If you're talking to the owner directly, it makes things very easy."
www.vanuhm.nl
www.gvandalen.nl
Photos: © Nikki Natzijl