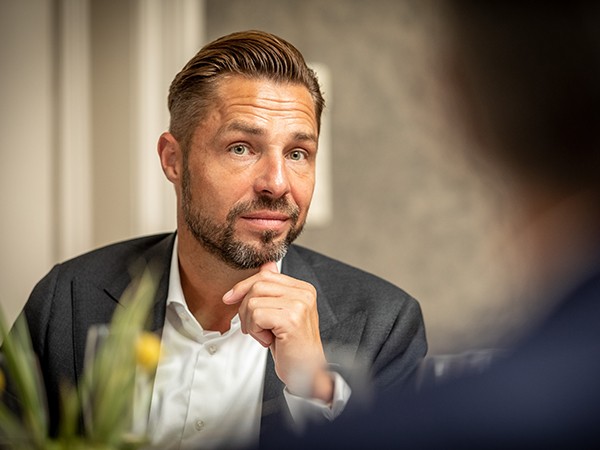 Food safety
Transparency, and therefore the sharing of information, is essential if we are to achieve better value, but also if we are to guarantee food safety and prevent fraud. Tracking & tracing is impossible without extensive automation and digitisation. "Food quality is now far better than it was 40 years ago, even though this may not seem so, due to the food scandals of recent years," says Peter Lutke Veldhuis. "To guarantee quality, we need to measure and test a lot more than before. Testing more frequently, automatically means discovering more; slaughtering with a zero tolerance is simply impossible. In addition, the legislation surrounding recalls has become stricter. Previously, when something was not quite right during an inspection, you first received a warning. Now everything is stopped immediately, and the sanctions are much harsher. Our solution to keep the risk as low as possible does not lie in robotisation, but in reducing the size of the batches. In that case, the damage is less serious in the event of a recall. For the time being, this mainly results in more manual work."
Peter Harmens: "Automation is possible, but it is expensive because the market for it is small. Nevertheless, we recently developed a new automation system for a veal producer that enables the company to trace more effectively. After a costly recall, the company considered it worthwhile to invest heavily in this system."
Aldo van der Laan: "I think that blockchain can play a major role in this area. The big advantage is that data recorded in a blockchain can no longer be changed. The transparency that it provides, offers possibilities to improve processes. And it guarantees high quality and food safety."
In the food industry, blockchain technology is now being cautiously tested in various chains. In the Frievar pork chain, for example, a pilot with this technology was successfully completed last spring, and now approximately 100,000 Frievar branded pigs are provided with a digital meat passport every year.
And Verstegen Spices & Sauces started a pilot project with Fairfood to use block chain technology to make the nutmeg production chain transparent, which should lead to a stronger entrepreneurial position for the farmer. It is expected that this pilot will be extended to other products in the range of the herbal supplier.
Experience
The final stage of the dinner: the desserts. We move to the atmospheric cellar of the restaurant, where we sit down at a long table. There is a nice platter for everyone with various cheeses and matching wines. This is an excellent opportunity to ask the last question: "Food is increasingly referred to as 'experience'," says Ceel Elemans. " Does automation pose a threat? "
Aldo van der Laan responds: "The experience of food is enormously romanticised. In my opinion, there are few people who live up to that food image within their expendable budget. In practice, people eat mainly functionally during the week. The hectic of the day is leading. You come home after work, the children have to go to sports, there has to be something on the table quickly. Convenience, for a small price, is more important than experience. And automation processes in the food industry do play an important role in that area."
Johan van Marle: " For catering and events, that feeling of 'experience' is important. Our chefs are creating a spectacle amidst the guests. The chefs enjoy it a lot. I don't think a robot will ever be able to do it like they can."
In conclusion
The dessert is brought in: colourful plates full of sweet flavours. The conversation moves seamlessly from robotisation and digitisation to subjects that have little to do with the theme. What do we do with the rise of vegetarian food and what does that mean for the butcher's existence in your village?' 'How do you organise the succession of your company?' And now we're ready for a less complex topic: 'How was your holiday?' And: 'Where else in the Netherlands can you eat as well as you do here?' In Brabant, for example, where the next CEO dinner will take place. Then we'll talk about sustainable packaging.
Photos: © Joris Telders