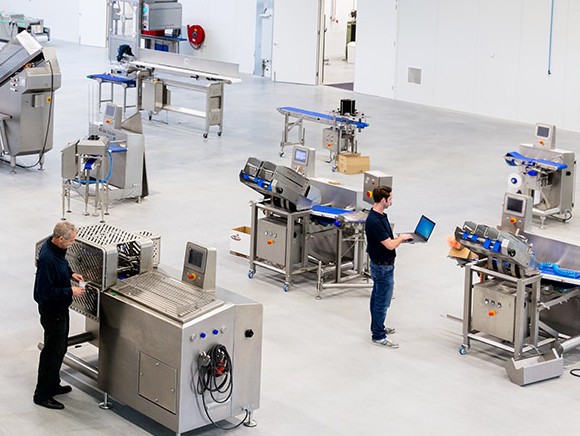 As more and more companies are replacing manual labour with automation and letting machines do the work instead, the machine building market continues to show steady growth. Sleegers Technique BV is cleverly capitalising on the opportunities by building machines in line with its customers' wants and needs. But even for companies on a limited budget, there are plenty of made-to-measure solutions available.
"In the food industry, it's important for a machine to be easy to clean thoroughly. Thanks to the robust and simple design, the cleaning is done in no time."
Completely bespoke
A pioneering customer needs a similarly pioneering machine, and Sleegers Technique BV shares that pioneering spirit. If the right machine doesn't yet exist, the company can design and build one that meets all the requirements, in close consultation with the customer and based on the desired specifications. Prototypes are tested extensively until both sides are satisfied with the results.
"The machine Sleegers built for us is idiot-proof!"
Tailor-made machines
But not everyone has sufficient financial resources to commission a completely new machine. The industry pioneers are closely monitored by competitors who subsequently follow their lead. These 'followers' are often the smaller market players, but Sleegers Technique BV also takes their needs into account by offering standard machines, for instance. The basic module has already been developed and merely has to be adjusted in line with the customer's specific situation. Hence, a Sleegers Technique BV machine is within everyone's reach!
"The machine not only performs well but also exudes strength and professionalism."
Sleegers Technique BV supplies the following machines:
1. Slicers & interleavers
2. Underleavers
3. Underleavers & stackers
4. Inliners & overlappers
5. Robots