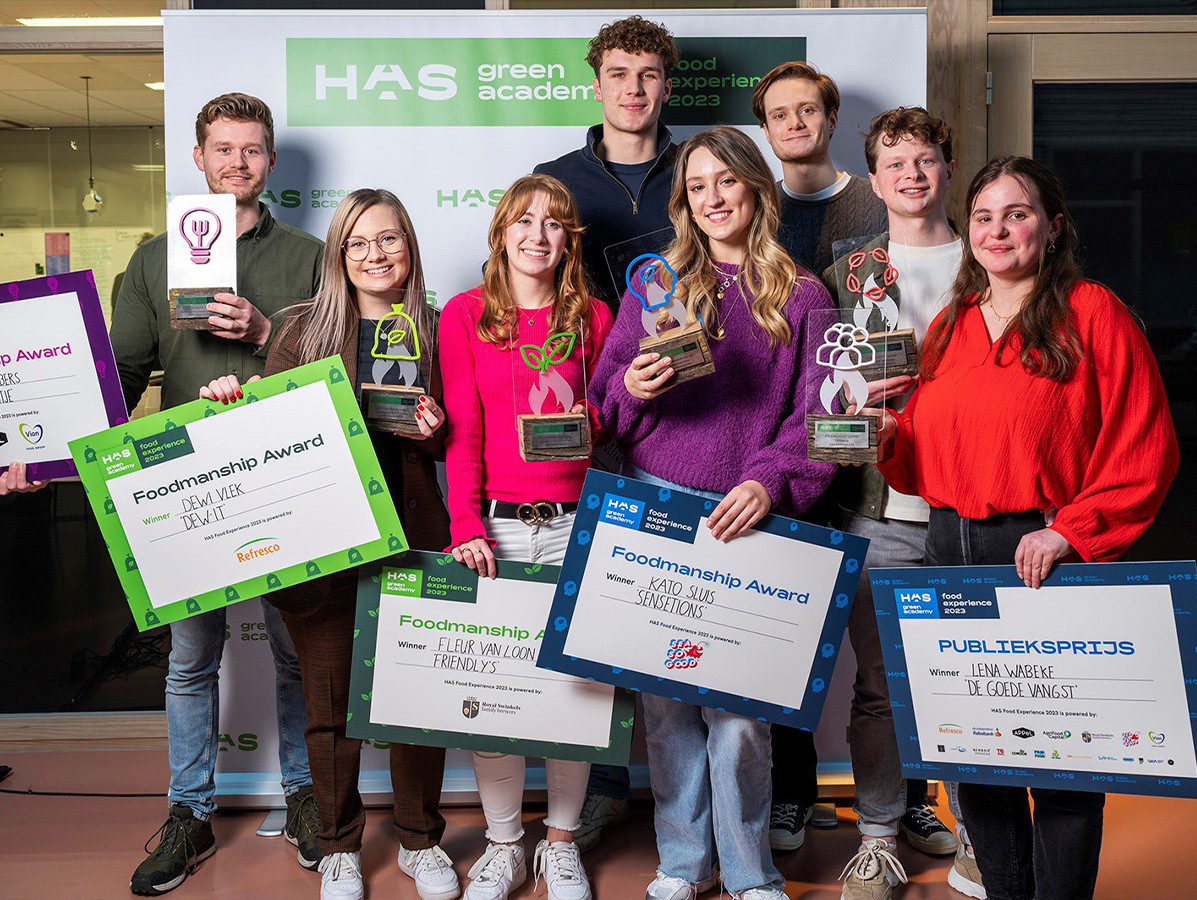 Op 31 januari 2023 werden de felbegeerde FoodmanShip Awards uitgereikt aan negen veelbelovende jonge talenten die (bijna) klaar zijn om de arbeidsmarkt te betreden. Deze studenten van HAS green academy bedachten allemaal vernieuwende oplossingen voor uitdagingen in food en food-systemen voor vandaag én morgen binnen het thema: We're on fire!
De HAS Food Experience is hét jaarlijkse food-evenement van HAS green academy waarop studenten innovatieve food-projecten presenteren en meedingen naar de FoodmanShip Awards. Dit jaar is de 15e editie. De HAS Food Experience werkt van podium naar platform en zorgt er zo voor dat steeds meer studenten met hun kansrijke ideeën en projecten de weg naar de markt vinden.
De winnaars
De projecten zijn onderverdeeld in vijf categorieën + publieksprijs. Dit zijn de winnaars:
Categorie Sustainable alternative proteins
Fleur van Loon ontwikkelde Friendly's, een chocoladepasta-product met een hoog alternatief eiwitgehalte in de vorm van insecten. Zij hoopt consumentengedrag op een positieve manier te beïnvloeden door het toegankelijk en leuk maken van het eten van insecten.
Categorie Healthy body and mind
Kato Sluis bedacht Sensetions. Dit is een merk met vijf poeders die extra mondgevoel aan een maaltijd toevoegen, speciaal voor mensen met reuk/smaakstoornis. Deze aandoening komt steeds vaker voor vanwege de vergrijzende bevolking, maar ook door bijvoorbeeld Covid19. Met de poeders kunnen mensen experimenteren en iets extra's aan hun eten toevoegen.
Sustainable food systems
Bart van Haaren, Lennart Hoops, Pim Heeman en Tom Engels werkten aan de opdracht Regenerative farm Ethiopia. Ze ontwierpen een unieke regeneratieve kernboerderij in van 500ha in Ethiopië die exportgewassen produceert zoals biologische avocado's. Centraal staat daarbij onder meer een leefbaar loon voor de arbeiders, het genereren van buitenlandse value en aandacht voor een bodem in balans.
Categorie Unwaste reduce and prevention
Dewi Vlek ontwikkelde Dew-it. Dit is een innovatieve kauwgomverpakking waarbij je de uitgekauwde kauwgom via een speciale dop in een apart compartiment kunt 'duwen'. Hierdoor blijven verse eén gebruikte kauwgom gescheiden. Het voorkomt dat de uitgekauwde kauwgom op andere (ongewenste) plekken terechtkomt. Een vernieuwende manier om zwerfafval te verminderen.
Categorie Meaningful food innovations
EETBAAR Tuintje is bedacht door Dennie Wolbers, een concept om het eten van groenten en fruit te bevorderen. Het tuintje is vooral gericht op groente als snack en speelt tevens in op het vergroenen en gezonder maken van je eigen leefomgeving. Met EETBAAR Tuintje kun je makkelijk groente en fruit verbouwen in je eigen achtertuin of op je balkon.
Publieksprijs
Lena Wabeke bedacht het concept De Goede Vangst, biodiverse bitterballen gemaakt met rivierkreeftjes. Invasieve exoten zijn planten of dieren (in het bijzonder bij de rivierkreeften) die naar Nederland zijn gekomen - vaak door het handelen van de mens - en hier de biodiversiteit bedreigen en aantasten. De Goede Vangst biedt een oplossing voor het rivierkreeftenprobleem door ze in een product te verwaarden.