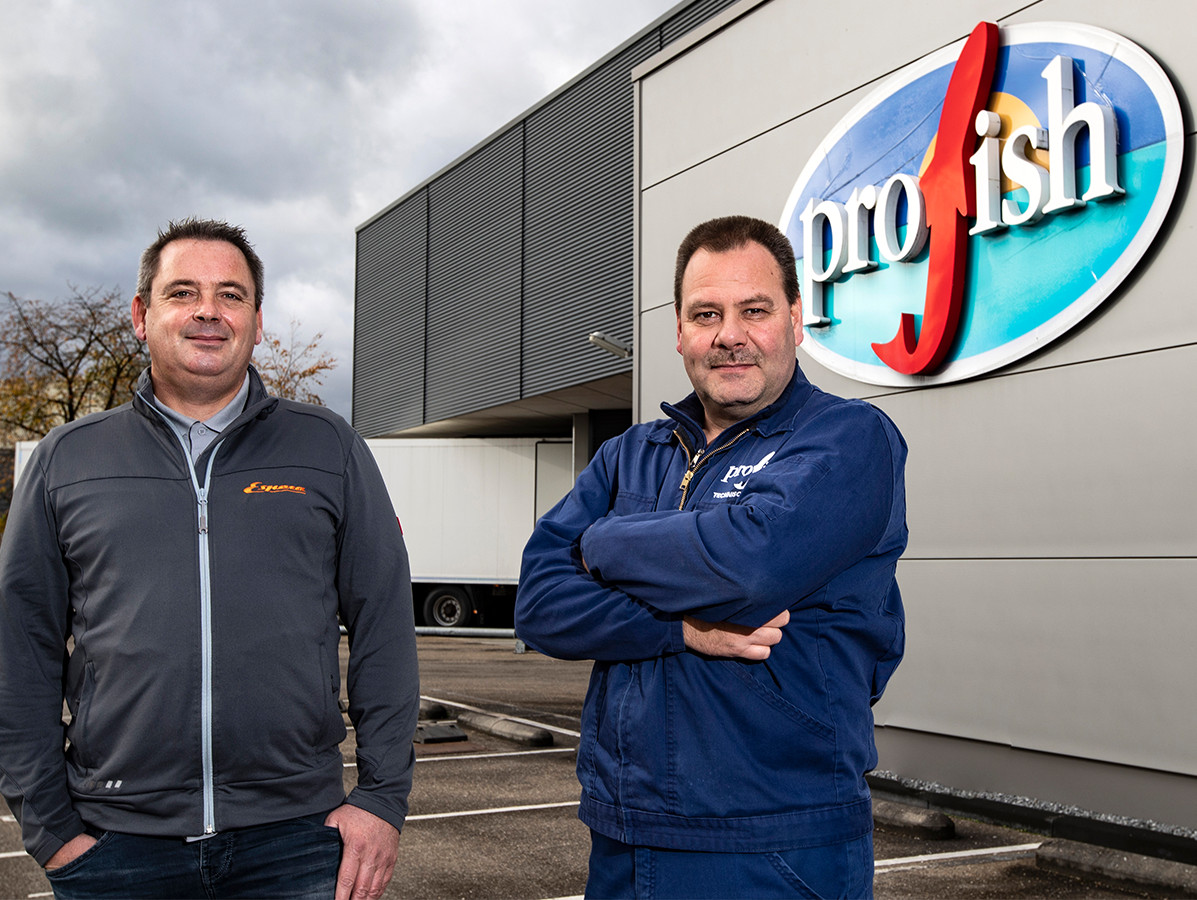 Mischa Schmitz and Jan Hartgers
The result is impressive, according to Profish. The company can now pick orders from ten shops at once, run them over the Espera and then sort them out again per branch. Faster and with fewer FTEs. Even from a health and safety point of view, this is a big step forward now that employees no longer have to lift crates themselves.
Collaboration
It was an intensive process, evaluates Hartgers. "Espera thinks in a solution-oriented way. We were able to work 'around the building'. The most important factor was that we could constantly supply our customers. Espera and ReflexSystems ensured that all the data was in order. Thanks to the multi-roll printers, we can quickly print small batches with many different labels. We have made a great deal of progress with this. Staff has to learn to work well with the new equipment, Espera is further optimising the line. In that respect, we continue to improve."
Profish's order to Espera was placed on 13 March 2020 and the first packaging of the new lines rolled out before 1 July. Well on time, despite the fact that it was in the middle of the corona crisis, which, according to Hartgers, sometimes slowed down the project. "Then a good business relationship helps. Mischa Schmitz agrees. "In the end, this complex project was completed quickly thanks to the good cooperation between Profish, Espera and Reflex.
How it works
Profish is able to process orders from ten retail branches per line at the same time. Orders are placed centrally in the ERP system, after which labelled top seal packaging is prepared in order sequence in crates on a dolly. The crates are unstacked automatically, and an operator enters the packaging manually. The Flex 3000 from ReflexSystems indicates the order sequence. A unique buffer system digitally prepares the orders in the Espera terminal. The individual packaging is weighed and one or more top labels are printed and applied from the four top printers. These contain the current information from the Reflex 3000 system. The same applies to the lower label. A bounce signal is then sent to one of the ten sorting stations, where an operator picks up the labelled packaging in a crate. A supermarket that places its order in the morning receives the correct quantity of pre-packed fish in the desired (many) varieties that same day.
www.profish.nl
www.espera.com
www.reflex-systems.nl
Photos: © Fotopersbureau Hissink