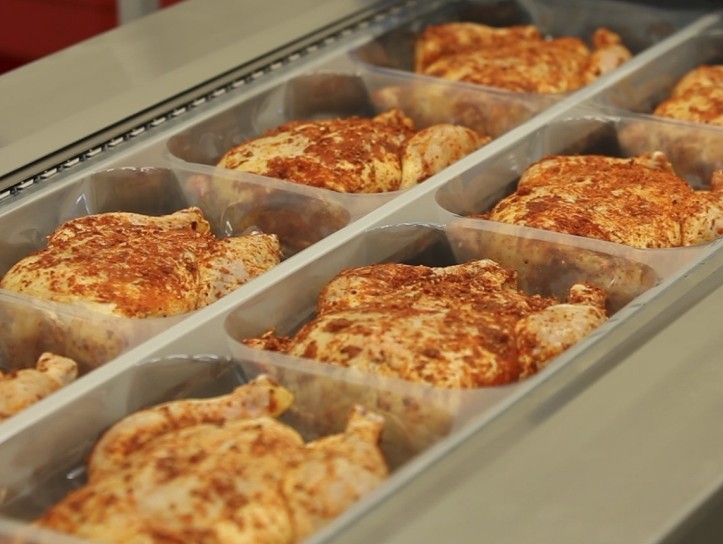 An innovative packaging concept which enables food products – and their packaging – to be placed from the freezer directly into the oven or microwave or on the contact grill. It saves energy, reduces food waste and improves hygiene in (institutional) kitchens.
The demand for frozen convenience products continues to grow unabated. However, the rise comes at the expense of other frozen products. In Germany, for example, the sale of frozen meat products dropped by over 23 percent last year to the benefit of frozen convenience products. The Mylar Cook® and Mylar Bake® packaging concept from film producer DuPont-Tejin, which has been developed in collaboration with Multivac, could change that. "In principle, the film can be used on all Multivac thermoformers," says Marcel van den Berge, Marketing Manager at Multivac.
Cooking convenience
Marcel explains: "The film enables a wide variety of food products to be packaged, including meat and fish products, bakery items, vegetables, potatoes, ready meals and meal components. The products can then be placed directly from the freezer into the oven or microwave or on the contact grill while still in the packaging." While that considerably increases the cooking convenience for consumers, the concept offers further advantages too. "Aromas, vitamins, mineral and if relevant the product's own moisture remain inside the packaging, which improves the flavour. This means that less salt and seasoning is required."
Lower energy costs
The product is heated evenly throughout. When a certain pressure is reached, the packaging opens up automatically to allow an attractive golden-brown colour to develop. Hence, unlike in the case of the standard packaging, this concept does not require a valve. It is already in use in dozens of countries, not only by consumers through supermarkets but also in industrial kitchens, restaurants and institutions. "It results in 20-30 percent shorter preparation times, thus generating lower energy costs and saving time. And because institutions only have to take the amount of packages out of the freezer that they need at that moment, they also minimise their food waste."
'No Touch'
The packaging concept with Mylar Cook® and Mylar Bake® is also ideal in terms of hygiene. The person preparing the food does not come into contact with the raw product, which eliminates the risk of cross-contamination for instance. Moreover, the oven, microwave or contact grill used to cook the product remains clean.