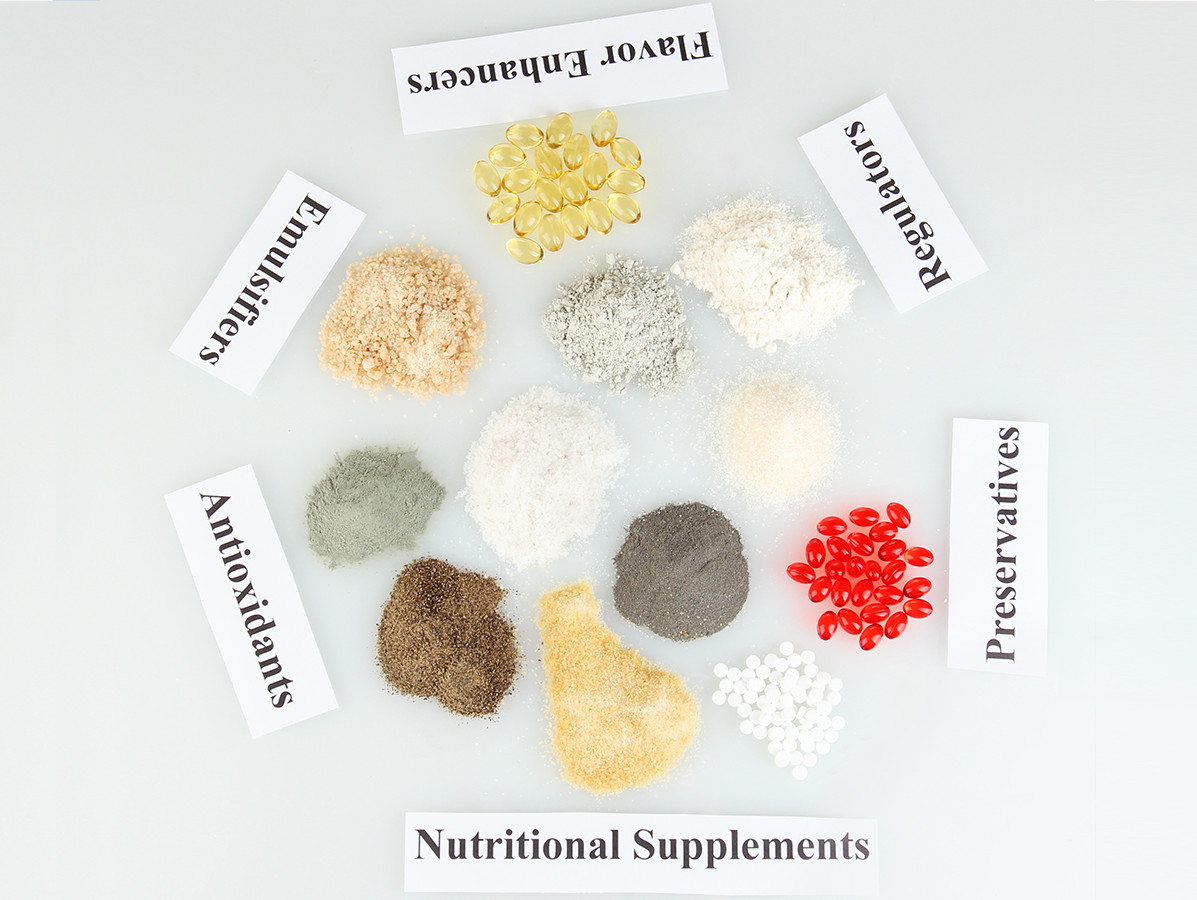 Food products have a structure, colour, taste, smell and a certain shelf life. To make and/or improve these aspects, functional additives such as emulsifiers, stabilizers, thickeners and modified starches are used. However, additives have a negative image for many consumers.
The name of a product on the packaging creates an expectation among consumers. Take a 'vegetarian burger'. The consumer expects it to look like a meat burger. But also that it has a similar bite, juicy texture and taste as a meat burger. The developers of these products therefore face a challenge, because the marketing department demands a clear and explainable label. The use of functional additives is almost unavoidable in order to achieve a good and tasty product.
What is an additive?
Additives are substances that are deliberately added to food to improve or maintain certain properties such as texture, stability, colour, odour, shelf life or taste. By law, they are food, but they are not consumed as such. Additives have been assigned an E-number that indicates approval for use in food by the European Commission and the European member states.
What is not an additive?
Some substances have the same properties as additives but are not, such as processing aids, flavourings, minerals, trace elements and vitamins. Also some starches are not considered as food additives but as ingredients: native starches, including waxy starches, amylopectin starches, pre-gelatinised native starches, enzymatically or physically modified starches.
Processing aids are substances that are not consumed as food ingredients themselves, but are used intentionally in the processing of raw materials, foods or food ingredients to achieve a certain technological objective. Their use may sometimes result in the unintentional, but technically unavoidable, presence of residues or derivatives of these substances in the final product. Therefore, they should only be used where they do not pose a risk to health and have no technological effect on the final product. Processing aids do not need to be labelled.
Additives and their functionality
Food additives are classified according to the main function that is usually assigned to them, in the following categories: antioxidants, preservatives, emulsifiers, modified starches, glazing agents, colouring agents, flavour enhancers, stabilisers, thickeners, food acids, sweeteners and acidity regulators. For some additives it is not easy to indicate what their function is in the final product; they fall into several categories. An example is lactic acid; this can be added as a food acid, but also as a preservative against Listeria. Depending on its functionality in the product, the additive falls into a particular category.
Emulsifier
An emulsifier is a substance that enables homogeneous mixing of two or more immiscible phases, such as oil and water, in a foodstuff. A typical example is halvarine in which up to 60% water is added to 40% fat or oil. This cannot be done without an emulsifier, for example a mono- or diglyceride or lecithin. A protein can also have an emulsifying effect. Meat, for example, consists of protein, water and fat. In the preparation of Frankfurters the protein functions as an emulsifier for the fat and thus an emulsion of meat, water and fat is created. Vegetarian products are composed of vegetable proteins with water and fat, which is added as desired and required to make a juicy product. Here an emulsifier is needed to mix the fat and water well. One of the proteins can have this function, but often methyl cellulose is used in this situation to give the product a juicy texture.