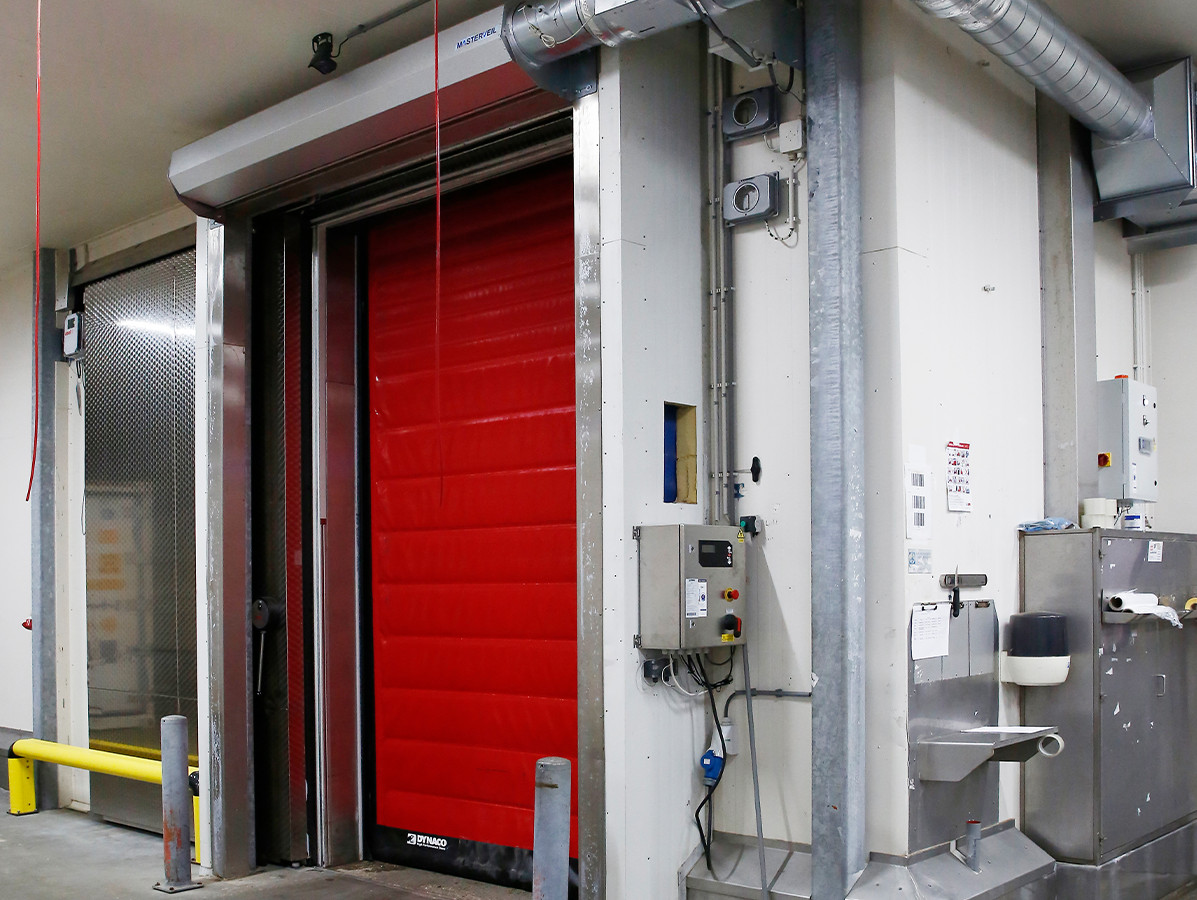 Warm air supply and ice formation in the cold store gave Seacon Production headaches. It endangered the quality of the deep-frozen fish products. A new air door in combination with a high-speed door provided the desired solution. With savings in labour time and energy as a bonus.
"We had a problem in our cold store: too much ice formation near the evaporators. Every day, sometimes twice, we had to de-ice the coolers by hand." Riekelt Bennik explains the problem that fish processor Seacon Production in Urk ran into. "The cause was the warm air that entered the cold store through adjacent rooms when the automatic freezer sliding door was opened. This warm air has a high humidity, which causes ice to form on equipment and pipes. Warm air and ice create an imbalance in the cooling fans, which leads to the risk of bursting of cooling pipes. We were faced with a considerable challenge."
The challenge
Riekelt started his career at Seacon Production as a 14-year old holiday worker. 21 years later, he is now the company's chief technical officer. He knows the company like the back of his hand. He thought he could solve the problem with sliding doors, but Technical Manager Teun ten Napel had his doubts. For three years now, Teun has been helping to optimise the technical production processes. "I've seen solutions at several companies that don't work. Sliding doors don't work here, for example, because the doors of the freezer room are mounted in the wrong place. If you want to use these, either the door or all the coolers would have to be moved. That is too radical and too expensive. So we considered several solutions until Ronnie Schiltmans, owner of Prodoor, advised us to install a combination of an air door and a rapid-action door. Ronnie took Riekelt and me to Hanos in Apeldoorn, where a similar solution is already being used with great satisfaction."
The advice from Prodoor, with whom they have been working since 2007, was appreciated and implemented. "On a 'no cure no pay' basis," Ronnie adds with a laugh. "Teun said 'I've seen so much, just do it. But if it doesn't work, you can come and take it out yourself!' I took up this challenge because I knew it would work."
The solution
"As Prodoor, our job is to come up with the best door solution. Based on experience and application, we make a fair proposal." Ronnie outlines the solution: "At Seacon Production, a high-speed door was installed in the cold store in January 2021 with shorter opening and closing speeds than previously realised by the electric freezer sliding door. The Airstop air door from Masterveil also prevents humidity from entering the cold store." Riekelt: "I keep an eye on the temperature of the cold store. This does not rise dangerously anymore, it now stays at a steady -20 ℃. That's how we ensure the quality of our product." Teun adds that another benefit has been achieved: savings on labour. "We have not had to clean the coolers for two months now. I also expect a difference in energy consumption, but we will not be able to tell for another year. Colleagues have already noticed that it stays cooler."