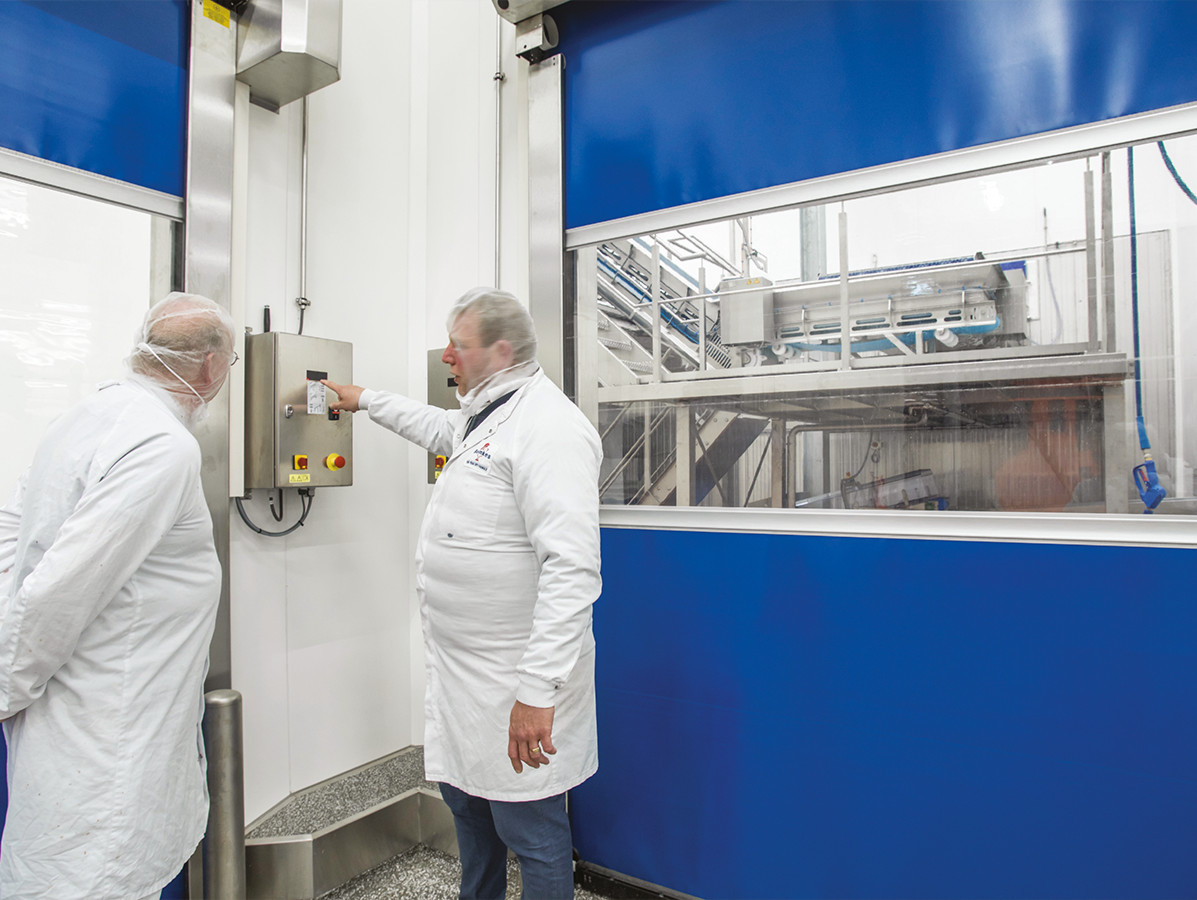 Poultry slaughterhouse Remkes had a new building constructed to expand the production of cooked chicken meat products. A sustainable building with modern machinery and industrial doors that guarantee the functioning of the building. Two generations meet here to revisit the past, to realise the new building and to look into the future.
Opposite the existing production location, new premises have been built for poultry slaughterhouse Remkes in Epe. The new building includes a 4,000 m2 pasteurisation and cooking area, a 3,800 m2 cold storage area and a 2,400 m2 shipping area. The ambitions for this location are high; the goal is full integration of the entire chain in a BREEAM-NL Outstanding (sustainable) building. A healthy indoor climate for the production, processing and cool storage of the chicken meat products is important in realising this ambition. How did Remkes achieve this? Father Hennie and son Marcel Dijkkamp enthusiastically talk about their involvement.
Every chicken is different
Hennie Dijkkamp has been working at the chicken slaughterhouse for over 50 years. "As a 14-year old boy, I worked here during holidays and I 'stuck around'. There were 10 of us then and we worked in a large barn. I was allowed to cut necks, fold wings and clean crates. Later, I worked on the conveyor belt until I got assigned to the post-control. The good thing is that you are really involved with the product. Every chicken is different, some are easier to process than others. Nowadays, the rough work is done by machine, the post control is a bit of manual work that still remains. That still fascinates me." Hennie describes the 'old days' with a bit of nostalgia. "When we worked with a small group, the atmosphere was more friendly, you knew each other and each other's families. Now we work with about 100 people of different nationalities. You don't know everyone personally. But I get on my bike five days a week to go to work and make every day my day."