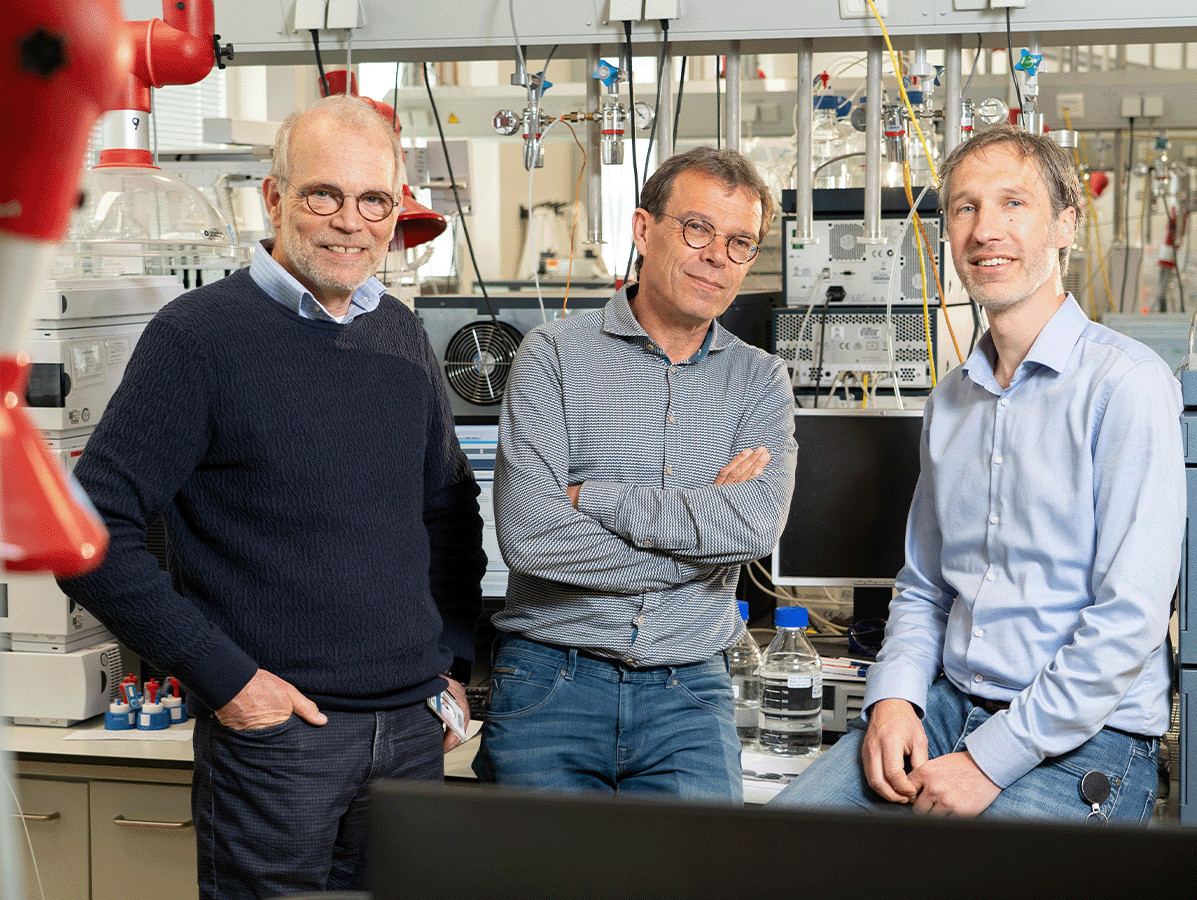 In the event of a major fire, radiation incident or food scandal, the government wants to know quickly whether the food and drinking water are still safe. Wageningen Food Safety Research (WFSR) provides the government with advice in such major crises. How do they operate? And what new risks do they see for the future?
At Wageningen Food Safety Research, part of Wageningen University & Research (WUR), we meet three key players in crisis situations. Arjen Gerssen is project leader of the crisis organisation, Ron Hoogenboom is WFSR project leader of the Crisis Expert Team Environment and Drinking Water (CET-md) and Robert van Gorcom is director of Wageningen Food Safety Research (WFSR).
'Food safety is a regular part of innovation projects'
"WFSR is the laboratory that examines food and feed samples for the Dutch Food and Consumer Product Safety Authority (NVWA)," Robert says. "In the event of incidents and crises, we are active on an even wider field. The Environmental Accident Service (MOD) of the RIVM, the Department of Public Works and Water Management and the Ministries of Agriculture, Nature and Food Quality (LNV), Health, Welfare and Sport (VWS) and Education, Culture and Science (I&W) also entrust us with laboratory and advisory tasks. For certain types of incidents, there are national expert teams in which various laboratories are represented. For example, there is the National Laboratory Network Terrorist Attacks (LLN-TA), the Radiological and Health Expertise Network (RGEN) and the Crisis Expert Team Environment and Drinking Water (CET-md)."
Ron: "The strength of these expert teams is that we know each other and inform each other. We all work from our own expertise. As WFSR, we look at the consequences of an incident for the food chain. Within the expert teams, we complement each other. You can imagine that another laboratory discovers that a toxic substance has been released after a disaster, which may be harmful for the environment or the quality of the drinking water. Based on our expertise, we can then advise to move the livestock in that area inside or to temporarily stop harvesting certain crops."
Which crises are most common?
Arjen: "Fires. In the case of certain fires, the Environmental Accident Service of the RIVM is called in first. They take measuring vans out into the country and carry out the first analyses. If these show that dioxins or heavy metals may have been released, we are involved. This happens about 10 times a year. Based on our measurements, we can adjust any advisory reports.
Robert: "We are also regularly called in by the NVWA because foodstuffs may pose a threat to public health. This happens, for example, when an entire nursing home becomes ill after eating a meal. We then investigate which micro-organisms, viruses or toxins caused this. This enables the authorities to take appropriate measures.
How often does it happen that you examine foodstuffs because they may be harmful to public health?
Arjen: "Every week. These are mainly incidents. The number of times that this leads to a crisis has dropped significantly in recent years. This is due to the fact that food companies are increasingly in control of the problems themselves. They know what the risks are and take the right measures to prevent them from spreading. We still find Salmonella or Listeria in food, but it is usually limited to one product or one product line.
How do you proceed if an incident escalates into a crisis?
Arjen: "A crisis often starts small. It may start with an analysis in the regular sampling process, or we may receive a question via our on-call service outside working hours. An example is the fipronil crisis, when we found the harmful substance fipronil in eggs. Such a crisis starts with a few samples. Then the NVWA wants to know to what extent other products are also contaminated. Pretty quickly, therefore, we are sent large quantities of samples. As an institute, we drop some of our other duties to be able to focus on the crisis. In a major crisis, half our institute is busy analysing the samples."
Ron adds: "Well-known examples of crises are the fire at Chemie-Pack in Moerdijk, the Belgian dioxin crisis and the nuclear disaster in Chernobyl. In such cases, we work day and night to analyse whether the crops are still safe for consumption."