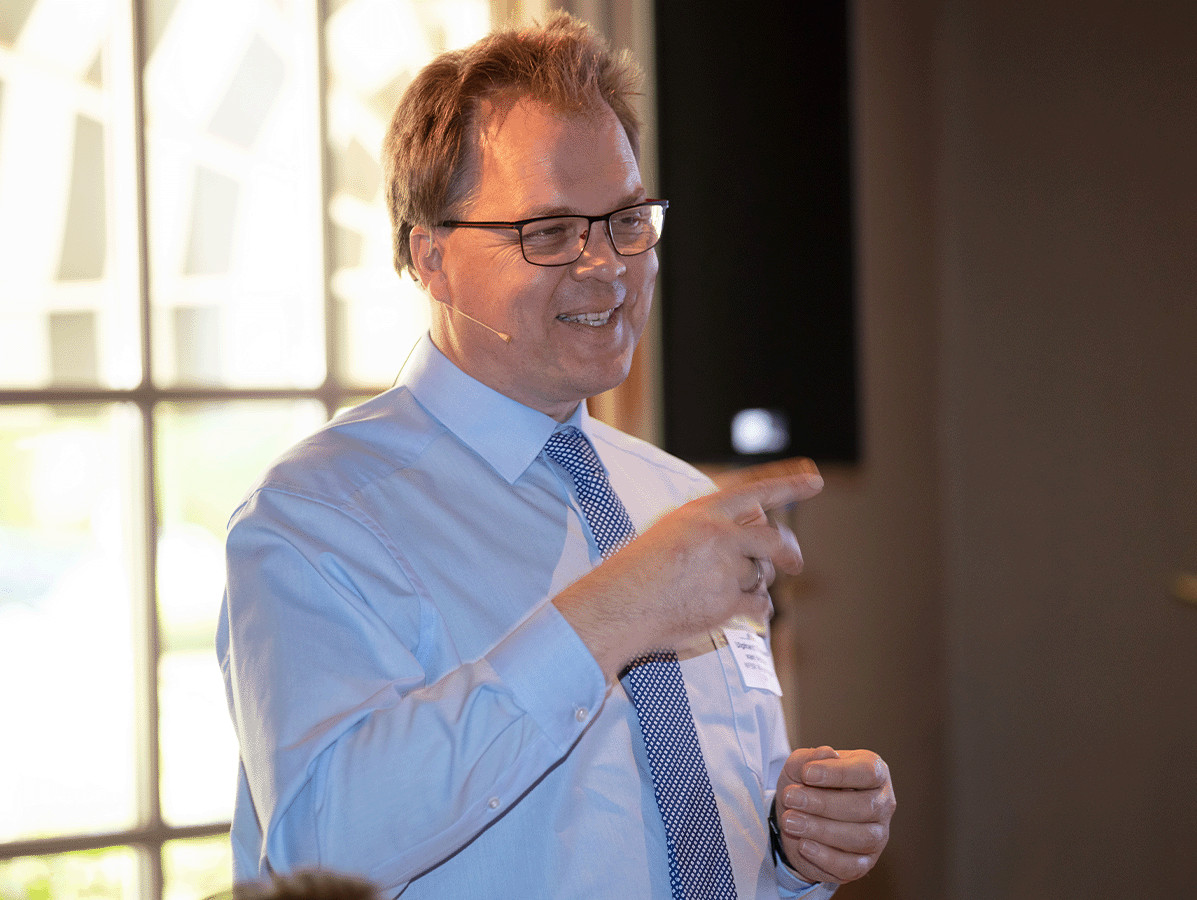 Ulphard Thoden van Velzen

Thou shalt recycle!
Ulphard Thoden van Velzen, senior researcher packaging technology and recycling - Wageningen Food & Biobased Research, started the afternoon with a clear message. Just back from Brussels, he knows first-hand how angry the Euro MPs are about the lack of decisiveness to solve the plastic problem. "They are very passionate. Enough is enough, they say. Strict laws and regulations are coming our way."
( Still reading this despite the warning at the beginning of this article? Then you are probably a curious and stubborn type. Very good: you are badly needed to bring about change).
"The adage from Brussels is: 'Thou shalt recycle!' The packaging industry must get rid of its dependence on oil. However, the current plastic system is still far from circular, partly because packaging is not designed for recycling from the start. Polymeric contamination now makes recycled packaging brittle and fragile, and because of molecular contamination (inks, dyes) they are often not food-safe. There is too little food-grade PET on the market to meet the targets. Nor is this possible due to a lack of effective sorting and cleaning technologies.
In addition, the current legislation and regulations offer little room for innovation, and that is because the EFSA is advised by scientists. They are conservative, do not want to take any risks with their advice and therefore build in large safety margins. This has led to a much too strict interpretation of the legislation.
How to proceed?
Even in the best-case scenario, if all packaging were currently designed for recycling and we only used the best available recycling techniques, we would still run up against a technical limit, Ulphard explained to the quiet audience. "If we all do our very best from now on, much more is feasible, but a fully circular economy is an illusion with the current laws and techniques. Moreover, the current drive for more circularity is still not a solution for climate change, nor for reducing litter."
How to proceed? A very relevant question! What is clear is that finding a one-size-fits-all solution is a utopia and there are barriers and dilemmas attached to each option. At the moment, however, the stakeholders in the chain are jumping in all directions with their solutions. That is why chain direction is very necessary. Now the audience is stirring: 'Who should take it on?' Again, a good question, although there will be no answer this afternoon.
"What is certain is that more compulsion is required for 'design for recycling'" continues Ulphard, "with EFSA's risk assessment for innovations becoming less conservative." In response to the spontaneous question from the audience "How??" the scientist answers with a broad grin, "My advice? Take the risk assessment away from the scientists!" He concludes, "As for improving the supply of food grade recyclate; that will only succeed if there are better sorting systems, and short closed recycling systems."