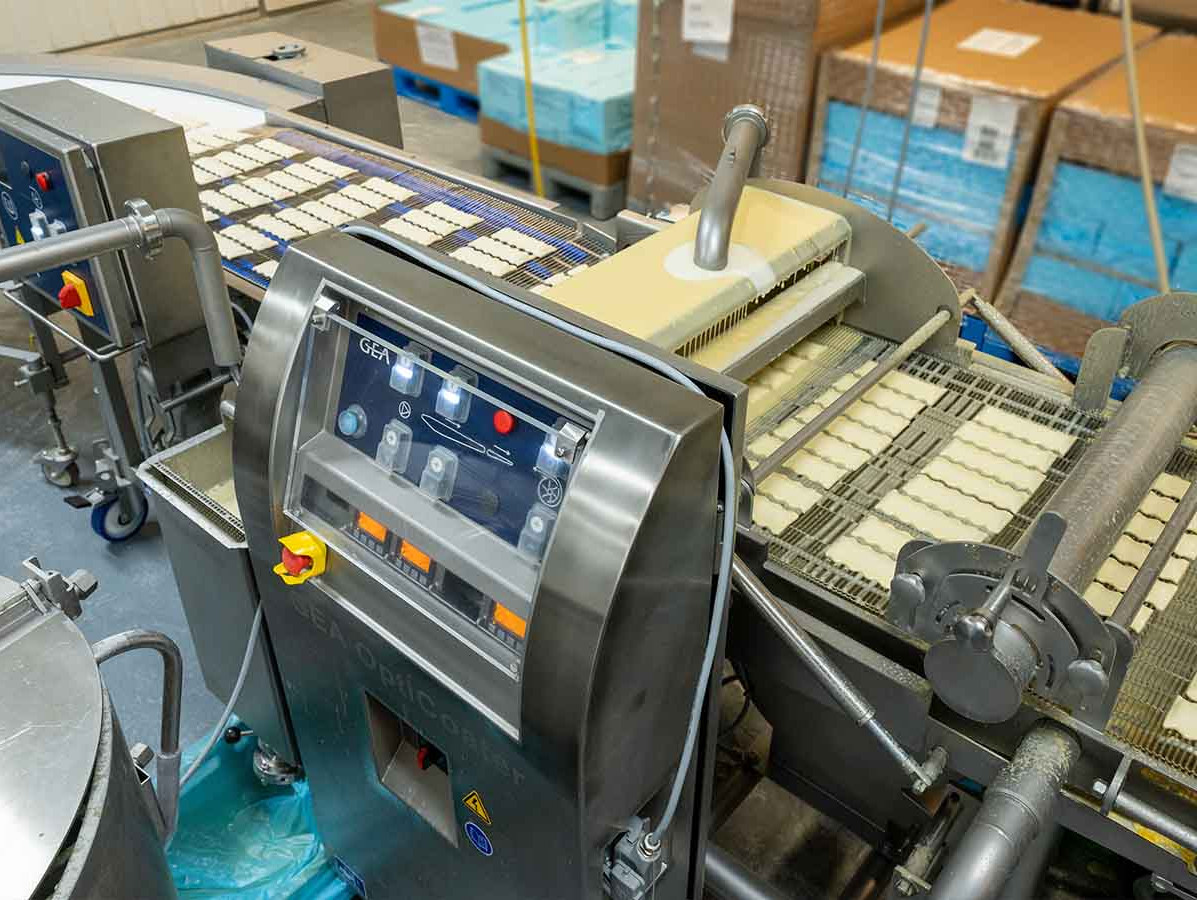 A tasty snack is partly characterized by a nice crispy crust. But applying a good, even breadcrumb layer while limiting dust formation and waste is no easy task. Van Geloven Cuijk therefore purchased the latest CrumbMaster.
Upon entering the production plant of Van Geloven Cuijk (formerly Swinkels), you immediately smell: cheese is being worked on here. "Today we are making souflesse. About 20,000 roll off the conveyor belt every hour," says Franc Trilsbeek, team leader at the company. Souflesse is the cheese soufflé brand of snack manufacturer Van Geloven. The brand is part of McCain Foods, the global market leader in frozen foods. The factory in Cuijk is the production location for the souflesse. Here, various versions of the snack are made, including cheese, ham cheese, tomato mozzarella, spicy and mini. Franc: "We make various puff pastry products, such as frikandel, cheese, sausage, and salmon pastries. But the souflesse cheese is the frontrunner; last year, more than five million went out the door to wholesalers and snack bars domestically and abroad."
Crispy crust
The souflesse was developed in 2008 with the mission to introduce a cheese soufflé to the market that has a better ratio of cheese to dough and really tastes like cheese. The souflesse has a wavy shape, extra cheese in the filling, and a thin and crispy crust. To provide this crust, the snacks in the factory are given a breadcrumb layer. A delicate moment in the production process, says Franc: "Before we can apply the breadcrumbs, the product gets a protein layer. If a lot of excess protein remains on the product, the breadcrumbs get contaminated and you have to throw it away. Moreover, crumb-breakage is a risk. This results in an uneven product, which of course fries and eats less nicely. Another point of attention is the dust that is released when working with breadcrumbs: unpleasant for everything nearby, including our employees."
All three of the mentioned challenges became more and more prevalent at the production plant. Franc: "In addition, we increasingly faced malfunctions. Understandably, because our breadcrumb machine was one from the 80s - refurbished in 1993. It has served excellently for years, but was at the end of its life. So, we started a conversation with GEA." As it happened, GEA Food Solutions, a manufacturer of machinery for the food industry, had just developed a new CrumbMaster and was looking for a test location. The new machine was installed in the Brabant factory earlier this year and was so satisfactory that it was kept in place.