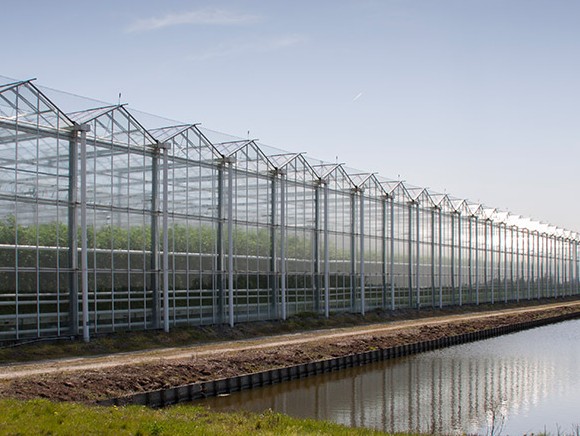 The company Duijvestijn Tomaten in Pijnacker does business as sustainably as possible, such as by using geothermal energy to heat its greenhouses. Director Ted Duijvestijn explains how this innovation came about.
"Energy is very important in the horticultural sector," states Ted Duijvestijn. "So when my brothers and I took over the company from our parents, we asked ourselves how we could save even more energy. We'd always been focused on efficiency and were careful to minimise waste; what else could we do?"
Collaboration
They explored various options, from wind energy to solar panels. "In 2006 we heard through the grapevine about a similar company that was using geothermal energy. Research revealed that geothermal heat offered the biggest potential. At around the same time, a group of students at TU Delft were working on this topic so we shared our ideas with one another and started collaborating." The students conducted the research and, in addition to contributing knowledge, the university offered access to a useful network of engineers, construction companies and suchlike. The horticultural company inspired the students and fired their enthusiasm – after all, they knew that their efforts wouldn't go to waste and that their findings would really be applied in practice.
Risks
It wasn't a simple undertaking. "We spent around three years on the preparatory work," continues Duijvestijn. "From the research to arranging the permits. The municipal and the provincial authorities were the main sources of resistance. They asked 'Is it really necessary? Is it feasible?' – those kinds of questions. Besides that, it was a substantial investment and was associated with numerous risks for the likes of the insurance company and the bank. But, with the right legal help, we got there in the end."
Underway
In 2010 the drilling and building work could finally get underway. "We ran into our fair share of difficulties in that time too, with some issues that even the specialists didn't know how to solve. So we were always delighted when someone from our technical team had 'slept on it' and came up with a way to help us after all," he says. "Despite all the problems, we always believed things would work out in the end." But it wasn't all plain sailing. "At first we noticed that it was difficult to pump the water back into the ground. An investigation revealed that it was because there was too much methane, so we installed a separator to filter the methane out of the water. We can re-use the methane that's extracted to generate electricity, so that's a win-win situation."
Utilising surplus heat
The company Duijvestijn Tomaten, which was named 'The world's best tomato grower' in 2015, can now safely call the project a success. "We save an impressive 5.5 million cubic metres of gas per year and hardly need other energy sources any more," he states proudly. "In fact, we even have heat left over. We asked the students to come up with an idea for how we could use the surplus heat, and the result was our own air-dried tomatoes, pesto and tapenade. In the future it could even be used to heat nearby homes, or we could partner with another company that also uses geothermal energy to act as one another's back-up. There are currently 13 companies that work with geothermal heat, and that number increases by two or three each year."