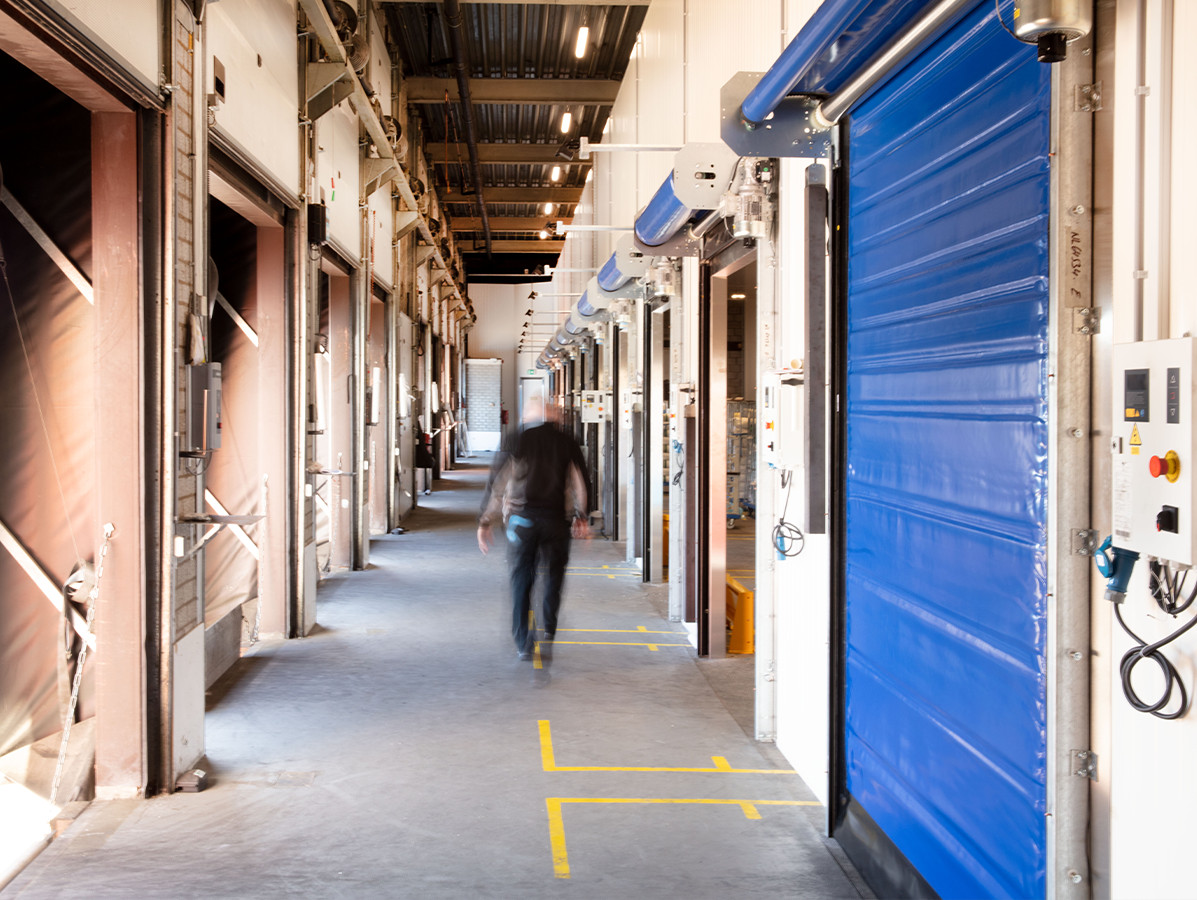 The functionality of doors is underestimated, experts in the food industry know this. When building a conditioned room, Beko Groothandel therefore made an analysis of the new doors to be used.
Nothing is produced in-house at Beko Groothandel, but it is a dynamic place: a dozen trucks load and unload their goods on any Monday morning, the office is busy negotiating batches of bakery raw materials, and employees drive around with forklift trucks to move bags of raw materials. "All outgoing goods are collected on this square," says Alex Verhoef, branch manager of the Beko Groothandel branch in Central Netherlands. He continues: "We take care of the large-scale purchase, storage and distribution of raw materials for our 2,000 customers: bakers, pastry chefs, chocolatiers and ice cream makers". In addition to this branch in Utrecht, where the head office is also located, the company also has distribution centres in Veghel, Meppel and 's-Gravenzande. Beko Groothandel is a subsidiary of Beko Coöperatie, which also includes a consultancy, engineering and packaging branch, as well as an import company for southern fruits and nuts from abroad, and more.
Sugar and yeast
By far the most raw materials come from the Netherlands or surrounding countries. In addition to all kinds of flour (baguette flour, patent flour, almond flour), these include chocolate pellets and drops, butter, whipped cream, egg and yeast. The company also sells semi-finished products such as cream powders, croissant dough and ice cream mixes, and end products including muffins, biscuits and ice cream cones. Alex explains: "More and more, bakeries are also lunchrooms where, in addition to a loaf of bread, you can buy sandwiches and ice cream. However, the most commonly traded products are still close to the original baker's craft: "Flower, sugar and yeast, hundreds of tonnes of these products pass through here every year".
With such quantities, efficiency is not a luxury. At Beko Groothandel, for example, there was a lot of profit to be made by relocating the refrigeration system. Verhoef: "It was located at the very back of the building, far from the shipping square. Previously, our warehouse staff collected all the orders on the roller container and the drivers had to take the ordered goods out of the cooler at night just before departure, which was very time-consuming. Completing the orders earlier was also not an option because the forwarding area had not been cooled and thus food safety would be compromised".