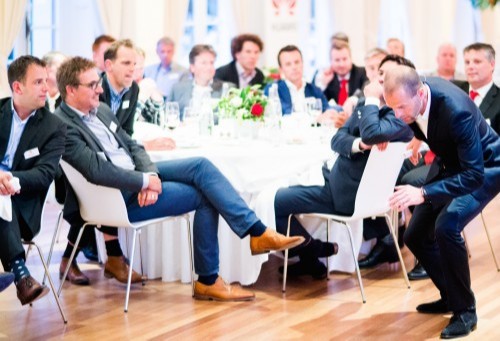 Erben Wennemars
Erben Wennemars is without a doubt the most enthusiastic skater the Netherlands has known. In his impressive skating career, Erben is twice world champion in sprinting and took a bronze medal at the Turin Olympics. Erben is equally enthusiastic about the Youth Sports Fund these days. He is also an advisor on sports marketing, trainer and coach for young skating talent, columnist for the AD, analyst for the NOS, radio presenter for the News BV, frequent participant in running events and motivating speaker for almost every kind of audience.
Erben Wennemars is enthusiastic, driven and ambitious. In his presentation he talks about his career, literally from trial to error. Central to this are themes such as personal development, passion, intrinsic motivation and pushing the boundaries.
Organisation
The congress is organised by Food Industry Experts; five passionate players within the food industry. The partners each provide their own specialism in the field of roads, company networks, packaging, transport (planning), software, automation and communication. The joint focus is on optimising business processes within the (fresh) food sector with the aim of offering a total solution for the customer.
A limited number of places are available. Sign up now!