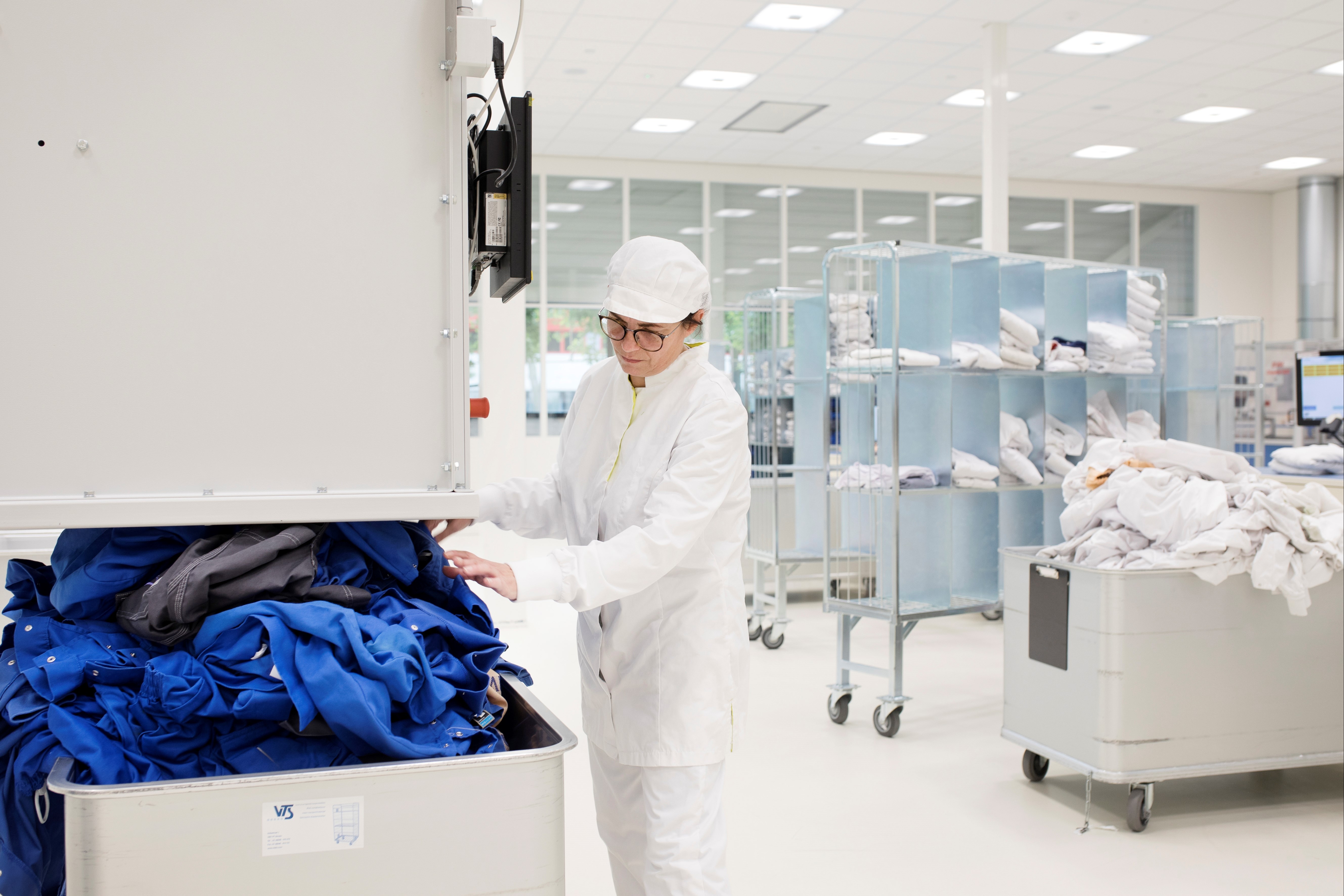 Always sufficient stock and clean clothing are two of the most important KPIs for workwear. But there are more points of interest, especially for companies in the food industry. Jan Jozef Pluijm, senior account manager at Lavans, shares five considerations for food companies to outsource the washing of workwear.
1. Sufficient workwear
Every company has to deal with peaks and troughs in its work, or with the coming and going of its employees. Especially for the food industry, it is important that there is always sufficient workwear available, so that the work does not stop. Continuity of service by the laundry is crucial: without workwear there is no production.
Lavans guarantees that the clothing stock is always optimally maintained. With our track and trace system, we can easily find out which clothes are missing. We anticipate this quickly, by providing new clothing and by tracking down any missing clothing.
2. Clean workwear
Workwear for the food industry must be optically, clinically and microbiologically clean. It is very important that the workwear and the associated washing process contribute to the prevention of contamination. For example, in the case of the cooling back of heated foodstuffs. If contamination occurs in that process due to workwear, microorganisms have free rein to multiply.
The washing of workwear for the food industry takes place at Lavans in an ultramodern high-care laundry. With a washing process that ensures a particularly low germ count on clothing and a hygienic after-treatment in the renovated high-care room.
3. Meeting hygiene requirements
Customers of companies in the food industry are setting increasingly high hygiene standards, as are government agencies. It is logical that the industry, in turn, also imposes higher hygiene requirements on raw material suppliers and service providers. However, not every company in the food industry is aware of the opportunities offered by partners.
Many industrial clothing laundries have a special washing process for food clothing, but there is no special high-care. At Lavans, in addition to our high-care, we use a separate flow of clothing. This means that contaminated and clean clothing do not come into contact with each other. In addition, the entire logistics process has been optimised. We set the bar very high, so that our workwear does not cause cross-contamination. We comply with all hygiene requirements for the food industry and were recently even ISO 22000 certified.
4. Tailor-made
Companies in the food industry often wonder which workwear they should buy. An overall is cheaper, but less hygienic than a trouser/jacket combination. More and more companies are switching to trousers and jackets. This is easier to take off for a break or a visit to the toilet, which reduces the risk of contamination of products. For even better hygiene, there is also clothing without pockets.
When it comes to size, companies at Lavans can choose from tailor-made clothing for employees - whether by name or not - or a stock of standard sizes. Some companies opt for personalized clothing for their permanent staff and standard sizes for flex workers. In both cases, Lavans regularly checks whether the sizes are still in line with the current workforce.
5. Keeping the focus on core activities
Many companies in the food industry outsource their workwear. This saves time and allows them to focus on their core activities. From a hygiene point of view, outsourcing is better than washing workwear yourself. By continuously optimising washing processes and the knowledge of experts, hygiene is guaranteed when outsourcing. Especially when, as at Lavans, there is a high-care laundry for food clothes.
Buying workwear and having it cleaned externally is an option, but Lavans believes in offering a total package of rental, washing and delivery. By following the workwear, the clothing package is always tailored to the needs of the customer. We repair and replace workwear if necessary, both free of charge. A new employee or someone with the wrong size? With one phone call it is settled. We work transparently, without surprises in costs afterwards. Promising what you do and doing what you promise, that's what Lavans stands for.
Jan Jozef Pluijm, senior account manager at Lavans, has a background as a microbiological analyst and used to work for the National Food Inspection Service. At Lavans he advises companies about renting and washing workwear.
Translated with www.DeepL.com/Translator