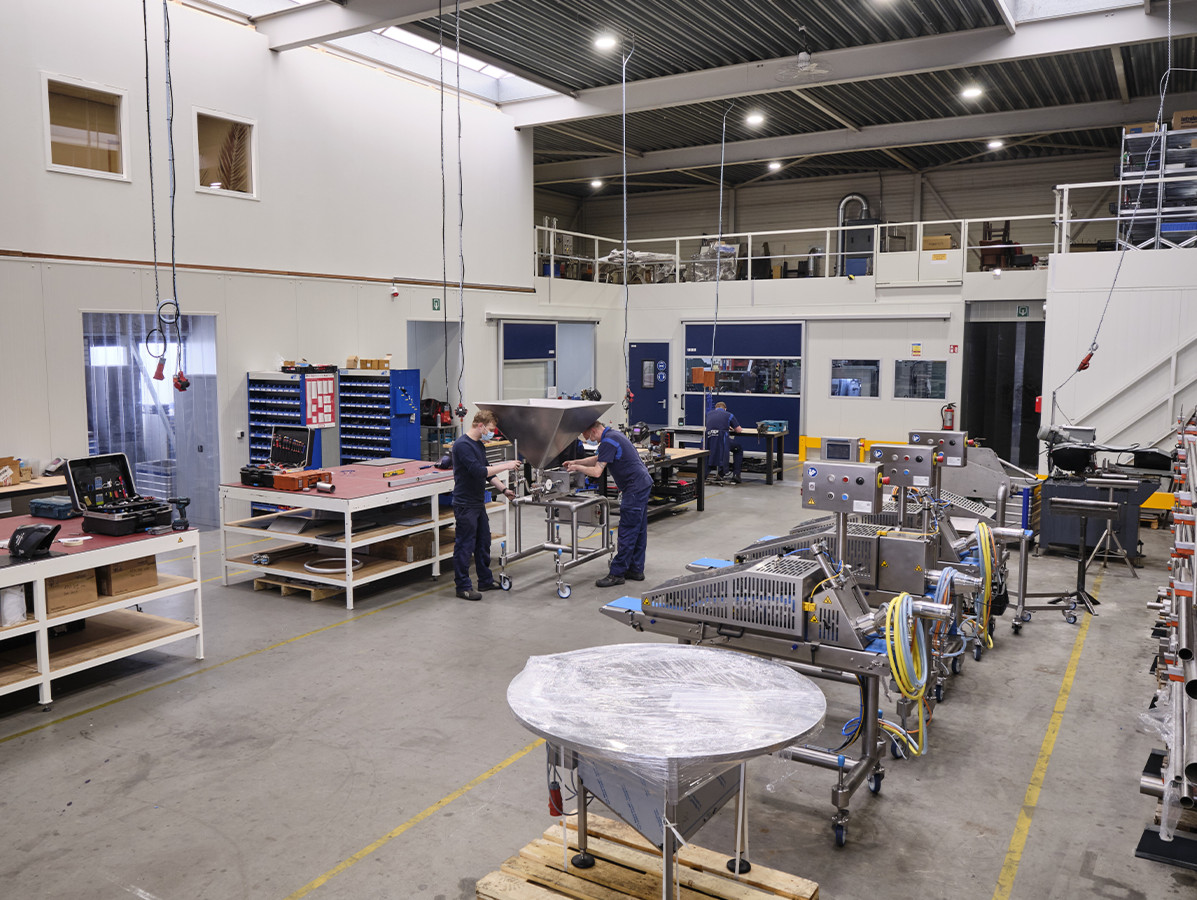 Tap Machinebouw has been designing, building and maintaining machines for the food industry for 55 years. With great dedication, because the machines are sold all over the world. With the move to new premises in Zoetermeer, Tap wants to continue to grow and take new steps in realising innovative and tailormade solutions.
"We deliver standard machines but also realise turn-key complete production lines," says Dick Koster, owner of Tap Machinebouw. "We do everything in-house, from design to manufacturing to installation. We produce customised products for our customers' production processes. Think of diaphragms that form balls, hamburger forming machines, transport lines, customised de-nesters, lid closers or other applications such as filling or garnishing. And we offer solutions, also for problems that a customer had not thought of beforehand. That makes us specialists in our field. We deliver solid solutions that actually last too long," he says with a laugh. He is proud of his team that realises tailormade solutions that enable clients to automate their business.
How did Tap Machinebouw originate?
Jan Tap started in 1964 in Rijswijk with the development, construction, modification and repair of (baking) ovens and diaphragms for the bakery industry. Later, the fast food sector followed by automating the production of croquettes and takeaway machines. Employee Ruud Grimmelikhuizen took over the company in 1985 and moved to Zoetermeer. After the introduction of ICT in industrial processes, he expanded the range to incluce packaging machines, forming machines for products such as hamburgers and meatballs, and filling machines. In 2003, he handed over the reins to his employees Floris van Veen and Dick Koster. The customer base grew and exports intensified. Floris said goodbye in 2017, Dick continued: "In 2018, I entered into a partnership with one of our largest customers; Risco, which led to a growth in global exports. The move to larger premises in January 2021 was necessary." Brigitte Aartman, manager P&O, takes over. "The move means we can breathe again and there is room for our team to take on customer requests even more professionally."