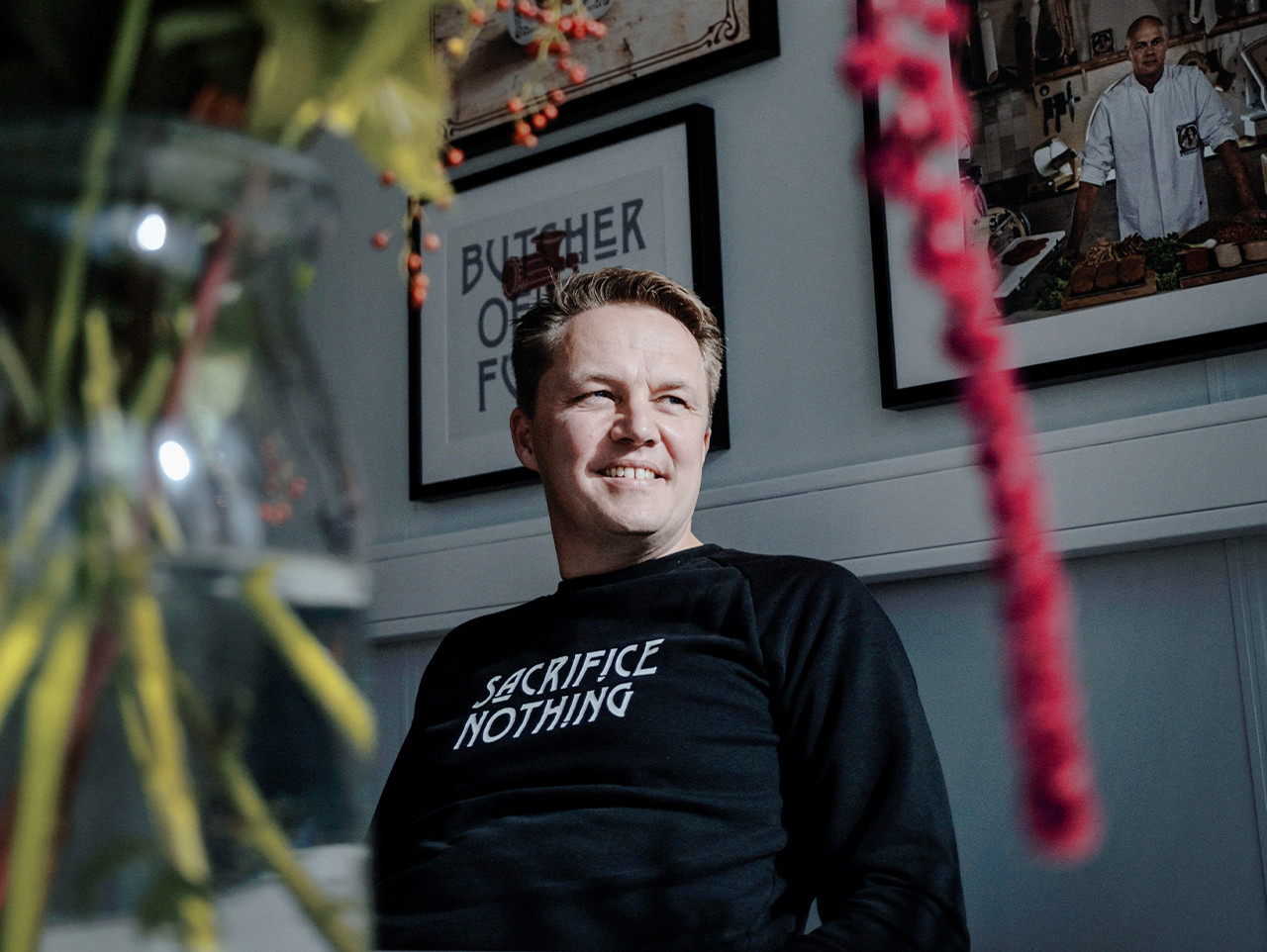 Unilever has a golden opportunity with The Vegetarian Butcher (De Vegetarische Slager). The FMCG group acquired the brand from founder Jaap Korteweg in late 2018 and has since been working on a powerful rollout worldwide (45 countries now). Ceo Hugo Verkuil is happy to be able to contribute to 'the revolution'.
'The tipping point - also with the transition to plant proteins - can be there very quickly'
In early October, De Vegetarische Slager launched the vegetarian cookbook 'Vleesch'. Accompanied by applause, the current CEO, Hugo Verkuil, handed the first copy to founder and spiritual father, Jaap Korteweg. The scene was set: the extremely chic Parkheuvel restaurant (**) in Rotterdam. The lunch that followed was not only top-notch, but also 100 percent vegan and prepared with products from The Vegetarian Butcher. Vleesch' promises to be a 100% vegan tribute to meat classics, and features contributions from Jonnie Boer (De Librije) and astronaut André Kuipers, among others, so there is no lack of ambition. This also applies to Verkuil. 'If it was easy, it wasn't a revolution.'
We're at a two-star press lunch of The Vegetarian Butcher. What is the message you want to send out into the world today?
"The transformation from the consumption of animal proteins to plant proteins is in full swing and to that revolution we are trying to add another pendulum today. Our founder, Jaap Korteweg, liked meat so much that he made it vegetarian. We try to tempt meat lovers with our products to eat vegetarian. The book we are launching today is therefore not a cookbook with typical vegetarian dishes, but rather with meat classics. You can make the dishes you love, but plant-based, without the animal."
"People wonder how they can use the products of The Vegetarian Butcher. What we try to say is that the possibilities for variation are endless. In other words, it's a joy to cook with our products and surprise other people."
The transformation to less meat is a global issue. How is that affecting you at home?
"Before I joined The Vegetarian Butcher, we already ate relatively little meat at home. From then on we started trying all the products and actually only cook vegetarian. We have two teenagers, 13 and 15 years old, and we said to them, oh well, if you want animal meat one day, let us know. In the first two weeks it happened, but after that it didn't anymore. Yes... [laughs] I know that sounds like a marketing story, but seriously, they don't miss it. They are really good substitutes!'
What are the favorites in Verkuil's household?
"With the boys, the Pluimfeest Burger is a favorite. But the Chicken-style Chunks are also runners up with us. Especially when we marinate them as satay and cook them on the barbecue."
Your brand has been given face by Jaap Korteweg. Do you also want to play such a face-setting role now that you're at the helm?
"Look, Jaap is an insane entrepreneur with great charisma. He paved the way in a world that no one believed in yet. Yet he always climbed back onto the stage and he did a great job. Even though Jaap and I are very different, I do consider him a good friend. I see it as my mission to maintain the rebellious culture of the brand on the one hand and at the same time to roll it out across the world as quickly as possible on the other. It's not about me being the face of The Vegetarian Butcher, it's about the purpose, the revolution."
What doesn't change about The Vegetarian Butcher even though the brand is now owned by Unilever?
"Two things. Firstly, our fanatical focus on taste, taste and more taste. This revolution is won or lost by the taste buds. Even if you have such a great story, if you want to entice real meat lovers it's a no-go area to make concessions on taste. The second thing is, we are very proud of our hard growth, but we do everything we can to retain our rebellious, quirky character. Jaap says that has even been reinforced. For example, we were leading the troops when the European Parliament voted on a possible ban on meat names for vegetarian products ánd we placed an open letter in the national newspapers to Frans Timmermans (Executive Vice-President 2019-2024 European Green Deal, ed.) to sign us up as a candidate for the meat subsidies that are provided annually from the European Union. Because why should animal meat - which has much higher emissions and causes a lot of animal suffering - receive a subsidy and not plant-based meat?"