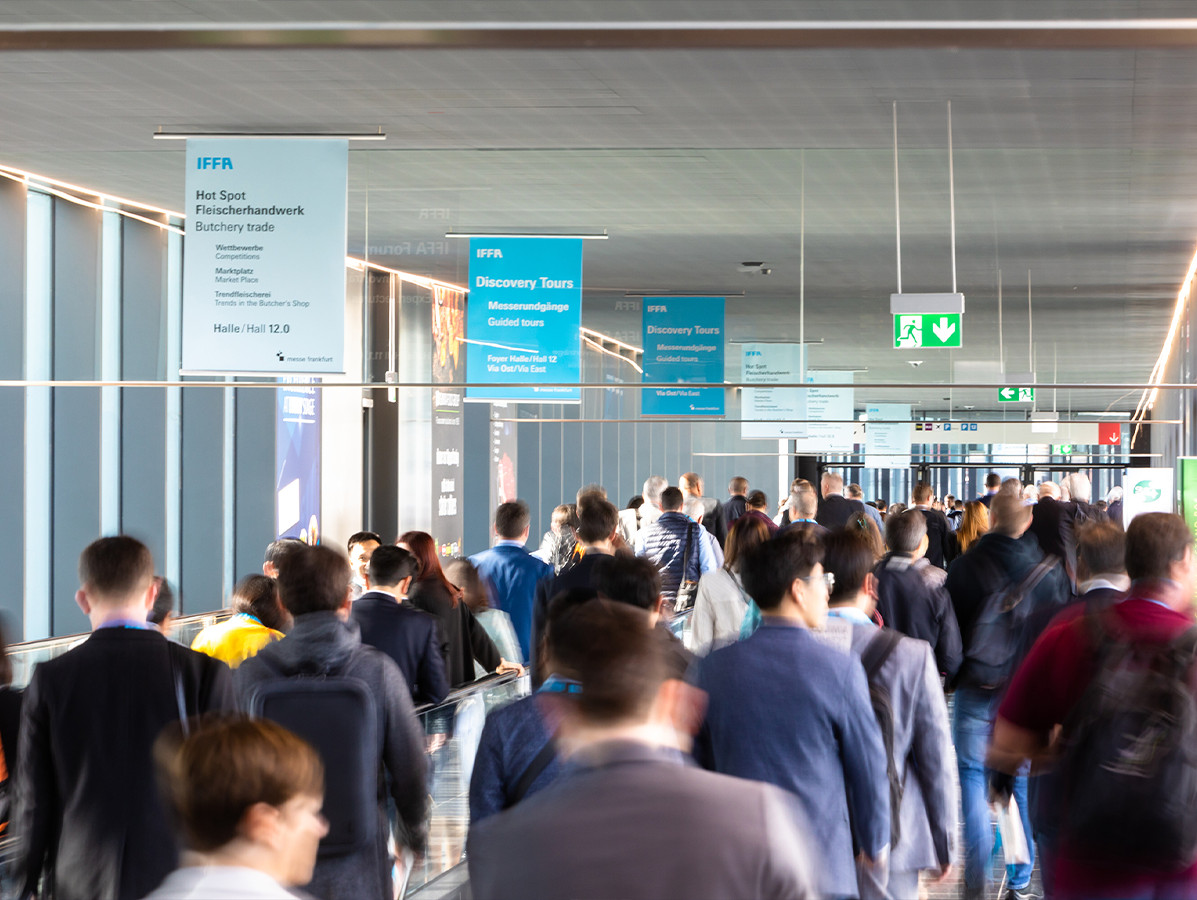 The global meat and protein industry seized every minute of IFFA from 14 to 19 May: for intensive networking, to see innovations and to do business. Sustainable production, automated processes and digitalisation in all areas of processing, packaging and sales characterized the range of products at the booths. The high interest in alternative proteins also showed the great future potential of this market. Around 50,000 visitors from 129 countries travelled to Frankfurt am Main for the leading international trade fair IFFA – Technology for Meat and Alternative Proteins.
Industry with innovative power shows solutions for tomorrow
Automation and digitalisation are the driving topics in meat and protein processing and were at the centre of the innovations. The exhibiting industry also showed solutions and ideas for increasing energy efficiency and resource-saving production in order to achieve the EU's target of climate neutrality by 2050.
As for the packaging industry, the innovations were entirely in line with the slogan: "As much as necessary, as little as possible". In addition to recyclability, manufacturers focused on renewable raw materials: bio-based packaging as an alternative to plastic made from fossil raw materials points the way to a more environmentally friendly future.
Successful premiere: Great interest in alternative proteins
Industry and trade are developing ever more perfect plant-based alternatives. New products are emerging which also mean a boost in innovation for production technology. Picking up on this trend, IFFA expanded its product portfolio for the first time and focused on process technology and ingredients for alternative proteins. Visitors showed great interest in plant-based meat alternatives, hybrid products and cell-cultured meat. The conference by ProVeg and the Discovery Tours led by the Good Food Institute Europe were very popular.
Convinced, excited and inspired
The exhibitors' booths were crowded: whether between bowl cutters, transport lines or packaging machines, in front of shelves of ingredients, in the butchers' competition area or in the IFFA Factory – visitors were primarily interested in the haptic experience. Touching, smelling, tasting, seeing machines in live operation, exchanging personal experiences and expanding knowledge were at the top of the agenda. At 96 percent, overall satisfaction is even higher than at IFFA 2019 - and thus at an absolute top level. According to a regular visitor survey conducted by Messe Frankfurt, 95 percent were satisfied with the exhibitors' range of products and services, and 96 percent said they had achieved their trade fair visit objectives.
For the first time, IFFA was also extended into the digital space: on the IFFA Digital Extension platform, participants were able to contact each other in advance, make appointments and find out about exhibitors' innovations even before the fair begun.