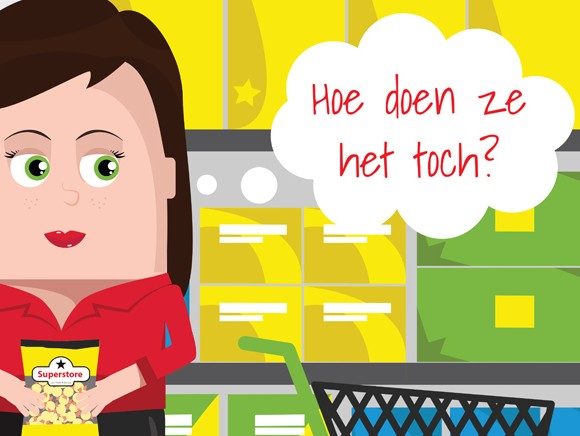 Wij zijn inmiddels weer bekomen van de grootste foodbeurs van Europa, oftewel Anuga Food Fair. We hebben met veel mensen kennis gemaakt en informatie uitgewisseld. Misschien zat jij daar ook wel bij en heb je onze eerste nieuwsbrief dus al ontvangen. Je kunt hierin gemakkelijk het vervolg met ons comitten. Ben je niet naar Anuga geweest, lees dan snel verder wat we voor elkaar kunnen betekenen.
Altijd al willen weten wat ons nou onderscheidt van andere ERP Software? Waarom wij partner zijn van gevestigde merken? Hierover hebben wij een duidelijk verhaal en je kunt nog kiezen ook, de lange of de korte versie. Al bijna 15 jaar ontwikkelen wij software voor de voedingsindustrie. Er is steeds meer behoefte aan een transparante voedingsketen: maximale traceerbaarheid staat hoog op de agenda. De concurrentie is groot en optimale efciency dus een vereiste. Voor voedselproducenten is automatiseren dan ook essentieel. Niet alleen op het gebied van voedselveiligheid, ook de kwaliteit en traceerbaarheid van de grondstoffen, de administratie, productie en distributie worden steeds vaker onder een vergrootglas gelegd. Een sterk overzicht op de gehele bedrijfsvoering is noodzakelijk voor een succesvolle organisatie.
4FOOD software is ontwikkeld door experts en gebruikers in de voedingsindustrie, voorziet in branchespecifeke functionaliteit en is modulair opgezet. Bedrijfseigen zaken kunnen eenvoudig worden geïntegreerd. Onze software biedt voedselproducerende bedrijven oplossingen voor herkenbare problemen die zich in de dagelijkse praktijk van een producent kunnen voordoen: zoals onjuiste voorraadposities, fouten in kostenprijzen, ongestructureerd receptuurbeheer, lastig terug te vinden klantafspraken. Dit voorkomen? Lees dan verder.
ERP Software
Onvoldoende voorraad, dubbel uitgevoerde orders, foutieve klantgegevens, onjuiste kostprijzen, achterstallige facturatie, onderbezetting, foutieve kortingen. Het is de schrik van iedere leidinggevende. De prangende vraag is: hoe dan wel? 4FOOD ERP software biedt een passende oplossing voor voedselproducerende bedrijven. Het resultaat: méér controle, méér efficiency, méér rust en méér groeimogelijkheden voor de organisatie.
Webshop
Wij maken de order entry nu wel heel gemakkelijk! Geef klanten de mogelijkheid om via webshop of klantportaal te bestellen. Door de integratie tussen 4FOOD webshop en 4FOOD ERP software worden klant-, artikel-, prijsen ordergegevens naadloos uitgewisseld en wordt dubbele invoer van gegevens voorkomen. Gebruik onze kennis en ervaring om zowel de front end als de back end van jouw organisatie te automatiseren. Een unieke combinatie met meer dan 10 jaar ervaring in de food én online verkoop.
Big Data
Productiemachines registreren interessante data. Wat nu als je deze data centraal ontsluit? Dan werk je gestructureerd aan een controlefunctie over het gehele productieproces en worden statistieken opgebouwd van productie, onderhoud en faaltijden. In samenspraak wordt bepaald welke data uitgelezen worden en welke rapportages worden aangeboden.
Labeling
Door goederen te labelen zijn ze identifceerbaar en traceerbaar in het proces en de supply chain. Hierdoor zijn interne logistieke processen en goederenstromen inzichtelijk en wordt ingespeeld op klantvragen, kwaliteitseisen en regelgeving op het gebied van labeling, informatie uitwisseling en tracking & tracing.
Service desk
Ons support team heeft jarenlange ervaring in het beheer en de ondersteuning van bedrijfskritische
software systemen. 4FOOD wordt ondersteund door een deskundig team van specialisten waarop kan worden teruggevallen wanneer dat nodig is. Desgewenst voorzien van een service level agreement.