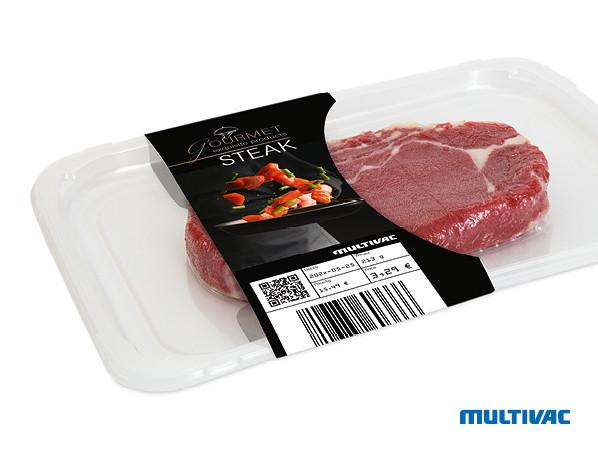 Do you want to process and pack fresh meat, poultry, sliced products, ready-made meals or plant-based products? In carton, mono foil or vacuum bags? With full-wrap labelling and weigh price marking? Fully automated at high speed? With fast product changeovers for small batches or a solution for bulk packaging? Nothing is too crazy for MULTIVAC. Come and see for yourself at IFFA.
At IFFA, MULTIVAC will present integrated lines for the cost-effective, sustainable processing and packaging of meat products and alternative proteins. A number of lines will be networked at the exhibition for demonstration with the digital MULTIVAC Smart Services. They are fully controlled from a single point via MULTIVAC Line Control.
Packaging of burgers
Among the products on display is a high-capacity, space-saving line for the automatic converting, dispensing, wrapping and labelling of frozen hamburgers on a cardboard tray in a flowpack. The flowpacking solution is particularly suitable for fast product changes. One of its many features is its cost-effectiveness at high output. The use of very thin films and the absence of process-related film trimmings contribute to the sustainability of this solution.
Fresh meat processing and packaging
Also on display at the show will be a compact and highly flexible portioning line for retail fresh meat packaging, with automatic portioning, dispensing and packaging of the product. This inline solution includes a traysealer in the medium-output category. The new and compact portioning machine, specially developed as an entry-level model, ensures the best portioning quality and optimum product yield. Plastic-saving packaging materials, such as mono-film and MULTIVAC PaperBoard, can be used on the traysealer.