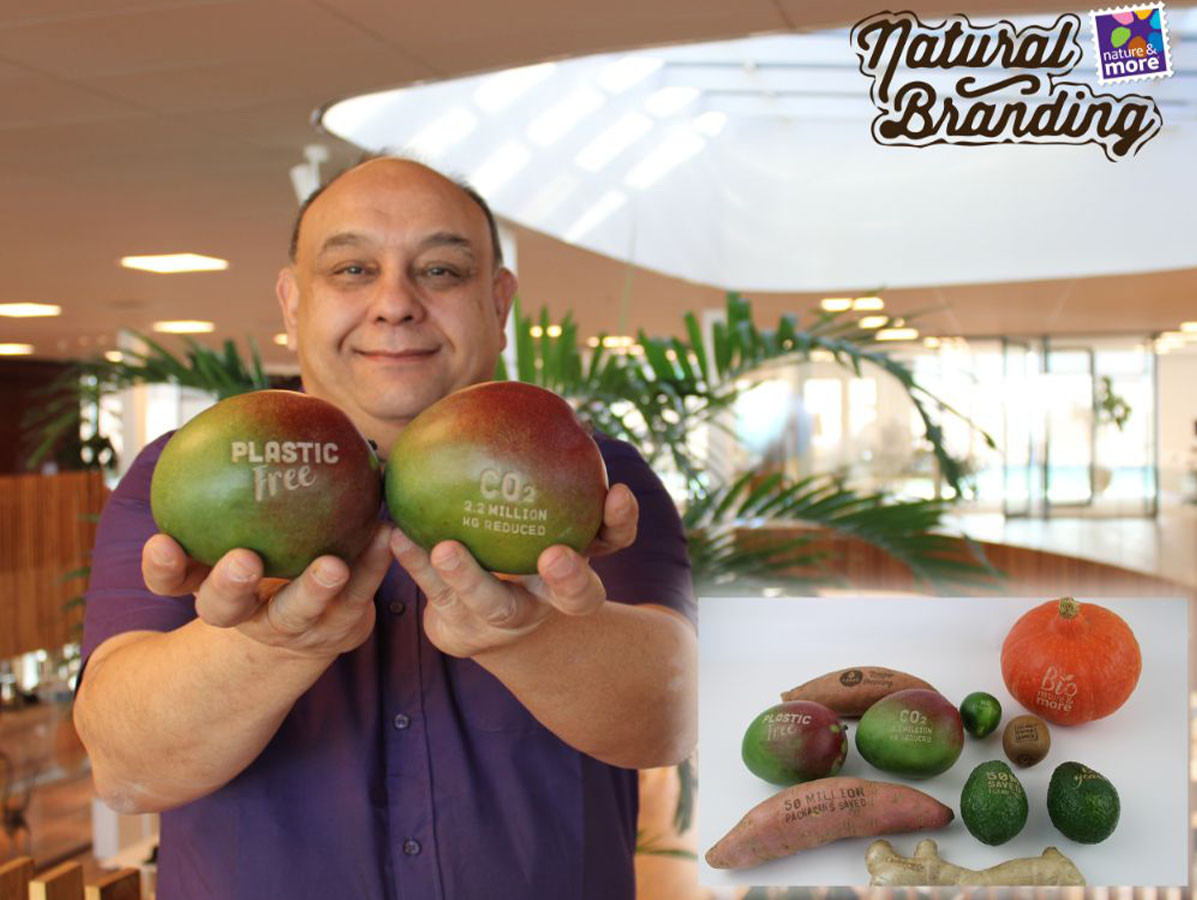 In late 2016, Eosta (under brand name Nature & More) was the first in Europe to start applying laser technology to fresh organic fruit and vegetables. Eosta called it natural branding, as a way to save stickers and packaging in the supermarket. Now, six years later, Eosta has already saved 50 million plastic packages with this technique and countless other wholesalers and supermarkets have also embraced the technique.
Saving plastic and energy
The method not only saves a lot of plastic and paper, but also a lot of energy and emissions, as a laser label requires only 1% of the energy for a sticker. Eosta has saved the 50 millionth packaging unit by 2022 with natural branding. This corresponds to 500,000 kilos of plastic, 216,000 square metres of paper, as well as energy savings worth 2.2 million kilos of CO2 emissions. In 2018, Eosta already received the Sustainable Food Award for this innovative packaging method.
Ginger in the lead, avocado on two, mango on three
Natural branding is especially widely used on ginger, avocado, mango and sweet potato, but also on cucumber, kiwi etc. Meanwhile, Eosta is researching new approaches to brand citrus or hard fruit as well. Consumers are open to it, as the big frustration of many conscious consumers is that they are confronted with a sea of plastic in supermarket when they want to buy organic fruit and vegetables. Meanwhile, other supermarkets and wholesalers have also acquired machines to brand produce.
Sustainable packaging is not packaging
Paul Hendriks, Eosta's packaging manager, has been the driving force behind this technique since the beginning, together with packaging expert Gerben Borsje. Hendriks has a clear philosophy: "The most sustainable form of packaging is not packaging. Natural branding makes this possible for organic products. Consumers welcome this, as research invariably shows that they prefer to buy their organic products without plastic packaging."