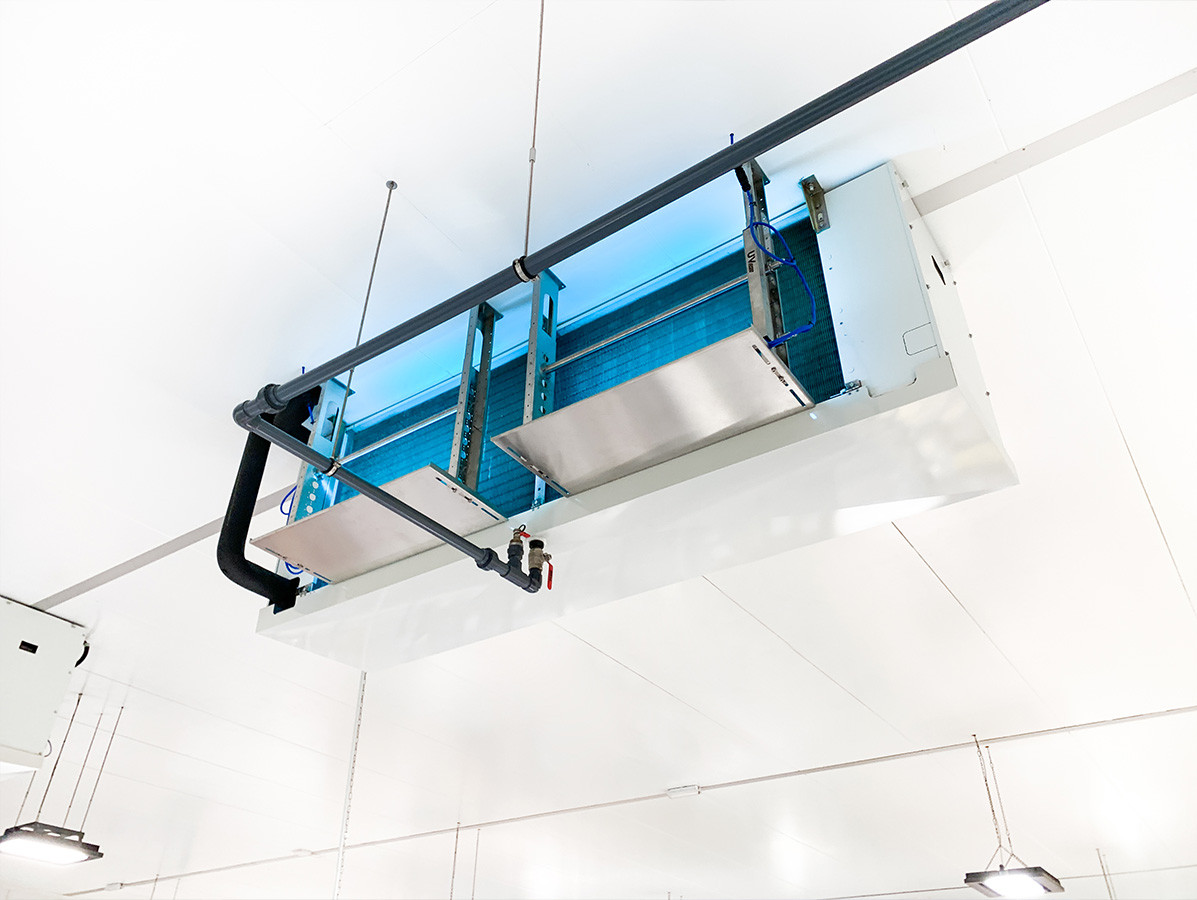 In most refrigeration, freezing and production rooms, evaporators are installed on the ceiling. These might look clean and hygienic on the exterior, but are heavily contaminated on the inside. The result: contamination risks. Special UVC lamps offer a solution.
In most refrigeration, freezing and production rooms in the food industry, evaporators are installed on the ceiling; they cool the room by drawing large quantities of air past the cold cooling block. The right temperature in processing and storage areas is obviously important to keep microbiology under control. But the fact that microbiological risks also arise from cooling air is something we are not as aware of. The biggest risk from an evaporator is Listeria, which can survive well in cold environments. Especially sensitive to contamination are production areas for ready-to-eat products, fish processing and areas with unpackaged product.
Cleaning
Evaporators are in operation 24/7. They are usually inspected infrequently. Regular cleaning is necessary, but very difficult in practice; partly because they are often difficult to reach because of the height as well as the machinery positioned underneath. Martijn van Klink, owner of Bioclimatic together with his father Bert, regularly visits food processing companies. He knows the risks surrounding evaporators. "Evaporators that look clean and hygienic on the outside can mislead you. On the inside, on the evaporator fins, small droplets of condensation moisture form as a result of the cooling process. This gives microorganisms enough water to thrive. A slimy layer forms on the fins and in the dripping tray: biofilm. After just a few days, a stable germ flora has developed on and in a new evaporator, which can reproduce well even at low temperatures on cooler fins."
The three biggest risks
Leakage can cause droplets of condensation water to land on the product or food contact surfaces. If those droplets contain unwanted bacteria or pathogens, the consequences are unthinkable.
All the air in the production area passes through the evaporator about 20-25 times per hour. Due to this air circulation, small water droplets (aerosols) containing bacteria can enter the room air and spread to walls, floors and product contact surfaces. And thus also to the product itself.
The over-eager cleaner, who decides to quickly clean the evaporator with high pressure. Bacteria on the fins and/or in the drip tray can thus spread throughout the room. The spray from a pressure washer gets everywhere.