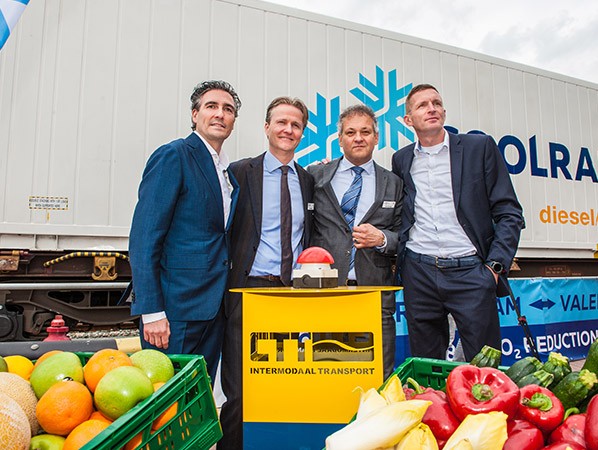 CoolRail will run from 6 May 2019. It is a direct train connection for fresh products. Three times a week this refrigerated train transports the fresh products between Valencia and Rotterdam. The transport to the Netherlands via the new direct train connection is as fast as road transport, but much more sustainable. A CO2 reduction of 70% - 90% is achieved. CoolRail is an initiative of Euro Pool System, a provider of logistics services and reusable packaging for the fresh food chain. Parties from the retail, logistics and fruit and vegetable sectors participate in this sustainable initiative.
Extensive CO2 savings
CoolRail delivers significant CO2 savings. Transport by train reduces the number of lorry journeys by 12,096 per year and saves 22 million road kilometres. As a result, approximately 15,000 tonnes of CO2 are emitted less each year (this is the same saving as the annual yield of almost six large wind turbines). From the start on 6 May, 42 containers go by train, 3 times a week and 48 weeks a year. "After extensive preparations and the first pilot test, we are now taking the big step towards drastically reducing the carbon footprint of the transport of fresh produce", says Gerjo Scheringa, CEO of Euro Pool Group.
Making the chain more sustainable
An important motive for the parties involved is to make transport between Spain and the Netherlands more sustainable. Spain is the largest trading partner for the import of fresh fruit and vegetables such as lettuce, tomatoes, cucumbers and oranges for northwestern Europe. Bakker Barendrecht has been an involved party with CoolRail from the very beginning and, together with Euro Pool System, developed this train route between Spain and the Netherlands. The CoolRail initiative fits in with the aim of making the entire process in the fresh food chain more sustainable.
New train connections
Spain is an important trading partner of the Netherlands with regard to fresh products. The route to Valencia is the start of a network. The intention is to continue to grow and use CoolRail train connections to Germany, Scandinavia and the United Kingdom.
Partners
Euro Pool System works with the following partners: Shuttlewise, Bakker Barendrecht/Albert Heijn, Visbeen, Kloosterboer, DailyFresh, EasyFresh, Primaflor, Bollo, Agroiris, Fruveg, TobSine, Pozo Sur and Samskip.
Image: ©Sandra Zeilstra