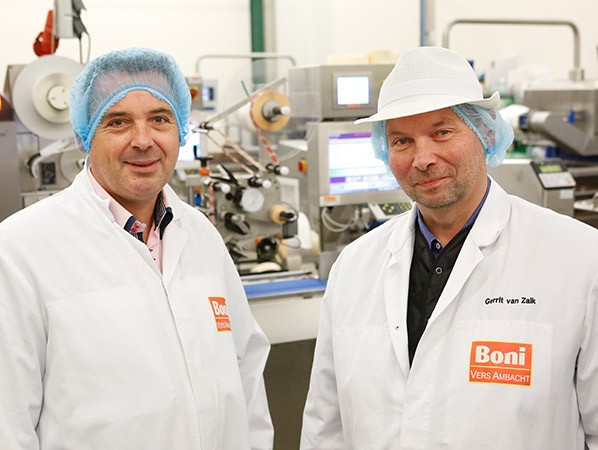 Meat company Boni Vers Ambacht in Nijkerk and Espera, manufacturer of weighing and price labelling machines in Eindhoven, have known each other for a long time, but their collaboration really kicked off when important changes in the statutory regulations for labels were expected.
In 2008, Gerrit van Zalk was the Fresh Meat Category Manager at Boni. In that year, he approached the top of the Boni concern with the idea of adding a centralised butcher division. The green light was given and the butcher division Boni Vers Ambacht was a fact by 2010. Van Zalk opted for a unique approach. "It was our objective to maintain and improve the quality of fresh meat products in our stores and to manage this within our own chain. We get our supply of regular beef through our collaboration with the Veurink family in Rheeze, who keep Limousin cattle. The animals are slaughtered by VIT, which is paid for by us. We meet with the farmer and VIT and agree on a price based on the cost price. We also organised similar short chains for pigs - the 'Vallei' pork - and poultry - the 'Comfort' chicken. Thanks to this approach, we have complete control over sustainability and quality. We have a say in every aspect, from the fodder to the processing of manure and the genetics."
Efficient
Every day, Boni Vers Ambacht supplies the 45 Boni supermarkets with fresh meat. And every day, the slaughterhouse delivers fresh pork and chicken, whereas the beef is delivered in Nijkerk three times a week. Here, the 60 employees portion the meat after which it is packaged, weighed, and labelled. The production is based on orders. The stores send in their orders at 08:30 and by 16:30 everything is ready to be transported.
The number of Boni supermarkets has grown and there is a new buyer as well: online supermarket Picnic. More than 70 tons of meat find their way to the supermarkets and the Picnic delivery vans every week. Van Zalk: "Our approach, with fixed suppliers, fixed prices, extra focus on quality, sustainability, and animal welfare is an investment, but this form of chain control allows us to increase our cost efficiency. We want to keep the purchasing of meat affordable for a wider public while, at the same time, making sure that both the farmer/fattener and the retailer can earn a decent living".