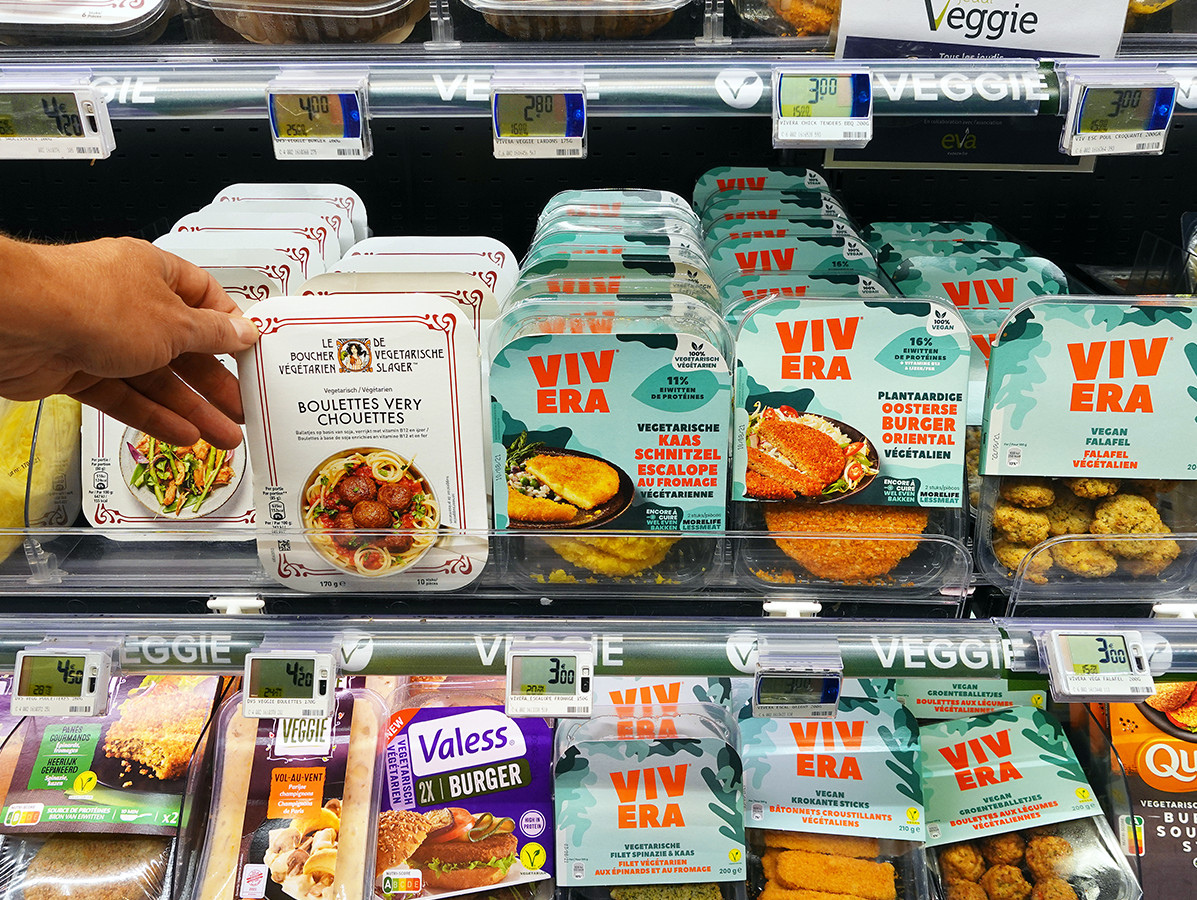 The price differences between animal and vegetable products are becoming smaller. Some vegetable products are even cheaper than their animal counterparts. This appears from research by Questionmark on behalf of ProVeg. It is the first time that price differences between animal products and their vegetable counterparts in Dutch supermarkets have been systematically charted.
Price difference is decreasing
Questionmark analysed the prices of animal and vegetable products at market leader Albert Heijn over the past five years. This clearly showed a decrease in the price difference. Whereas vegetarian chicken pieces were still 75 cents more expensive (per 100 grams) than animal chicken pieces in 2019, in 2022 this is only 13 cents. The price difference in minced meat fell from 24 cents to 6 cents in the same period. In the case of soy milk, the price difference has even disappeared completely in recent years.
Half of the products still more expensive
The 'lowest price gap' was calculated for 32 different product types: the price difference per 100 grams between the cheapest vegetable version and the cheapest animal version. In addition, the cheapest plant-based version was compared with the most expensive animal-based version in order to see whether the plant-based product fell within the price range of animal-based variants. In 20% of the cases, the vegetable version was already cheaper than the cheapest animal version. 33% of plant-based products were classified as "affordable". The remaining 47% were found to be more expensive.
Vegetable food is not necessarily more expensive
Despite the sometimes considerable price differences, a customer who opts for vegetable alternatives is not necessarily paying more. Those who stick to the most common products are hardly overcharged, or even pay slightly less. The researchers filled an imaginary shopping basket with the cheapest variant of the 12 most common vegetable products available in (almost) all supermarkets. Such a basket proved to be no more or hardly more expensive than a basket filled with the cheapest animal varieties. The biggest price difference was only 75 cents per basket.
Price is a barrier
An earlier poll by ProVeg showed that the perception that substitutes are expensive is a major barrier for people to switch to a more plant-based diet. 55% of those questioned indicated that the high price was a reason for them not to opt for plant-based products more often. This new research indicates that this perception is not entirely correct.
The report also calls on supermarkets to offer plant-based products more often on special offer and to sell them in larger economy packs. The study only compared products with a similar pack size. But for kilogram packs of minced meat or 2 litre packs of milk there is not yet a plant-based alternative.
View the full report 'How affordable is plant-based?' (Dutch only)
www.proveg.com
The researchers compared the animal and vegetable versions of 32 different product types in six supermarkets (AH, Jumbo, Lidl, Aldi, Plus and Dirk).