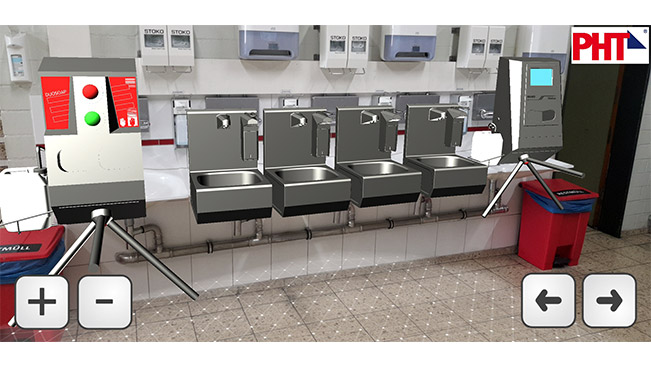 PHT-Benelux laat zien hoe hygiëne volledig kan worden geïntegreerd in het operationele proces met behulp van innovatieve en hygiënische oplossingen van de merken ITEC Hygienetechnik en Foamico. PHT-Benelux biedt voor zowel grote ondernemingen als industriële bedrijven uitgebreid advies en concepten op maat. Extra dienstverlening is 'het visueel plaatsen' van producten door middel van Augmented Reality.
Met Augmented Reality kan PHT-Benelux haar producten visueel plaatsen binnen de huidige inrichting. "Je krijgt hierdoor direct door of iets past, hoeveel ruimte je nodig hebt of juist gaat besparen en hoe het er in de praktijk uit zou gaan zien. Nog een groot voordeel is dat ruimtelijk inzicht zorgt dat je bij plaatsing niet voor verrassingen komt te staan", verduidelijkt Jeroen van Tuijl van PHT-Benelux.
Speciale app
PHT-Benelux ontwikkelde speciaal voor deze toepassing een app, die werkt door middel van de camerafunctie in combinatie met Augmented Reality, waarin apparatuur van PHT wordt weergegeven. Hierdoor is tijdens het bezoek aan een bedrijf direct te zien wat de mogelijkheden zijn. De klant krijgt vanaf het begin een beeld bij de voorgestelde adviezen en zo zorgt PHT-Benelux samen met de klant voor bedrijfsspecifieke hygiëneoplossingen.
Aanvullende informatie via PHT-Benelux | Tel. +31 (0)85-1052015 | [email protected] | www.pht-benelux.nl