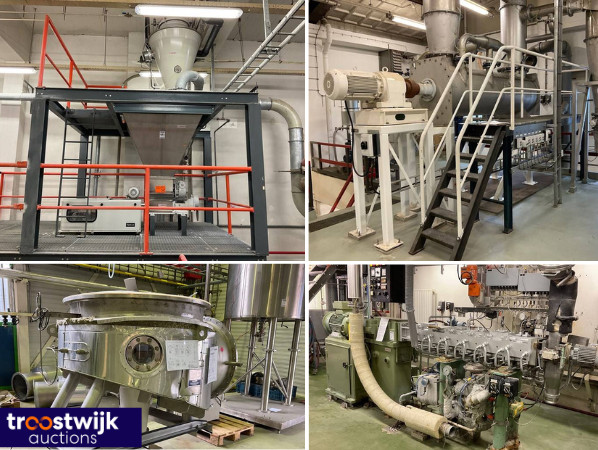 Various industrial machines and laboratory equipment from the former Van Linge Avebe innovation centre, are due to be auctioned online via the platform of Troostwijk Auctions due to relocation of the production location for dry compound products. Among others, mixing/drying and dosing equipment, extruders, dispersion dryer, sifter mill, reactor, fluidised bed dryer, conveyor belts, storage tanks, frozen meat line, briquetting press line and more.
The auction is currently open for bids. On Monday 16 May 2022 the auction will close at 10:00 am.
About the auction
Bidding on the lots is open until Monday, 16 May 2022. The online auction closes at 10:00 am.
Visiting the lots is possible on Tuesday May 12, 20222 between 10:00 am and 4:00 pm. Viewing is possible at two locations: Valenpeelsedijk 10, 5712 SX in Transportweg 11, 9645 KZ in Veendam.
The following applies to the lots for which dismantling costs are charged: Lots will be professionally dismantled and will be ready for transport.
Click here for all details about this auction.
About Troostwijk Auctions
Troostwijk Auctions believes that everything has value.
The company is all about finding, recognising and cashing in on that value, often through online auctions but also through tenders and private sales. The company values, advises and is Europe's largest business-to-business auction house with a global reach. According to the company, online auctions are an excellent and objective sales channel.
Moreover, value is about people. Respect and sustainability are therefore of paramount importance. According to Troostwijk Auctions every product deserves a longer life than its first owner. Each year Troostwijk Auctions auctions over 657,500 lots for companies in the sectors: agriculture, food, metal, construction, earthmoving and transport & logistics. The company has local sector specialists throughout Europe and buyers in 167 countries.