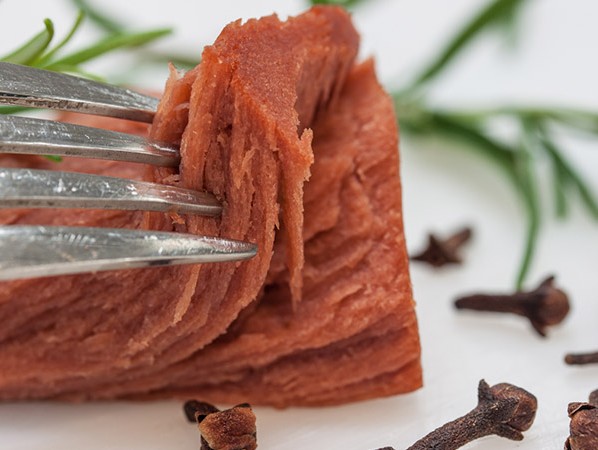 It is a challenge for production companies to make high-protein foodstuffs, such as vegetarian products, that have a fibrous structure. Apart from the used proteins and other ingredients, the technology that is used has a determining influence on the texture of the semi-finished products or end product.
A protein consists of one or multiple polypeptides. A polypeptide is a linear chain of amino acids that are linked by peptide bonds. The order and extent of the bonds determine, amongst other things, the structure of the protein. With the term 'primary structure' we identify the order of the amino acids in the chain. The 'secondary structure' is the way in which the polypeptide chain has been folded. The 'tertiary structure' is the three-dimensional structure of the protein. And with the 'quaternary structure' we indicate the structure that is formed by different sub-proteins, also called the protein complex.
With regard to proteins, we distinguish various categories. There are structural proteins that add structure and firmness (such as collagen and elastin in meat), storage proteins that ensure that essential nutrients (such as globulin in plants) can be stored, and biochemical proteins (such as enzymes). When processing proteins, the structure is affected on different levels, causing structural change. During technological processing, proteins take on a different spatial structure (denaturation), they start to interact with each other (crosslinking or aggregation), or they fall apart into smaller peptide chains (chemical or enzymatic hydrolysis). In short: technological processes give another structure to the protein, and thus to the product in which the protein is present as well.
Processes
It takes several processes to extract a protein from a raw material. Primary protein enrichment of certain fractions from food crops takes place after a targeted mechanical or chemical process such as cutting, grinding, (air)classification, or by extracting with a more advanced separation. This fraction can then be further purified by washing, precipitating (settling), or by using more specific separation technologies like membrane technology or chromatography. After the unwanted elements have been removed, a fairly clean protein fraction remains. There are many applications that require proteins in a non-denatured form. This can be achieved by very mild separation techniques such as dry separation; the proteins will then still be maximally soluble and can be used for high-functional application, for example as an emulsifier or in foams. Partially denatured proteins have the same nutritional properties but not always the right functionality. Even so, these proteins often appear to be suitable to create structure in, for example, meat substitutes.
For some meat substitutes, it is desired that the fibrous structure of meat is imitated. The tricky part of this is that it must be done by using plant proteins, which often have a globular shape. There are several technologies that can be used to get a fibrous structure.