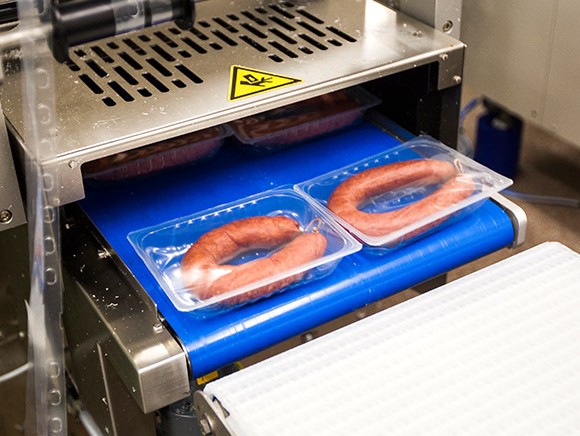 The brother-butchers Bert and Jannes Koetsier specialise in smoked sausages prepared with fresh ingredients and smoked on beechwood. In 2014, they developed a new passion: knackwurst. Bert Koetsier tracked its unique history and gave the product new life.
"Right after the war, the knackwurst became known across the country," says Bert Koetsier, who runs Koetsier Vleeswaren with his brother Jannes. "At the time, you went to the cafeteria for a knackwurst with chips. Croquettes and frikadels weren't around yet." The sales representatives that rode around the country in buses became known as "De Man Van De Knakworst" (The Man With The Knackwurst) and that eventually became the brand name. In 1980, the company changed hands several times and disappeared, until Bert Koetsier rediscovered the product in 2014. "The story appealed to me and the brand did not seem to be owned by anyone any more. I was also able to find the recipe. We make the knackwurst according to the original recipe, though we do use less salt." Koetsier is a third-generation butcher and has since become a knackwurst and smoked sausage specialist.
Expansion
"In 1927, my grandfather began as the local village butcher in Ruinerwold," says Koetsier. "Of my father's seven children, four brothers went to work for the business. In the 1980s, we expanded the butcher's shop with small supermarkets. My brother Jannes and I later chose to focus solely on the production of meat goods. In 1994, we moved to a larger location on the industrial property in Ruinerwold, where we now employ 18 staff members. When it is busy, we bring in additional staff." Though according to him, this space is currently too small as well, especially during high season—the winter—when there is increased demand for smoked sausage. "Smoked sausage and knackwurst combined are now 75 per cent of our turnover. There has also been greater interest in our vegetarian sausages."
Beechwood
"Now that the recession is over, there is a greater appreciation of fresh ingredients, our exceptional selection of spices, and the artisanal manner in which we prepare sheep tripe and smoke over beechwood. Furthermore, our pork has received the Beter Leven and Keten Duurzaam Varkensvlees certification marks [for animal welfare and sustainability]." A significant number of the smoked sausages are sold in retail, often under the private label of a supermarket. Others go to butcher's shops. Koetsier is developing its own recipe for its bigger buyers. In addition to smoked sausages and knackwurst, the producers also make products such as ham, grillworst (a strongly seasoned sausage), and casselerrib (cured pork).
"Being able to provide diverse packaging solutions creates opportunities"